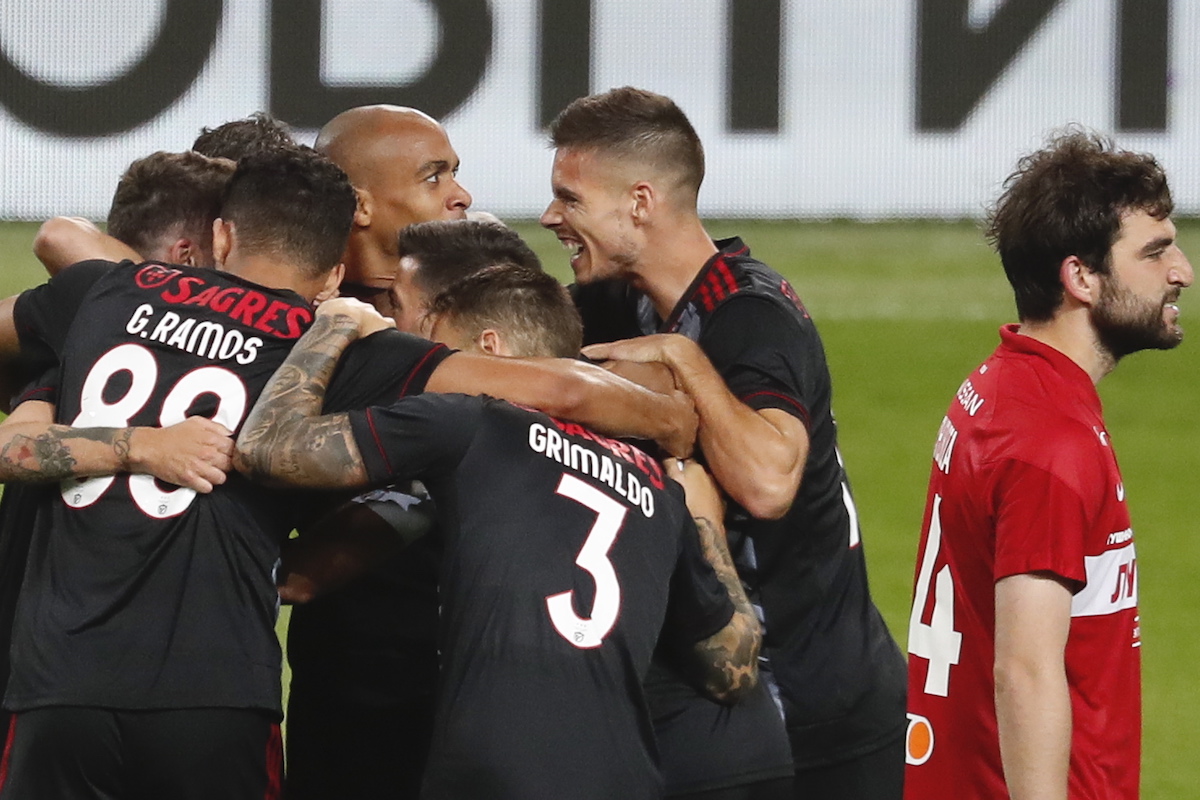 Benfica took an important step, but not decisive, to reach the "play-off" of access to the group stage of the Champions League.
In the duel of Portuguese coaches (Rui Vitória and Jorge Jesus), the "incarnate" team went to Moscow beat Spartak 2-0, thanks to a great performance, especially in the second half, when he scored his two goals, by Rafa Silva e Gilberto.
But be careful, as of this season, away goals don't count as a tiebreaker, so everything is still open.
"Eagle" always stronger
Jorge Jesus surprised by betting on a 3-4-3 system, and the truth is that, in a first-half with very interesting moments, Benfica was better, had more ball and created the main chances of danger, five well-designed moves that, with better quality in decisions and execution, could have given the "incarnates" a good advantage.
Benfica shot more, but ended the first half with the same framed as Spartak (1), and with a big difference in passing efficiency and in actions with the ball in the opposite area (3-13), demonstrating the Portuguese ease in reaching decision areas. The worst was the submission.
Highlight for the output of Seferovic, injured, entering Gonçalo Ramos to your place.
This issue was resolved after 50 minutes, with Rafa Silva scoring after an excellent move of "red" involvement and with the last pass belonging to João Mário.
At 74, Lucas Veríssimo discovered the demarcation of the newly entered Gilberto and the latter, in the penalty area, "shot" Aleksandr Maksimenko.
Then it was to control the game and launch counterattacks and Benfica created enough moves to be able to score more goals.
In the end, the greatest amount of shots and, once again, the the ease with which the Lisbon team reached the opposite area, ending with 40 actions in this zone, against 16 of his opponent.
Best in the Field
The difficulty that the Muscovites felt in creating danger and even entering the Benfica area had as one of the "culprits" the central Lucas Verissimo.
The Brazilian played a consistent and competent game and ended up as better on the field, with a GoalPoint Rating of 8.0.
Virtually flawless performance of Veríssimo, who not only made the assistance for 2-0, how was the player with more ball actions (85). Defensively he was imperial: he won the two defensive aerial duels in which he participated, he did three trips, five interceptions, eight reliefs and three pass/cross blocks.
Summary