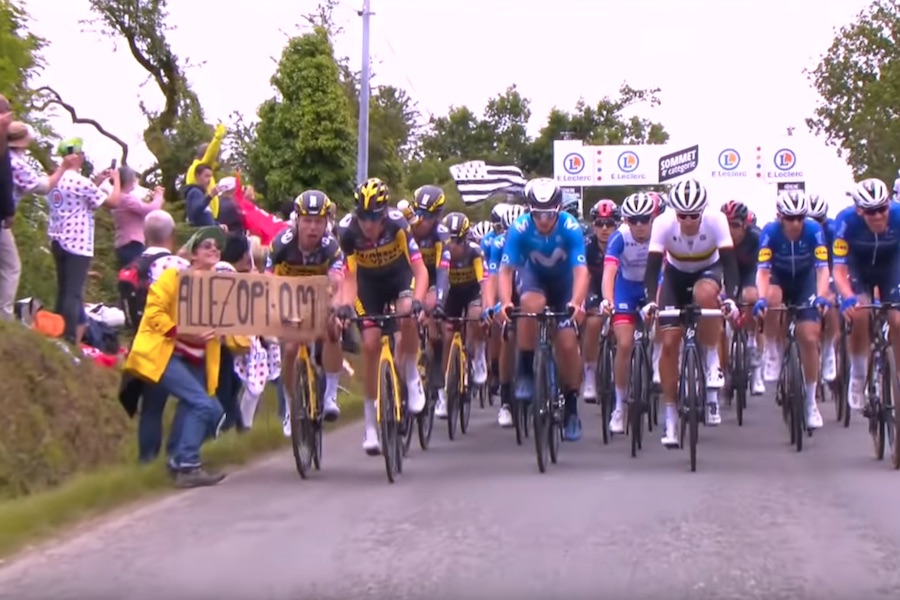 The spectator who caused a collective fall in the first stage of the 108th Tour de France on bicycle, and who had been wanted since Saturday, was arrested this Wednesday in Landerneau, confirmed the Brest prosecutor's office.
In the first stage of the Tour, held on Saturday, the spectator, who was holding a poster for the television cameras, with the message "Alelez opi-omi", a mixture of French and German that can be translated as "Let's go grandfather and grandmother" , knocked down the German Tony Martin (Jumbo-Visma), who fell helplessly to the ground and was run over by several cyclists, causing a 'domino effect' in the platoon.
Also on Saturday, the organization of the Tour de France announced that it would file a complaint against the woman who caused the fall at kilometer 46 of the connection between Brest and Landerneau, which led to the immediate abandonment of the German Jasha Sütterlin (DSM) and to several ailments between the cyclists involved.
"Let's file a complaint against this lady, who behaved truly badly. We strive to ensure that the event's spectacle is not spoiled by inadmissible behavior by a tiny part of the spectators", declared the deputy director of the Tour, Pierre-Yves Thouault, to the agency. France-Press.
On Sunday, Finistère police announced the opening an investigation criminal for "involuntary injuries with a disability of less than three months, for manifest deliberate violation of an obligation of safety or prudence" and launched an appeal for information that could help to find the spectator.
The woman, allegedly of German origin, can be ordered to pay a fine up to 1500 euros, a sanction that could be aggravated if Sütterlin decides to file a complaint.
In this situation, and according to the French Penal Code, the spectator could risk a sentence of one year in prison and a fine of 15 thousand euros.
The information about the spectator's arrest was provided by French radio RTL and later confirmed by the Brest prosecutor's office to various French media.