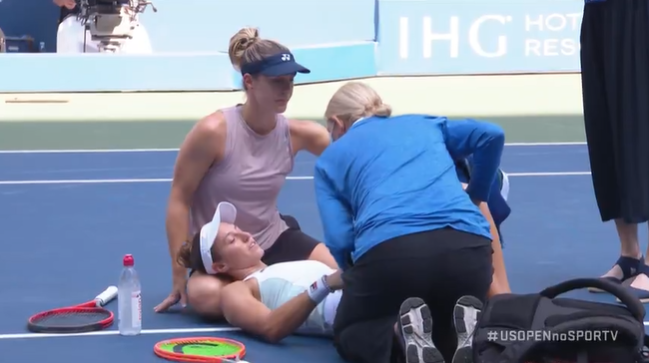 Bronze in doubles in Tokyo 2020, Luisa made history by being the first Brazilian to dispute a semifinal in 53 years
Playback/ SportTV
Luisa fell during a tie-break and was seen by a doctor on the court.

the extraordinary moment of Luisa Stefani, with the bronze in the Tokyo Olympic Games and three consecutive finals on the circuit, was interrupted by a fatality this Friday, 10. Playing alongside Canadian Gabriela Dabrowski, the Brazilian was injured in the tie-break of the first set and the pair had to abandon the semifinal of the US Open. With that, the North American partnership formed by Coco Gauff e Catherine McNally advanced to the final. In the tie-break of the first set, Stefani went for a volley and felt his right ankle. She and the Canadian were leading 2-0 in the tie-break after drawing 6-6 in games. Stefani lay on the court for a few minutes and received prompt medical attention. Unable to support his foot on the ground, he left the court in a wheelchair. In the locker room, she was evaluated and confirmed that she was unable to play. Dabrowski gave the warning and the referee ended the duel, declaring the Americans victory. The paulistana will undergo exams that will determine the seriousness of the problem.
With the support of the public, Coco Gauff, 17, and Catherine McNally, 19, will face in the final the pair formed by the Australian Samantha Stosur and the Chinese Shuai Zhang. "Being in the final means a lot, but I don't like winning a game like that. Luísa is really nice and I can't even see the scene again. It's very hard. I know they worked as hard as us to be in this final and I only wish her the best. As an athlete, seeing an injury like that is something that breaks your heart and I think we should all support it. I hope that next year she will be much better", said Gauff.
Luisa made history at the US Open
Despite her early exit from the tournament, Stefani made history by becoming the first Brazilian in a semifinal of Grand Slam in 53 years. Since 1968, a tennis player from Brazil has not gone so far in a Grand Slam. That year, Maria Esther Good won the US Open doubles title alongside Australian Margaret Court. The biggest winner in Brazilian tennis, Esther won seven Grand Slam titles in singles, 11 in doubles and one more in mixed doubles. His latest achievement was also the only one in the Open Era of tennis.
*With information from Estadão Content