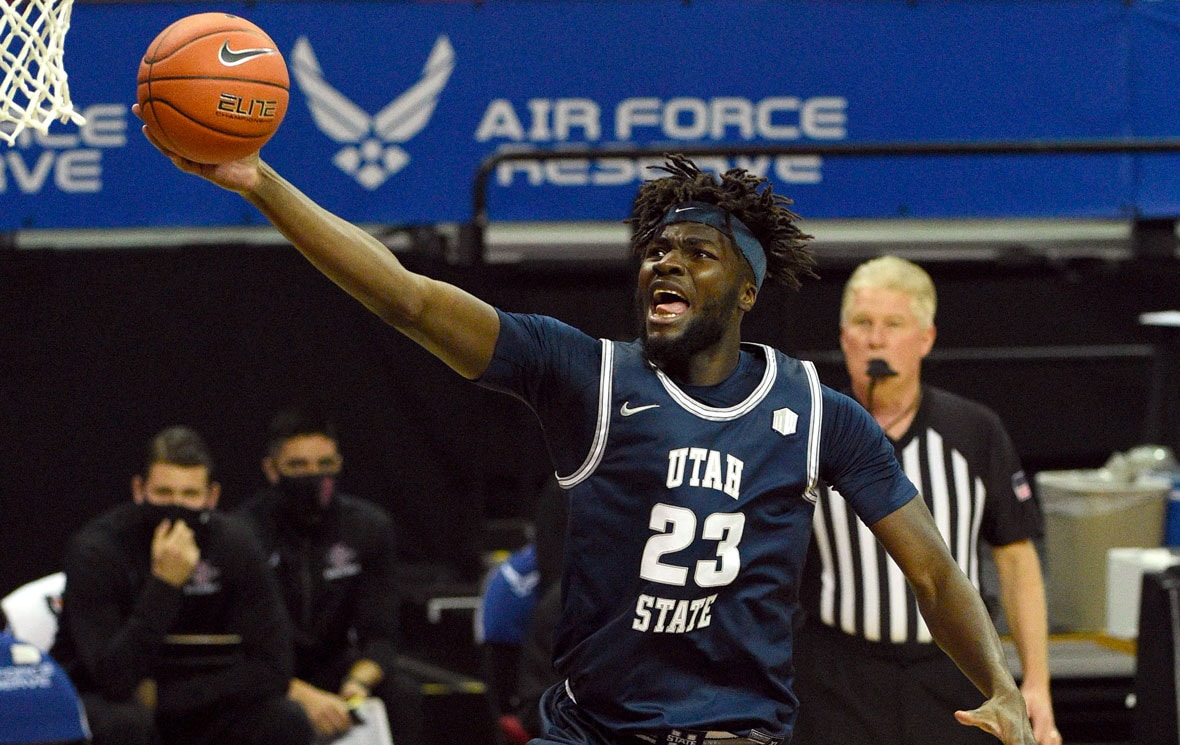 Neemias Queta could make history by becoming the first Portuguese to play in the NBA, the top basketball league in the United States and the world.
This morning from Thursday the 29th to Friday the 30th, the NBA holds the draft of 2021 of the NBA. In this event, teams can choose new players from a group of athletes from the university championship and international players who have declared themselves eligible.
It's always something awaited with great anxiety by basketball fans, but this year it gains a new effect as there is a Portuguese on this list: Nehemiah Ketha.
The 22 year old, from the Amoreira Valley, spent three seasons with the Utah State, in the NCAA, the US college basketball championship.
Nehemiah was one of the surprises of Draft Combine, an event where clubs evaluate eligible players. After that, several clubs invited him to do some training before the draft, highlights the Tribuna Expresso.
The interested teams were Milwaukee Bucks, Phoenix Suns, New York Knicks, Toronto Raptors, Sacramento Kings, Philadelphia 76ers, Charlotte Hornets, Los Angeles Lakers e Oklahoma City Thunder, advanced journalist Ricardo Brito Reis.
🚨 Nehemiah Ketha (@ nemi1599) has four more workouts scheduled until the July 29th draft: @sixers (21/7), @hornets (22/7), @Lakers (24/7) e @okcthunder (26/7).

In the last two weeks, the Portuguese made 'workouts' for @Bucks, @Suns, @nyknicks, @Raptors e @SacramentoKings.

— Ricardo Brito Reis (@rbritoreis) July 19, 2021
The son of Guinean parents, but born in Lisbon, Neemias Queta figures in the projections of the main North American analysts, underlines the newspaper OJOGO.
Precisely in Vale da Amoreira, in Moita, a mural was painted in honor of the 22-year-old post. The work is by Pedro Pinhal, a local artist, as part of a project by 'hoopers', a community platform for basketball fans.
O draft of the NBA has live broadcast on SportTV+, at 01h00 dawn on Thursday.
Nehemiah now hopes to see his dream come true.
Dreams to Reality ⚡️ @ nemi1599

➡️ @ESPN x @nbdaraft
➡️ Thursday | 6:00 PM #AggiesAllTheWay pic.twitter.com/i0L14vEUm9

— USU Men's Hoops (@USUBasketball) July 28, 2021

Daniel Costa, ZAP //