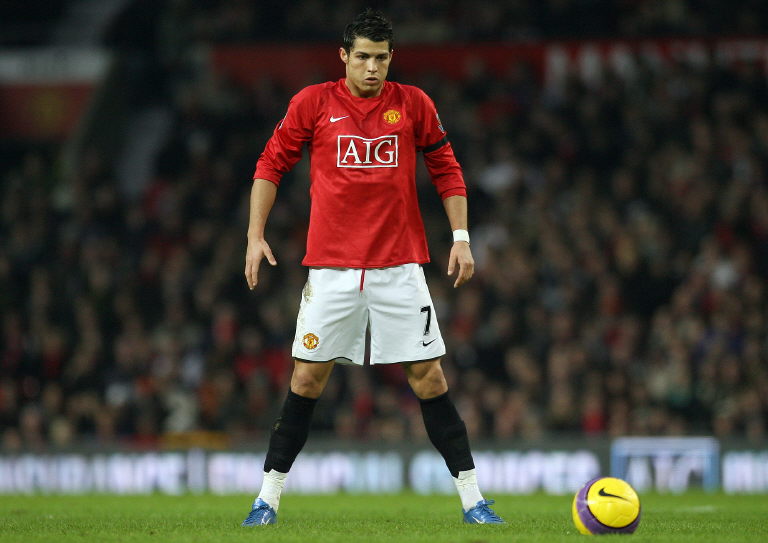 The CR7 is back in Manchester and there are already 2,900 euros tickets to watch what should be the Portuguese star's debut game at Old Trafford. Di María considers that Ronaldo "is someone else" off the field.
Cristiano Ronaldo was transferred (back) to Manchester United last week and his first game could be already on the 11th, against Newcastle.
According to the Observer, the euphoria is such that the price of tickets for the star's debut are already reaching records.
The entrances for the chairs that are closest to the lawn are 2,500 pounds, but of 2,900 euros, advance the The Times.
Although the stadium's capacity is already sold out, there are those who have bought tickets precisely with the idea of ​​being able to do business and sell them for astronomical values.
Ronaldo "off the field is another person"
Say Maria, now Leo Messi's teammate at PSG, spoke about his relationship with Cristiano Ronaldo and José Mourinho, in an interview with TyC Sports.
The Argentine player crossed paths with the Portuguese at Real Madrid — the three shared a dressing room between 2010 e 2013 —, a club he came to from Benfica and where he played between the 2010 and 2014 seasons.
"On my first birthday when I was at Real Madrid I had some friends in the city. I invited Pepe and Marcelo, who were always with Cristiano and then I invited him too, if he wanted to come to my house. I thought he wasn't coming, but then he texted me that he would and he sat with us and had a beer, relaxed. It surprised me. off the field is another person", Said Di María.
"Cristiano Ronaldo fought for me to stay at Real Madrid. Sergio Ramos and Casillas didn't want me to leave, but with Florentino Pérez everything was very difficult," he added.
Upon Mourinho, recalls that with him "he always behaved well", but that in the spa "he was always complaining and complaining to anyone".
"He even argued with Cristiano Ronaldo, telling him that he wouldn't run and let others run for him," he said.
Once, said Di María, the Argentine already had four yellow cards and Mourinho told him that if he saw the fifth in that game, he would give him four days off. "I went in, had a very tough foul and was almost expelled. I ended up getting the days off, he continued.
Playing for Paris Saint-Germain since 2015, the former Benfica player now shares a dressing room with Leo Messi or, as Mary calls him, "Dwarf" (dwarf in Portuguese).
"In the beginning I didn't call it that, but when we became friends, yes. As he calls me 'Fide' I call him 'Enano', it has been like this for some time and will continue. I treat him as one more, as he likes. That's why he's always gotten along more with those who treat him like one more. Because if we treat him for what he is, an 'alien', he's in a bubble he doesn't like. You like to laugh, have fun, eat a roast with us. He's the best in the world, but in the end he's Leo, he's 'Enano', and he likes us to treat him like that", he said about his colleague and friend.

Sofia Teixeira Santos, ZAP //