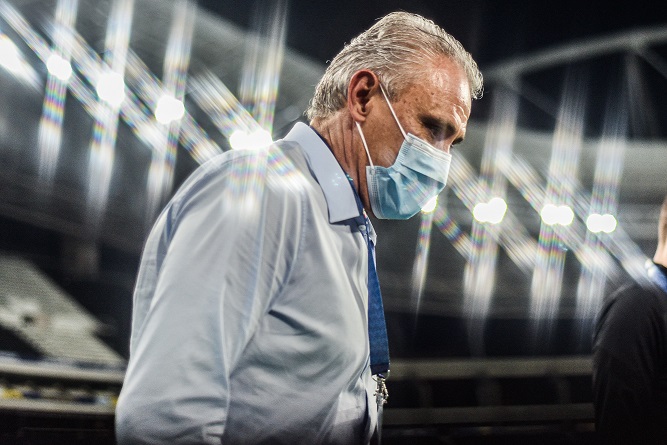 The Brazilian national team coach regretted the suspension of the match, but made clear the importance of respecting the health laws in force in the country
MARCELLO DIAS/SPORTING DAY/ESTADÃO CONTENT
Tite regretted the suspended game, but emphasized the importance of respecting health laws

A Brazilian Team face the Peru, this Thursday, 9 at 9:30 pm (Brasilia time), at Arena Pernambuco, in Recife, by the South American qualifiers of the World Cup in Qatar, but the subject of coach Tite's press conference this Wednesday, 8th, was still the suspended match against the Argentina, Sunday, in São Paulo. "The fair decision is to respect laws, the fair decision is first and foremost the health of people. The fair decision is that the sport is important, but it has an importance scale in which health is above, the laws are above", said the coach. "All the manifestations of the Anvisa, do Ministry of Health, it's about laws, about respecting laws, football is not above that, it has to be respected, we are dealing with lives," he said Tite.
"When you have health and vaccine, you will have a job and work, associated with that, you will have dignity. But coming and going over laws, circumventing situations, that doesn't exist. I really wanted the game to happen. Maybe the runtime. I cannot judge this. I don't have enough knowledge to know what was done and at what time it was done. I cannot judge and must not judge. But of passing over laws… Oh, no. A little respect for an entity, a country, a people, a club, a team. Calm! Respect, yes", he added. About the duel with Peru, Tite confirmed that he will choose the same athletes who would start the match against Argentina.
Thus, Brazil will enter the field with: Weverton, Danilo, Lucas Veríssimo, Éder Militão and Alex Sandro; Casemiro, Gerson, Everton Ribeiro and Lucas Paquetá; Neymar and Gabigol. "They know us well, we know their characteristics too. I think Cesar (Sampaio) made a comment to me that this team lost to France 1-0 and had seven players that are here. To show the degree of difficulty and not think that the confrontation will be easy. Retrospect does not win. The degree of difficulty, we know it has, the quality, we know it has. We will have to produce a lot, play a lot, maintain regularity, the different games within the game itself, that moment in which you will be dominated, but you have to control, much of it dominating, but being effective, transforming it into a goal. We are paying attention to this entire context", he concluded.
*With information from Estadão Content