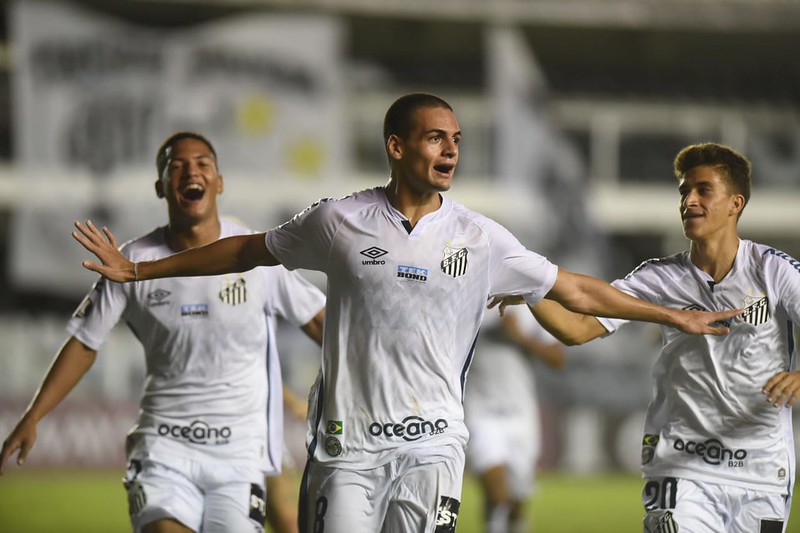 Peixe beat Deportivo Lara 2-1 and now they may even tie the game back, next Tuesday, in Caracas
Ivan Srorti/Santos FC
With open arms, the young Santos defender Kaiky celebrates his first goal as a professional

THE Santos had the first goal among the professionals of two youngsters trained at its base to open an advantage in the second preliminary phase of the Liberators cup. In Vila Belmiro, the Alvinegro team defeated Deportivo Lara by 2-1, this Tuesday. Vinicius Balieiro and Kaiky scored for Peixe in a game with three goals in the second half. Young people were two of the novelties of the Ariel Holan, as well as Ângelo, a great highlight of the first half. Despite the victory, Santos had an irregular performance in their debut in the current edition of the continental tournament, with difficulty to finish and to stop the offensive actions of the Venezuelans. It was Santos' first victory in four games of the season, two of them with the Argentine coach. The triumph put the Brazilian team at an advantage. Now, he only needs a draw next Tuesday, in Caracas, to advance to the third preliminary round of the Libertadores. Before, on Saturday, he will face Ituano, also in Vila, for the Paulista championship.
Coming from a 4-0 defeat by São Paulo in his debut at the helm of Santos, Holan made changes in the lineup that reinforced the bet on newly promoted athletes from the base. Important pieces were left out of the confrontation, such as Pará, Marine and Kaio Jorge. Thus, Marcos Leonardo and Ângelo received a chance in the attack and Kaiky was included in the defense. In addition, João Paulo recovered his spot in the goal, with Vinicius Balieiro being improvised on the right side. Of these bets, one proved to be accurate in the opening minutes. Ângelo, only 16 years old, was the most dangerous player in the Santos attack in the first half. At the right end, he bet on his speed and dribbling, looked for tables and made individual moves.
After a goalless draw in a warm first half, Peixe returned to the second most aggressive and opened the scoring after 4 minutes. Sandry cut the mark, passed to Alison's cross and Baliero scored after a partial cut of the defense. Lara equalized two minutes later, after a corner kick. The goal was Anzorla. Alvinegro was a little disconcerted, but managed to break the tie at 25. After a corner kick, Kaiky got a good drive and hit a header. In search of the third goal, which would leave him in an even more comfortable situation, Santos had chances with Lucas Braga, Jean Mota and Gabriel Pirani, but was unable to expand.
* With information from Estadão Content