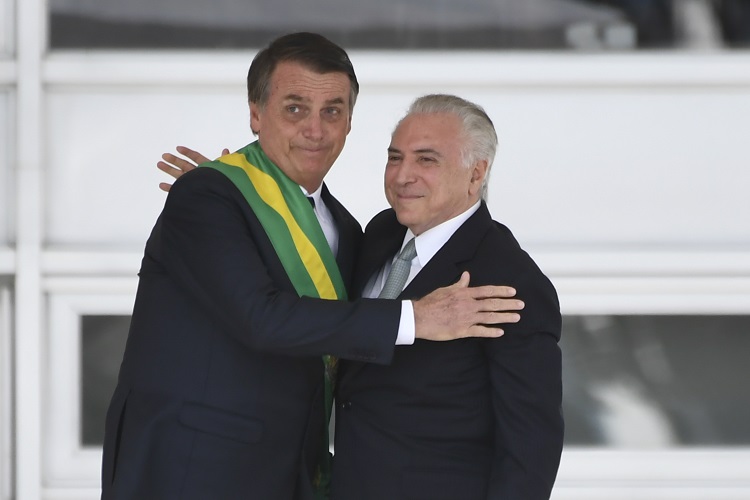 Former president arrived in the federal capital around 11am; hours later, Planalto issued a letter to the nation, in which the country's president backs down and reiterates his respect for the institutions
Mateus Bonomi/AGIF/Estadão Content
Michel Temer passed the presidential sash to Jair Bolsonaro and left Planalto Palace soon after

In the midst of the institutional crisis, president Jair Bolsonaro met this Thursday, 9th, at Palácio do Planalto, with former president Michel Temer. As a government official informed Prime Time Zone, the head of the federal Executive sent a plane from the presidential fleet to search for the former president of the country in São Paulo. Temer arrived in the federal capital at around 11 am and had lunch with Bolsonaro and the Union's attorney general, Bruno Bianco, at a meeting that was not disclosed by the official agendas of the Presidency and the Union's Attorney General (AGU).
Hours after the meeting, Bolsonaro backed down and published a statement to the nation, in which he said he had "never had any intention of harming any of the Powers." The truce signaling comes two days after the head of the federal Executive criticizes the Federal Supreme Court (STF) and attack the minister Alexandre de Moraes, member of the Court, whom he called "scoundrel". "I want to say that my words, which are sometimes blunt, stem from the heat of the moment and from the clashes that were always aimed at the common good", adds Bolsonaro. In another excerpt of the letter, elaborated in 10 topics, Bolsonaro reiterates his respect "for the institutions of the Republic, the driving forces that help to govern the country. That's what democracy is: Executive, Legislative and Judiciary working together in favor of the people and all respecting the Constitution".
In February 2017, Temer, then president, appointed Alexandre de Moraes to the Federal Supreme Court – at the time Minister of Justice, Moraes occupied the seat left by Teori Zavascki, who died in January of that year after a plane crash in Rio de Janeiro. In the letter released by Planalto, Bolsonaro acknowledges that most of the "divergences" stem from "conflicts of understanding about the decisions taken by Minister Alexandre de Moraes in the scope of the fake news inquiry. But in public life, people who exercise power do not have the right to 'stretch the rope', to the point of harming Brazilians' lives and their economy". On Tuesday, 7, in a speech to supporters on Avenida Paulista, in São Paulo, the president of the Republic stated that he "will no longer comply with" Moraes' decisions.