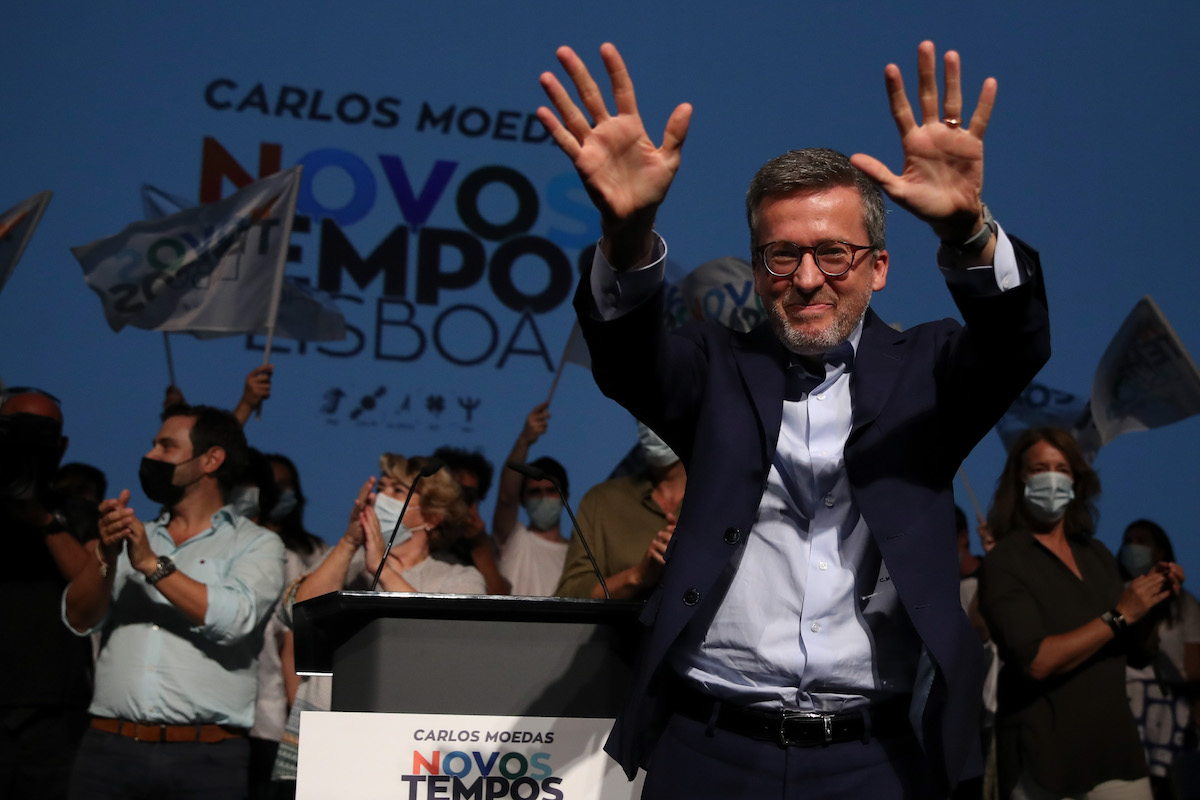 In what was his first action in the official campaign period, Carlos Moedas filled the Teatro Trindade, in Lisbon, for his last effort to defeat Fernando Medina.
the coalition candidate New Times to the City of Lisbon he entered the room to the sound of "Busy Earnin", by Jungle, and said goodbye to "Heroes", by David Bowie, with the crowd dancing and singing his name.
The candidate supported by the PSD and the CDS wants to free Lisbon from the "arrogance socialism, arrogance and impunity", first, and then free the country from the same evil. For this, he believes he has two trump cards: bipolarization and the difference factor.
Before an audience with banners of the Novos Tempos coalition, Carlos Moedas underlined: "I'm a different politician, who comes from a different life; I can be consensual; I believe in politicians and politics, but I also believe that politicians without non-politicians would not be the same", quotes Público.
He still promised to spend the next 12 days to "knock on every door", although he didn't do it this Tuesday or prepare to do it this Wednesday because it's a day of television debate.
It features Medina's executive as one who "privileges some over others", which excels in "arrogance, arrogance, impunity and lack of transparency", and which is the maximum exponent of a "harmful socialism".
In his speech, Moedas clarified several aspects for the change of Lisbon, showing that he wants to implement a more transparent power, with less taxes, free transport for older and younger people, access to healthcare for those in need, housing conditions for younger people.
Knowing that, according to all the polls released so far, he is still behind Fernando Medina, Moedas also took advantage of his first campaign speech to try to bipolarize the race and appeal to a useful vote. "If they want to change they can only vote 'New Times'. We are the only ones who can make this change", he said.
"We can open a hope for our children. There are so many years of the same, in the Chamber and in the Government, blaming the past of the past, without ever being to blame. This change starts today and starts in Lisbon", he shot.
A message repeated minutes before by Isabel Ayuso and Adolfo Mesquita Nunes, but also by Pedro Simas, candidate for councilor, and Isabel Galriça Neto, head of the Lisbon Municipal Assembly list: the right, at least a part of the right, dreams of a victory in the capital to precipitate the end of the cycle of António Costa and PS.
"Are we ready or not ready?", asked Carlos Moedas three times, before saying goodbye with the promise of fighting in "every door, in every neighborhood and in every parish".

ZAP //