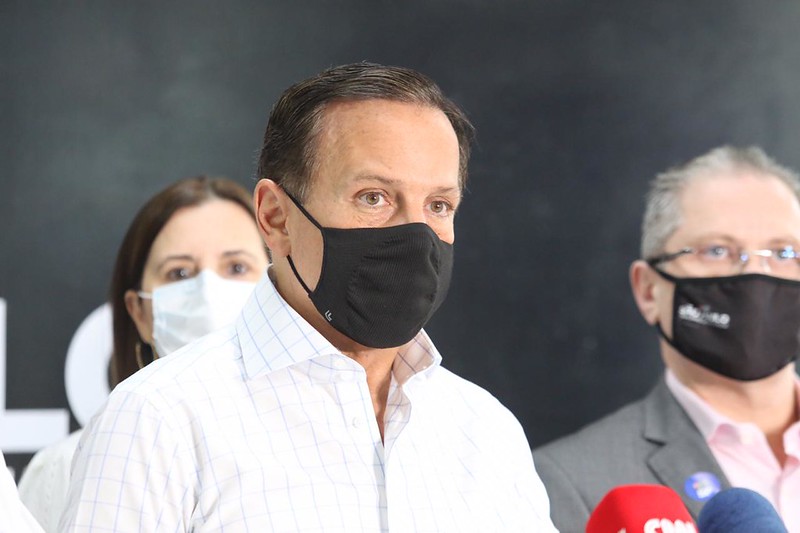 Governor of São Paulo affirmed, in a press conference, that the party cannot align itself with a president 'negationist and fraticida, who attacks democracy and does not protect the health and life of Brazilians'
Sao Paulo's State Government
Party decided to become opposition to the Bolsonaro government after election to the presidency of the Chamber of Deputies

The governor of São Paulo, João Doria (PSDB), again commented on the request for removal of federal deputy Aécio Neves (PSDB-MG), at a press conference at Palácio dos Bandeirantes, this Wednesday, 10. Doria cited the understanding signed by PSDB leaders to act as an opposition party to the Jair Bolsonaro government and attributed to the Minas Gerais parliamentarian the articulation responsible for supporting part of the party bench in the Chamber of Deputies to the candidacy of Arthur Lira (PP-AL), elected in the dispute February 1st. For the governor of São Paulo, if the former senator does not start to oppose the Federal Executive, he must ask to leave the acronym.
"It doesn't make any sense for the PSDB to be condescending and adhering to President Jair Bolsonaro. This has already cost us votes in the election of the Federal Chamber, where some PSDB deputies, led by Aécio Neves, voted for Arthur Lira, voted alongside the government, in favor of Jair Bolsonaro and against the principles of defending the PSDB's position in his majority. Since this leadership was by Aécio Neves, from now on, considering that the PSDB defines that it will be opposition to the federal government, Deputy Aécio Neves does not have another opposition: either he joins the PSDB and starts to oppose the government or ask to leave and go find a party where you can exercise your adherence and exalt Jair Bolsonaro and Bolsonarism. The PSDB needs to be the party of positions. No more PSDB from the wall, a party that lacks stance and lacks the courage to defend what it should defend. This is my position as governor of São Paulo and from this position I will not move. The PSDB is the party on the other side, completely opposed to this denialist who is called Jair Bolsonaro ", said Doria.
At another point in the press conference, Doria was asked whether she is not afraid of her position causing a crack in the PSDB. The governor of São Paulo said that, in his assessment, the PSDB should be a party that opposes "a negationist and fraticid government, which attacks democracy and does not protect the health and life of Brazilians". "[Um governo como este] It does not deserve to be supported by the PSDB. If there are PSDB parliamentarians who understand that they need or should offer support to this government, ask to leave. There are several parties that make up the base of support for President Bolsonaro. I don't condemn them to do that. I condemn you to do this within the PSDB, "he said.