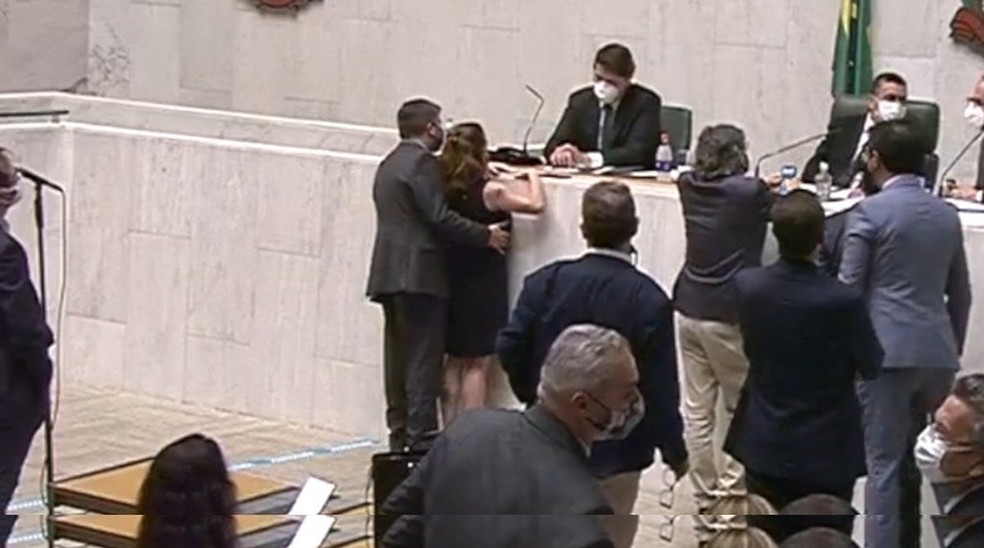 Unanimously, nine parliamentarians accepted a complaint against a parliamentarian who touched the bosom of Congresswoman Isa Penna (PSOL); Emidio de Souza will be the case reporter
Image: Playback / Video
lawyer representing Cury said the parliamentarian had no intention of harassing his colleague and referred to the act as a quick and superficial "hug"

The Council of Ethics and Parliamentary Decorum of the Legislative Assembly of São Paulo (Alesp) unanimously approved, on Wednesday, 10, the opening of proceedings against the state deputy Fernando Cury (Citizenship) for sexual harassment after he was caught touching the deputy's breast Isa Penna (PSOL). In the defense presented to the collegiate, the lawyer representing Cury stated that the parliamentarian had no intention of harassing his colleague and referred to the act as a quick and superficial "hug".
The complaint was accepted by the nine deputies present: Adalberto Freitas (PSL), Emidio de Souza (PT), Barros Munhoz (PSB), Wellington Moura (Republicans), Delegate Olim (PP), Erica Malunguinho (PSOL), Alex de Madureira ( PSD), Campos Machado (Avante) and Estevam Galvão (DEM). The PT was chosen as the case reporter by the president of the Ethics Council, Maria Lucia Amary (PSDB).
Fernando Cury now has five ordinary sessions of the plenary session of Alesp to present his defense to the collegiate. The document will be analyzed by Emidio de Souza, who will have 15 days to prepare an opinion. In case of conviction, the Citizenship deputy may have his term suspended and even be revoked.
Isa Penna asks for the termination of the mandate, on the grounds that there was a breach of parliamentary decorum. After being authorized by the judge João Carlos Saletti, of the São Paulo Court of Justice, the case is also investigated by the Public Ministry. But Cury's defense asks for the investigation to be revoked, until the defense presents his arguments. Cury managed to suspend in court the process of expulsion from the Citizenship party, alleging a restriction of defense.