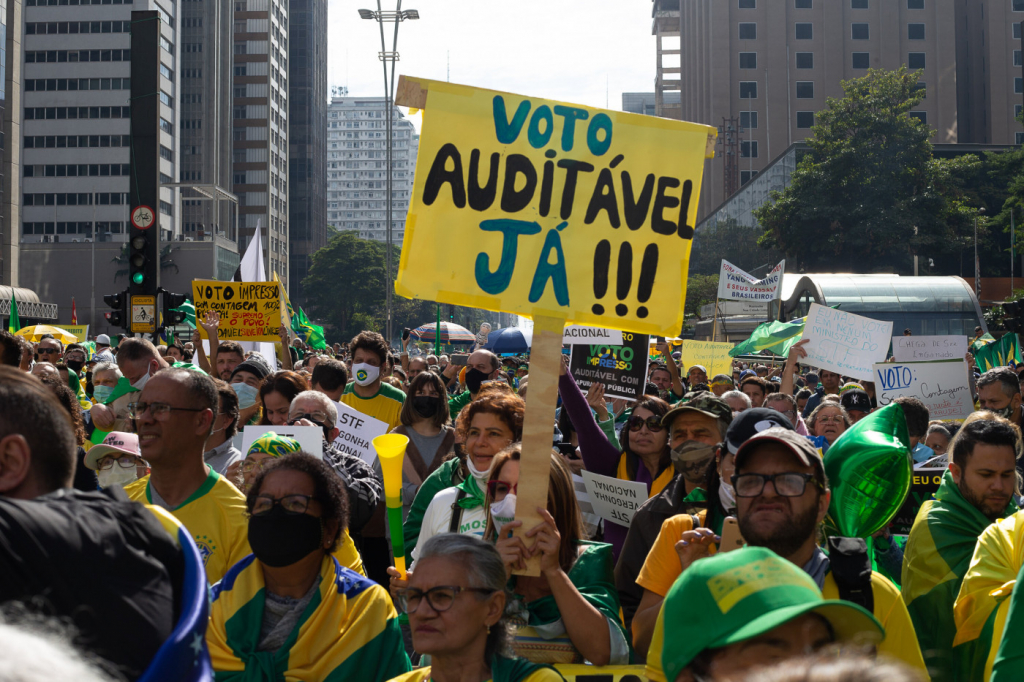 President participated by telephone in the demonstration that took place on Avenida Paulista, in São Paulo, in favor of the printed vote
VILMAR BANNACH/PHOTOPRESS/ESTADÃO CONTENT
Bolsonaro spoke by phone with protesters in São Paulo

During his participation by telephone in the acts of this Sunday, 1, which they claim by printed vote in 2022, the president Jair Bolsonaro spoke with protesters on Avenida Paulista, in São Paulo, and congratulated them for the initiative in the streets. "I congratulate everyone who fights for freedom and clean elections. It is an obligation of those on this side to have a public vote count and an auditable form. Nobody here owns the truth, nobody can use the government", said the president in a telephone conversation. The protesters, who are gathered in front of the Assis Chateaudriand Museum of Art and São Paulo (MASP), the stage of major events in São Paulo, are demanding the approval of the Constitutional Amendment Proposal (PEC) 135/2019, which seeks to make mandatory the printed vote in Brazil already for the next elections.
In contact with protesters, who had the leadership of his son Eduardo Bolsonaro (PSL-SP) and the federal deputy Carla Zambelli (PSL-SP), Bolsonaro also reiterated a transparent posture in the next elections. Earlier, the president had already communicated by telephone with protesters in Brasília, stating that, without "clean and democratic" elections, there will be no election in 2022. Amid the demonstration in the federal capital, the author of the PEC of the printed vote and president of the Chamber's Constitution and Justice Committee, Deputy Bia Kicis (PSL-DF), associated the possible defeat of the opinion in the special committee with pressure from the Superior Electoral Court (TSE). The parliamentarian criticized ministers of the TSE and the Supreme Court (STF) and said that it is not up to them to decide how the counting of votes will be.
"The pressure is too great. When we approved the topic in committee, we had 33 votes to 5. The parliamentarians were all in favour. But the pressure coming from the TSE is very great", said the deputy, referring to the approval of the admissibility of the PEC in the CCJ in 2019. The appreciation of the subject was shelved by the then president of the Chamber, Rodrigo Maia. But the current, Arthur Lira (PP-AL), as a sign of his commitment to President Jair Bolsonaro, authorized the formation of the Special Commission to deal with the printed vote. Initially, there was a majority to approve the PEC in the Commission. But in a coordinated move, center-right and center-right political parties swapped members who favored the issue for opposing parliamentarians. The idea is to stop the text at the birthplace and prevent it from going to the Plenary.
*With information from Estadão Content.