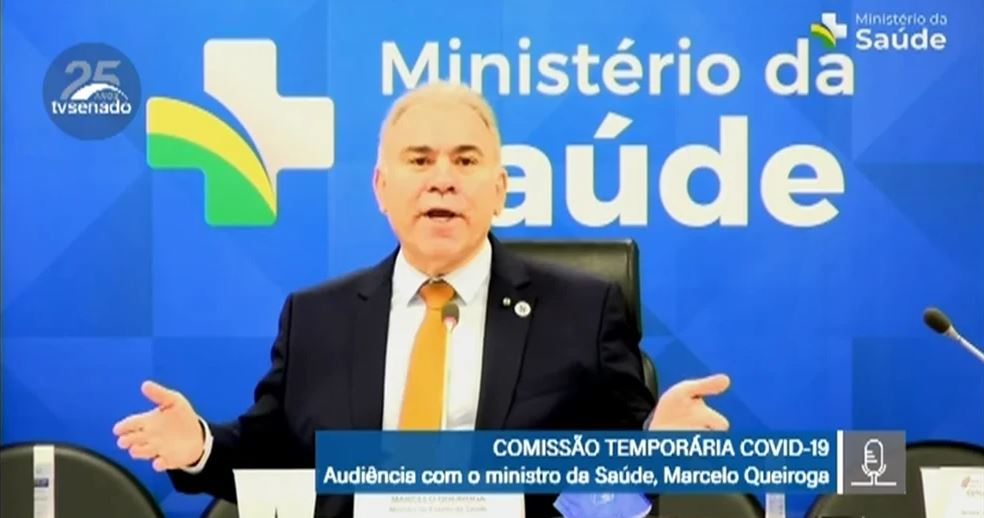 The Ministry of Health also recommended the application of a third dose with vaccines from Pfizer and AstraZeneca and spoke about a stock valued at R$ 243 million that will need to be incinerated
Reproduction/TV Senado/YouTube
Minister of Health was invited to speak on vaccination and government actions in a Senate committee

The Minister of Health, Marcelo Queiroga, asked the States and municipalities to follow the guidelines established by the federal government in the National Immunization Plan (PNI). "What happens is that some municipalities, especially the largest in the Federation, keep creating different schemes and then say that the Ministry of Health does not deliver the doses, it delays the doses. O Ministry of Health it only comes with the burden all the time," he said, on Thursday, 8, in a hearing at the Temporary Committee of Covid-19 at Senate (CTCovid-19). "We have to speak the same language, it cannot be the vaccine's Tower of Babel," he added.
In the session, which takes place even with the decision of the president of the Senate, Rodrigo Pacheco (DEM-MG), to cancel all votes and commissions, Queiroga also defended the application of the third dose with Pfizer and AstraZeneca vaccines. Without mentioning CoronaVac by name, developed by the Butantan Institute, the minister stated that immunizing agents with inactivated virus have low effectiveness for those over 90 years of age. "Individuals over 70 years old, nonagenarians, have a very low vaccine effectiveness, especially in relation to the immunizing agent that has the virus technology inactivated. In nonagenarian individuals the effectiveness is below 30%. These people are not protected and require a third dose", he explained.
To senators, Queiroga also admitted that the expiration date of inputs purchased by the ministry "is a problem", but denied that there is "negligence" by the Ministry of Health. It's because you buy in quantity. There are inputs that were purchased from governments, two governments prior to President Bolsonaro's government, and they were not distributed," he said. On Monday, 6, newspaper report Folha de São Paulo showed that Health let a stock of medicines, supplies and various items expire, valued at approximately R$ 243 million reais.