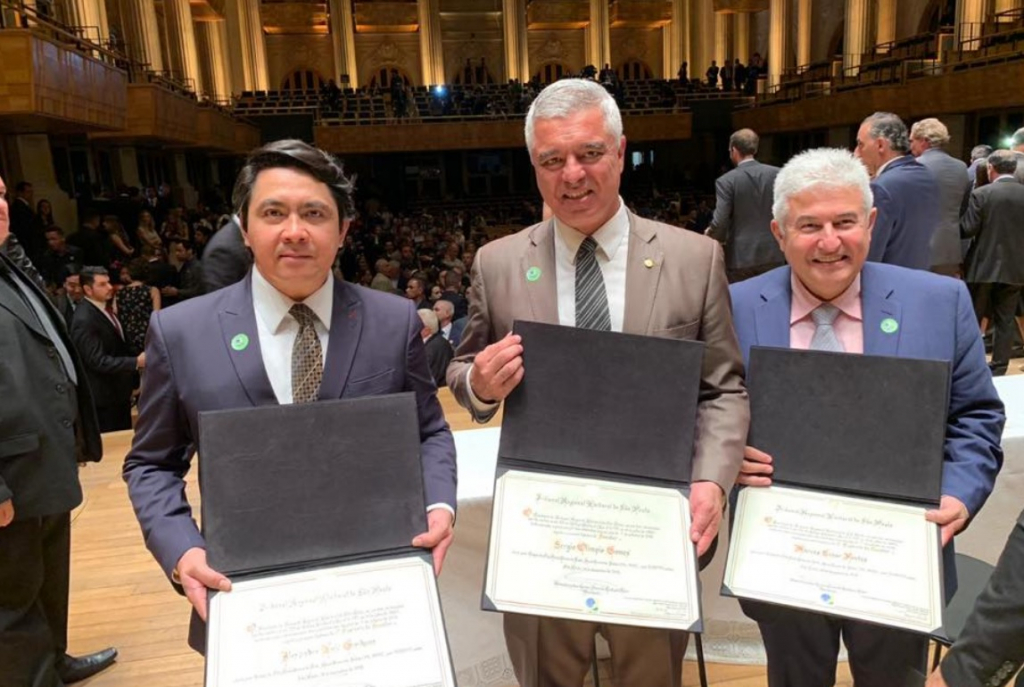 Alexandre Luiz Giordano has a name linked to companies in São Paulo and Ceará and was a supporter of the PSL throughout the 2018 election campaign
Facebook / Reproduction / 01.01.2019
Major Olímpio on the day of his inauguration as senator alongside the first alternate Alexandre Giordano (left) and Marcos Pontes (right)

Chosen as senator's first alternate Major Olympio in 2018, the businessman Alexandre Luiz Giordano is a longtime friend of the congressman who died of complications from Covid-19 this Thursday, 18, and should take his place in the Congress. In a search on the page of the Directory of Brazilian Companies, it is possible to see the name of Alexandre Luiz Giordano linked to six companies created between 1992 and 2019, five of them apt and offering services that vary between assembly of metallic structures and sand extraction in the states of São Paulo and Ceará. He was appointed as parliamentary secretary at Chamber of Deputies when the Major was elected as a federal deputy in 2014, but did not come to office because he did not want to leave his executive positions.
With a shy presence on social networks, Giordano's name made headlines in 2019, when the Paraguayan newspaper ABC Color stated that the businessman was quoted during testimonies by engineers to a CPI on embezzlement of money at the Itaipu Plant. At the time, he reportedly made trips to Paraguay and spoke on behalf of President Jair Bolsonaro's family to negotiate the purchase of surplus energy from the binational. At the time, in an interview with the Public Agency, Senator Major Olímpio stated that he met the businessman in the capital of São Paulo more than a decade ago and that he chose him as a substitute because he offered to help organize the São Paulo directory of the Social Liberal Party (PSL). in the 2018 elections, providing an office for the creation of a campaign committee under rent in the amount of R $ 6.6 thousand.
When he ran for the Senate in 2018, the businessman, now 48, declared R $ 1.5 million in assets, which varied between the companies he was a partner in and even boats. In addition to Giordano, the second alternate for the vacancy left by Major Olímpio is the Minister of Science, Technology and Innovations, Marcos Pontes. Neither has spoken publicly about the Senator's death so far. Shortly after the announcement of Major Olímpio's team, the National Congress declared official 24-hour mourning. This is the third death recorded among senators by Covid-19 since the beginning of the pandemic. In February 2021, senator José Maranhão (MDB-PB), 87 years old, died and was replaced by alternate Nilda Gondim; in october 2020, senator Arolde de Oliveira (PSD-RJ) was also victimized by the disease and replaced by alternate Carlos Portinho.