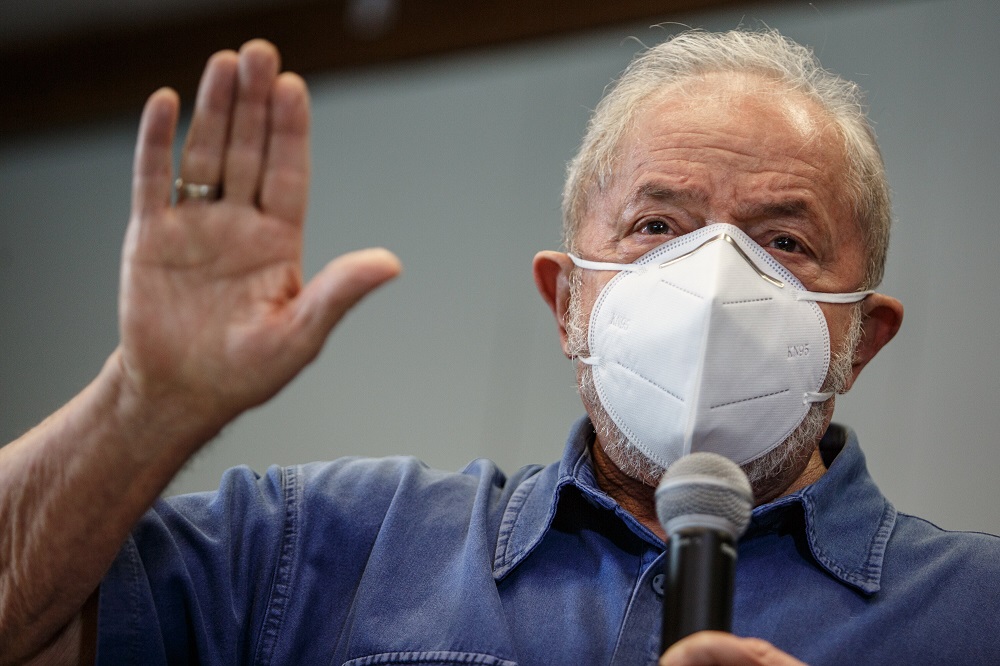 For the former president, it is important to strengthen the State to reduce the high fuel crisis and provide quality of life for the Brazilian people
Claudia Martini / Framing / Estadão Content – 06/12/2021
Former President Lula spoke to the press in Brasília on several issues relevant to Brazil

Speaking to the press in Brasília last Friday, 08, the former president Luiz Inacio Lula da Silva (PT) made harsh criticisms of the president Jair Bolsonaro (no party) and said he did not imagine that the country could be worse today, compared to 2010, when he left the presidency. For him, the State needs to be present to change the current scenario. "I want one strong state, because only a strong State is capable of putting an end to poverty in that country, of not being afraid to build a subsidized popular home for people who are unemployed and for those who earn little. I want a State capable of maintaining and improving the SUS". Faced with constant increases in fuel prices, Lula expressed his intention to change the current pricing policy of the Petrobras. "Brazil is self-sufficient in oil and has highly qualified refineries to refine the diesel and gasoline we need. We started to privatize our refineries and we are buying refined gasoline from the United States, when Brazil was an exporter before the pre-salt layer. I don't see any sense in wanting to please an American minority shareholder and not wanting to please the Brazilian majority consumer", he pointed out.
Despite meetings with political leaders of the PT and other parties, Lula says that his candidacy is still not closed for 2022. "I have said that I am not a candidate because I will only decide my candidacy, possibly for the beginning of the year. he comes. I haven't decided yet and I will decide at the right time. I will talk to everyone. I'm at a stage of talking to political parties, social movements, at some point I'm going to talk to businessmen, intellectuals and I'm going to talk to Brazilian society, because fixing this country is not the task of a political party. Fixing this country is a task for many people", said the former president.
Even so, Lula added that he intends to campaign for members of the workers' party. "It is my party's wish that we make a great effort so that we have a very representative caucus. Today, it is not enough to elect a President of the Republic. It is important that, in addition to the president, that there is a caucus, so that it is possible to carry out the transformations that the country needs. I'm willing to campaign, asking for votes for deputies everywhere in Brazil, because I think it's important for the PT to have a large caucus," he said. Lula also warned that, in the coming months, he should intensify his national and international travel schedules.
After defending, on other occasions, that, if elected, he would promote a media regulation, Lula said that the measure would not depend only on his will. "It's a theme of the National Congress, I honestly don't see what concern some people have. And some people say this is censorship. I think it's funny, because if you pay attention and look at my face, you'll notice that the most censored guy in Brazil is talking to you," he claimed.
He even said wait for a apology from the brazilian press in the case of Car wash. "I could have left Brazil, but I don't. I didn't want to bear the label of being a fugitive. I made the decision to go there to Curitiba to be in Moro's beard and prove that he was a liar, that he was a clay god created by the Brazilian press. And the press could have figured it out in my sentence. Because, by the sentence, the crime I committed is an indeterminate fact. Nor did he know what crime I committed. And now I just wanted the press to say: 'look, I wanted to apologize to Lula'. I know it's difficult, because the word excuse is necessary to have a lot of greatness to speak. The word forgiveness must have a lot of greatness. Who doesn't have greatness doesn't know how to ask. And say the following: 'I want to apologize to President Lula because we were induced to lie by the task force, by Dallagnol, by Moro'. Now it proved that they, in fact, were a gang", commented the former president.
*With information from reporter Paola Cuenca