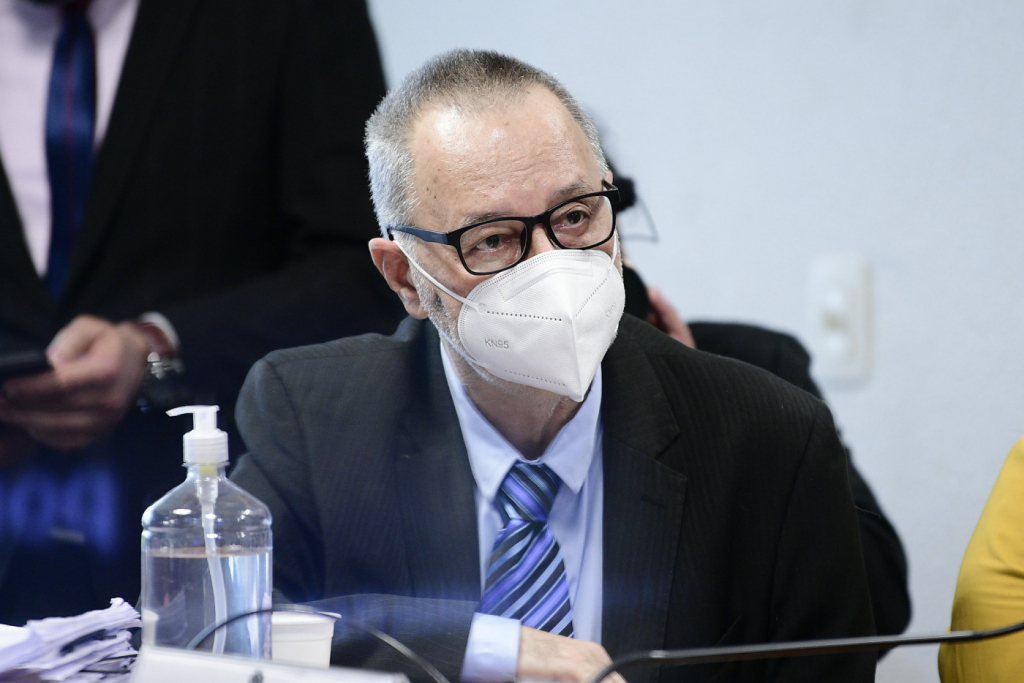 In an emotional statement to Covid-19's CPI, Tadeu Andrade stated that the health care provider wanted to take him out of the ICU to reduce costs; The commission also heard a doctor who denounced the company.
Pedro France/Senate Agency
Tadeu Andrade, a 65-year-old lawyer, was hospitalized at a Prevent Senior unit and reported a 'greamy plot' lived in a hospital

With a choked voice, Thaddeus Frederico Andrade, 65 years old, gave details of what he called the "macabre plot", the period in which he remained hospitalized with coronavirus in a unit of Prevent Senior. To the senators of CPI to Covid-19, the lawyer reported pressure from doctors at the health care provider for him to be removed from the ICU and transferred to palliative care, in order to reduce costs. According to the testimony, there was even guidance for him not to be resuscitated in case of cardiac arrest. "I would be given a morphine pump and all my survival equipment in the ICU would be turned off. If I had cardiac arrest, there was a recommendation not to have resuscitation", said Andrade.
In his opening statement, Tadeu said that he sees himself as a "living witness to a criminal policy of this corporation" and that he would speak "on behalf of many victims who today no longer have a voice." "My family fought against Prevent Senior. They fought for me not to die", he summarized. The lawyer said that he received medication from the "Covid-kit" after a teleconsultation that lasted ten minutes. He did not doubt the effectiveness of the drugs because he believed in a doctor's prescription. "I had nothing to complain about, I was being treated by a doctor", he continued. With the worsening of his health condition, a professional from the network tried to convince one of her daughters to submit him to palliative treatments, with which she did not agree. Even so, the practice was adopted.
"One of my daughters receives a phone informing me that I would start having palliative care. In other words: I would leave the ICU, go to a so-called hybrid bed and there I would have, according to the words of Dr. Daniela, greater dignity and comfort, and my death would occur in a few days. I would be given a morphine bomb and all my survival equipment in the ICU would be turned off. Even if I had cardiac arrest, there was a recommendation not to have resuscitation. Fortunately, my daughter did not agree over the phone. This took place around noon, but at 2:54 pm, this same doctor, Daniela, inserts the beginning of palliative treatments in my chart. Without the family's authorization and he recommends that hemodialysis no longer be performed, no antibiotics given and no resuscitation maneuvers be performed either", he reported.
Faced with the irreducible attitude of the lawyer's family, the two daughters of Tadeu Andrade were called to a meeting with three doctors from Prevent Senior. "At this meeting, they tried to convince my family that, from the medical record in my hand, I had a pacemaker, I had serious arterial comorbidities and that I was very old. This chart was not mine, it belonged to a 75-year-old woman. I don't have a pacemaker. The only thing I have is high blood pressure. I always have," he said. According to his account, the health operator only backed down because his family rebelled and threatened to take the case to the press. Remembering that he almost died, Thaddeus cried. "But today I am here, alive". "His presence on this commission is emblematic. We could not finish our work without having this historical testimony that reveals a macabre moment in the fight against the pandemic in Brazil", said the rapporteur, senator Renan Calheiros (MDB-AL).
This Thursday, the CPI also heard doctor Walter Correa Souza Neto, who worked at Prevent Senior and is one of the signatories of the dossier sent to the senators. He said there was no medical autonomy, reported a routine of coercion and bullying, and cited the fact that he was forced to work without a mask to prove his version. "There was already an outbreak of Covid in one of the units and some colleagues were intubation. I put on a mask and the coordinator told me to take it off. I had to take off the mask. I didn't even have the right to protect myself. This is the height of non-autonomy [médica]", he stated. "The last straw for my dismissal concerns something that turned into a series of kits distribution. The patient only went through the nurses, who already had the kit ready and were delivering it. There was no longer an adequate assessment of the patient. He arrived with flu-like symptoms, 'take the kit and leave'", he added.
The commission's vice-president, Randolfe Rodrigues (Rede-AP), compared the Prevent Senior's dynamic with a Nazi tactic. "There are things in life that don't have two sides. There can be two sides to cheering for a team. Defending life cannot have two sides. With the testimony of the two of you, Mr. Walter and Mr. Tadeu, we discovered a scheme. When we look at the oath of loyalty and obedience and the company's anthem, there's no way we can't help calling this practice Nazi," he said.
'Bolsonaro Effect'
During the session, senators also explored President Jair Bolsonaro's role in defending drugs that have proven ineffective against Covid-19. Parliamentarians aired a tweet from the country's president in which he talks about the "benefits" of chloroquine and the reduction in the number of deaths – the information was denied by Walter Neto. The president of the CPI, Omar Aziz (PSD-AM), also mentioned the collapse of the hospital network in Manaus, capital of Amazonas, at the beginning of the year. At the time, people died without oxygen, but Mayra Pinheiro, the "chloroquine captain", secretary of the Ministry of Health, traveled to the city to launch the TrateCov application, which prescribed the "Covid-kit" indiscriminately. "If early treatment paid off, I wouldn't need oxygen. Is there greater proof that this is no good?" asked Aziz. "To this day, Mayra, who took her death to Manaus, is still in office," he fired. "Today's testimonies complete a gear that we discovered in this CPI. A gear that had Prevent Senior as a testing laboratory, had President Bolsonaro talking about the tests [com cloroquina feitos pela operadora], Deputy Eduardo Bolsonaro, Senator Flávio, our colleague, Deputy Carla Zambelli, all doing propaganda. What we see here today is the narrative of a man saved by his family, who is with us thanks to the courage of his daughter", added Randolfe.