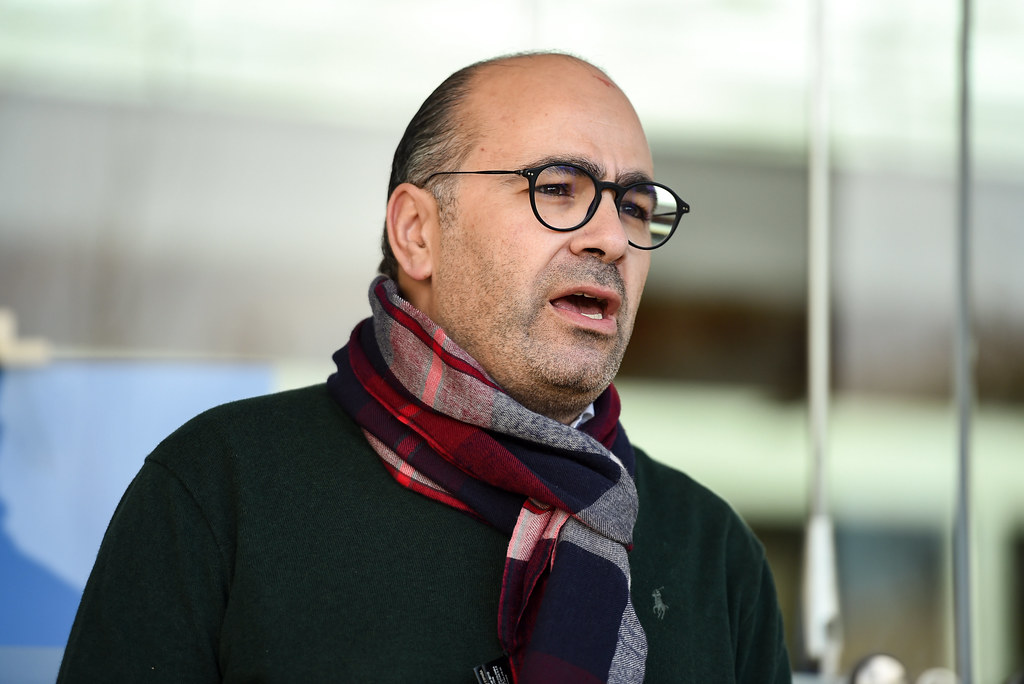 Former candidate for the leadership of the PSD Miguel Pinto Luz defends, in a book to be presented on Tuesday, that "new protagonists for today's times" are needed for citizens to return to believing in politics.
the book of Miguel Pinto Luz "Returning to Believe in Politics", edited by Oficina do Livro, will be presented in Lisbon by socialist deputy Sérgio Sousa Pinto, by the mayor of Cascais, Carlos Carreiras, and by Nuno Sebastião, president of FeedZai, a Portuguese company dedicated to intelligence artificial, in a ceremony that will be attended by the MEP Paulo Rangel and several figures from the centre-right.
In an interview with TVI, the day after the local authorities, Carlos Carreiras said that Pinto Luz will not run for the PSD presidency this time and confirmed that there are "bridges" between it and Paulo Rangel, who has left the door open to a new candidacy for leadership social democrat.
In the work, Miguel Pinto Luz (who had 9.5% of the votes against Rui Rio and Luís Montenegro in 2020) says he wants to take advantage of his experience as a politician "for more than twenty years" to launch this reflection on a new way of doing politics , arguing that "it's time" for politicians and citizens to do their examination of conscience about what has failed.
Despite assuring that he did not stop believing in politics, the vice-president of the Cascais Chamber also diagnoses a "clear divorce" between elected officials and voters and the closing of parties, including the PSD.
"In particular, the PSD, my party, (…) in recent years, has been unable to present a mobilizing and disruptive project, in line with the times of enormous transformation we are experiencing in the world. Its leaders were molded in other times, in other realities and did not realize that the winds had changed", he argues, in the opening chapter of the book.
This attitude demonstrates, according to the author, not only the lack of vision of these leaders (without specifying who they are referring to), but also the "inability to show the path of progress and development".
In the final part of the book, in a subchapter entitled "New leadership needed", the mayor begins by defending that Europe needs new leaders, saying that "those who are not afraid, like Angela Merkel, are on their way out".
"In Portugal, I don't even see who could be part of this group of new leaders that we have so much need", he defended, regretting that in the last 20 years these potential leaders had either opted to go to companies or to leave the country.
Pinto Luz argues that these new protagonists must be "leaders with a worldview, with experience, with culture, with the ability to take risks, with tears, with vision and who say what has to be said, who do not depend on politics for anything" , criticizing the functionalization of the current party apparatus.
"We have to get back to believing in politics, but for this it is necessary to find new protagonists for today's times", he concludes.
Over about 150 pages, the mayor points out some paths for the new way of doing politics that he defends, such as the bet on "simple messages, understood by all" and on policies with "clear and measurable goals", which allow everyone to evaluate the results.
Pinto Luz defines himself as "a social liberal", considering that this reconciles his love for "individual freedom, without losing sight of the common good", and rejects a State that is "a hen mother of spoiled children".
"The division between public and private is a fallacy, the important thing is that the services exist. It does not matter whether education is provided by public or private, quality and cost matters, nothing more. In health, the rational is the same", he defends.
The social democrat accuses the PS of having placed the country "in the freezer" without structural reforms and of preventing the social elevator from functioning.
"We Social Democrats we can't shirk our responsibilities in this fight (…). We cannot give up on winning – and governing – in the name of reforms that can only be made when governments are led," he said.
As he had already defended in his candidacy program for the leadership of the PSD, Pinto Luz calls for a new social contract between the State and citizens, which protects the most disadvantaged and ensures freedom of choice for all between public and private in areas such as education, health and social security.
Pinto Luz argues, for example, that the Social Insertion Income indexed to the school results of the children who benefit from it, rejecting "a racist and xenophobic discourse" against this benefit.
"As a social liberal, I dream of a country where there is territorial cohesion between coastal and interior areas, where there is social cohesion between Portuguese with higher and lower incomes", he adds.
chick light it also calls for "a democratic revolution" in Justice – for example, the Attorney General of the Republic would be appointed for a single ten-year term by a commission of prestigious personalities – and presents proposals for various areas of governance, such as culture, media, environment, but also ideas on what the cities of the future must be (with many examples from their experience in Cascais) or even proposals to "save the European Union".
"The first fundamental step in rebuilding the confidence of the European project is to return sovereignty to the States", he says, referring to the "cultures, traditions and legacies" of each Member State, and refusing to live in a "homogenized and sanitized" continent.
The book has a preface by Isabel Ayuso, president of the Madrid community, who calls for an effort to build "a common house of the centre-right" to avoid "the evils that the extreme coalitions have brought to both Portugal and Spain. left".