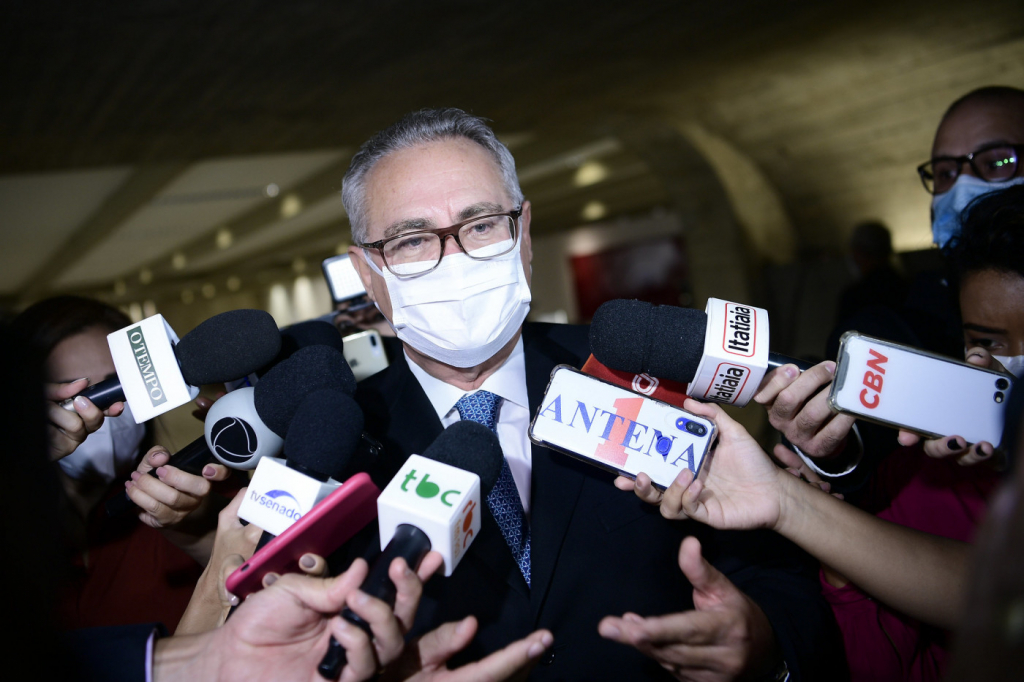 According to the commission's rapporteur, several types of criminal offenses will be used to indict more than 30 people and refer them to appropriate instances
Photo: Pedro França/Senate Agency
The rapporteur of the CPI of Covid-19, senator Renan Calheiros (MDB-AL) at a press conference this Tuesday morning, 05, before the start of work on the commission

In a press conference at the Federal Senate this Tuesday, 05, the rapporteur of CPI to Covid-19, senator Renan Calheiros (MDB-AL), said the parliamentary inquiry committee will indict more than 30 people, from the evidence collected in the testimonies heard by the collegiate, composed of 11 parliamentarians. According to the senator, the president Jair Bolsonaro (no party) will be among them "with certainty". "We're not going to talk rudely in the investigation and meow in the report, he will certainly be indicted, yes, for what he did," Calheiros fired to journalists when asked about the situation of the chief executive.
"There is still no quantification of the defendants, but there will be a little more than 30. A very important piece of information is that we will send to the Attorney General's Office (PGR) only what fits it. And let's untangle [o relatório] to send to the Federal Court of Accounts (TCU), to the Public Ministry of the Federal District, São Paulo and other states the other aspects of the report itself. The PGR will assess within 30 days, according to the legislation, those who have a special jurisdiction, which, therefore, must be examined by it. We will additionally deliver the evidence gathered throughout our work to both the parliamentary inquiry commission of the Municipality of São Paulo and ALESP and the MP of the State of São Paulo as well", he said.
Also at the press conference, Calheiros hinted at other possible names that should be indicted based on the report's arguments: "Ministers, those people who had effective participation in the parallel cabinet, in the hate office and all those who were responsible for the embezzlement of money public and theft. These people will be held responsible. We will use the criminal types of common crime, responsibility, against life, against humanity and we are evaluating, in relation to indigenous people, the use of the crime of genocide", he revealed.
Renan Calheiros also confirmed that this will be the last week of testimonies and that his report will be ready on October 15th. The schedule is for the document to be read on the 19th and voted on on the 20th. "We are still discussing aspects of the report. I will talk individually with each CPI member. And, on the 15th, we will continue the debates, listening to jurists, characterizing situations and choosing the types of criminal offenses that we will use", he said. "When we finish reading the report, someone will have to ask for views, this is regimental, and President Omar Aziz (PSD-AM) will schedule the day after the vote, the 20th."