The Tamil Nadu state government has seized six properties belonging to Shashikala's cousin, Jayalalithaa's adopted son Sudhakaran.
sudhakaran property undertake by Government : Shashikala's friend Shashikala, who was recently released after completing her jail term in a case of assets exceeding income, is scheduled to reach Chennai on Monday. At this juncture, the Tamil Nadu state government confiscated six properties belonging to Sudhakaran, a cousin of Jayalalithaa and Jayalalithaa's adopted son. Chennai District Collector has issued a notice to this effect. The Collector said in the order that action would be taken on the basis of the judgment given by the Supreme Court.
In this regard, in the order issued by the District Collector, we are nationalizing six properties belonging to Princess Sudhakaran of Chennai Revenue District.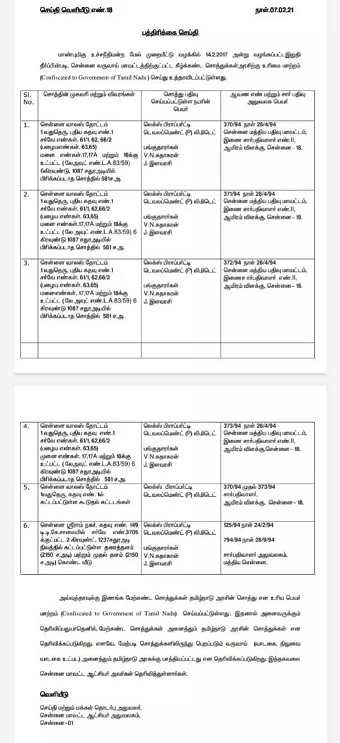 However, the court sentenced Sudhakar and Ilavarasi to four years in jail along with Shashikala in a case of assets exceeding income. Sasikala, who has completed his sentence, was recently released. The twentieth will be released tomorrow. Sudhakaran is still in jail due to non-payment of fine. With these sudden developments the politics of Tamil Nadu became juicy.
Read Also ఉత్త Uttarakhand worth Rs 4 lakh compensation to flood-hit families: CM Rawat
.