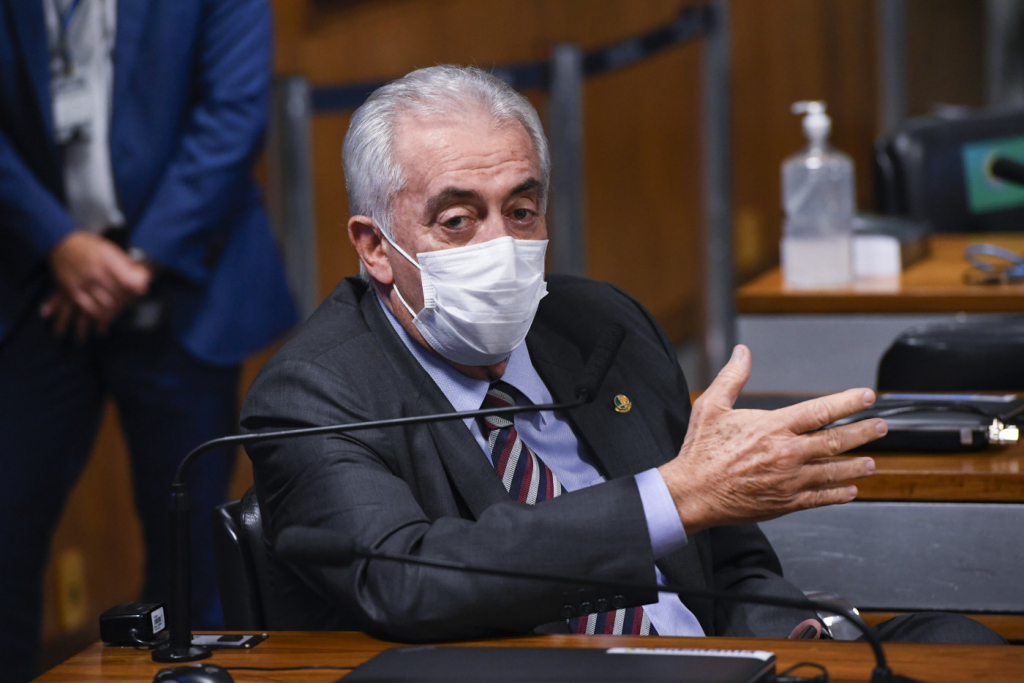 A member of the Covid-19 CPI, the parliamentarian stressed the need for the federal government to 'correct errors' and be guided 'exclusively in science'.
Jefferson Rudy / Senate Agency
Senator reinforced that the commission will investigate all possible crimes, deviations and omissions made during the confrontation with the pandemic

A CPI to Covid-19 receives the president of National Health Surveillance Agency (Anvisa), Antônio Barra Torres, and the Minister of Health, Marcelo Queiroga, this Thursday, 6. The expectation is that the purchase of vaccines is the main topic of testimonies and questions by parliamentarians. For Senator Otto Alencar, a member of the collegiate, the issue of immunizations has been dragging on since last year, when the government refused to purchase 70 million doses of Pfizer, and reflects on the progress of the vaccination. "We Brazilians are paying for the lack of vaccines. The situation is serious and there is no other way ", he said in an interview to Jornal da Manhã, from Young pan. He points out that the change in the Ministry of Health reflects a "hit" by the president Jair Bolsonaro, with the choice of a technical name for the folder. "Our position at CPI is going to be purposeful. Propose to the government to change mistakes, to correct mistakes, to place the situation within the scientific, scientific and medical part.
That's why I graduated a lot because I graduated from Bahia, I graduated as a doctor, I followed this closely, I was once secretary of health, I know what it is to work in an epidemic, an even worse pandemic, it's very difficult in any country in the world. But we have to work professionally, this time lost in the Pazuello administration is something that left something to be desired and delayed the vaccines a lot ", he said. When asked if the Covid-19 CPI will listen to professionals who advocate early treatment with chloroquine, for example, Otto Alencar it was categorical: the basis of the commission will be entirely scientific. Explaining the viral characteristic of the disease, the senator cited the lack of clinical studies on the use of antiprotozoal drugs, such as hydroxychloroquine, to fight diseases caused by viruses. "Hydroxychloroquine kills, it increases the space between heartbeats, the heart stops beating rhythmically and makes the space between one beat and another. As it enlarges this beat a lot, the heart stops and doesn't beat again, only if you have it in the hospital to get a cardioverter and stimulate the heart to beat again. It is a risk, it has severe heart complications. "
Finally, the senator reinforced that the commission will investigate all possible crimes, deviations and omissions made during the confrontation with the pandemic in Brazil. "We are not going after President Jair Bolsonaro because we cannot go. When the report is finished and it is approved, it will be forwarded to the Attorney General's Office, Augusto Aras is the prosecutor. He who will offer a complaint or not. We are going to have to present him a job, check it, show that it did happen, here is the corruption, the evidence. Here is who was submissive, who accepted to say 'one boss and the other obeys' in a very submissive way as someone was Minister of Health. Science does not bend the captain's order, science is scientific, it is medicine. Can someone who does not have a medical degree sit down and determine a prescription for Brazil? It can't, it was wrong. Mistakes have to be combated. "