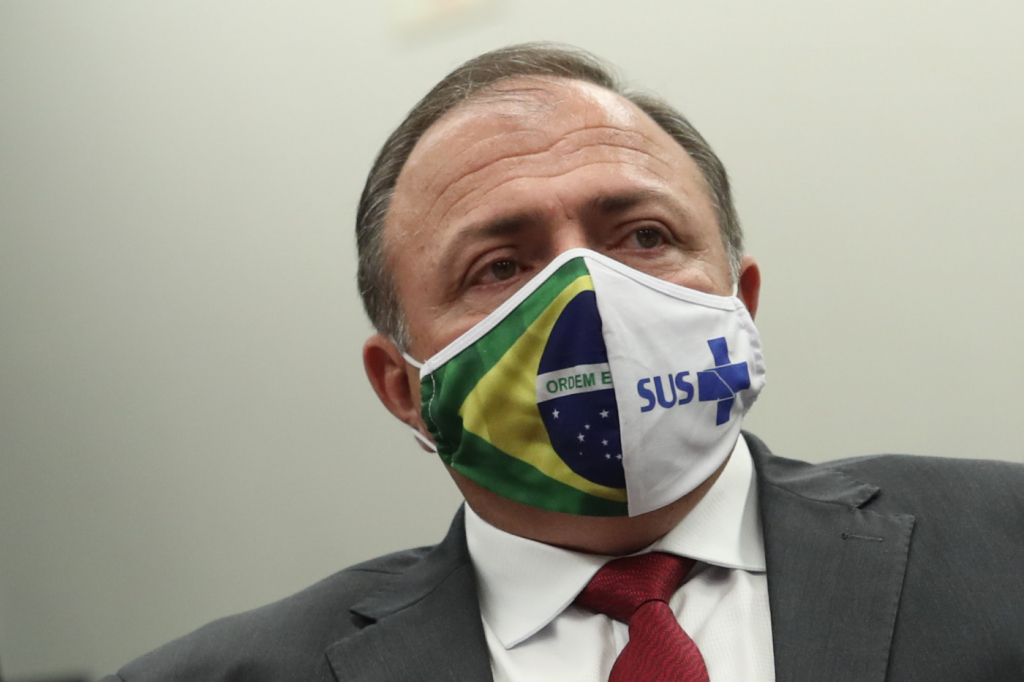 Former Minister of Foreign Affairs stated that his portfolio's role in combating the pandemic was based on guidelines defined by the Ministry of Health
Gabriela Biló / Estadão Content
Despite the habeas corpus granted by the STF, Pazuello's defense says that he 'is ready to answer any and all questions to the senators'

In his testimony to CPI to Covid-19, the former foreign minister Ernesto Araújo stated, repeatedly, that the role of his portfolio in tackling the pandemic of the new coronavirus was based on guidelines defined by the Ministry of Health. To the senators, the former head of the Itamaraty said, for example, that Brazil sought chloroquine in the international market at the recommendation of the ministry commanded, at the time, by Eduardo Pazuello. As a result, the top of the commission assesses that the army general is in "a very difficult situation" on the eve of his hearing, scheduled for this Wednesday, 19.
On Friday, the 14th, the minister Ricardo Lewandowski, of the Supreme Federal Court (STF), granted the former Minister of Health the right to remain silent at the CPI whenever he believes that the question may incriminate him – Pazuello is investigated in the first instance for alleged omission in the episode of lack of oxygen In Manaus. However, at a press conference on Tuesday afternoon, after the testimony of Ernesto Araújo, the commission's vice president, Randolfe Rodrigues (Rede-AP), and the rapporteur, Renan Calheiros (MDB-AL), asked the ex-foreign minister to collaborate with the investigations.
"The testimony [de Ernesto Araújo] makes it clear that whoever joined the Covax Facility consortium with 10% and not with 50% of the amount of doses was the Ministry of Health. He leaves Pazuello in a very difficult situation for tomorrow. It seems to me that there is a movement of abandonment of the former Minister of Health. He should collaborate with the CPI, otherwise, all the elements will lead him to be responsible for the deaths of hundreds of thousands of Brazilians ", said Randolfe. "Ernesto told us that the negotiations were the result of indications by the Ministry of Health, with the exception of chloroquine and the trip to Israel, which were requested by President Jair Bolsonaro. So, with that, with this effort, he transfers the burden of mistakes to the Ministry of Health and to those who occupied it, in this case, the former minister Pazuello ", added the emedebista.
Randolfe Rodrigues also stated that the Bolsonaro government is committing an "act of cowardice" against Pazuello. "What the government is doing with Pazuello is an act of cowardice. He is being abandoned and handed over to the lions, he is the scapegoat. What are we going to ask him tomorrow? Were you the only one responsible? Does anyone share that responsibility? Total silence testifies against him. At this point, after Ernesto's testimony, [o habeas corpus] it is an instrument against him. If he's watching us, I beg him: try to save yourself, "said the vice president of CPI.
Despite the habeas corpus, the defense of the former Minister of Health has stated that the general will answer all the questions in the session of this Wednesday, 19. In a note sent to Young pan, lawyer Zoser Hardman says that Pazuello "is ready" to face "provocations" in his testimony. "Former Minister Pazuello is ready to answer any and all questions to senators during his testimony to the CPI. In fact, it's more than ready since last Tuesday. From professional experience in similar circumstances, I am convinced that the day before the testimony date must be destined for the rest of the mind and body. There will be hours of testimony. The strategy most used by interrogators in similar cases is to try to tire the deponent so that the mind fails and the deponent gets confused, makes mistakes. Aware of this, the rest of the mind is always the best antidote. At CPI, Pazuello will be very well represented by the AGU, especially Dr Diogo Palau, a union lawyer assigned to defend and accompany the ex-minister during his testimony. I couldn't be in better hands. Anyone who expects ex-minister Pazuello to enter some provocation or not to endure the marathon will be surprised. "