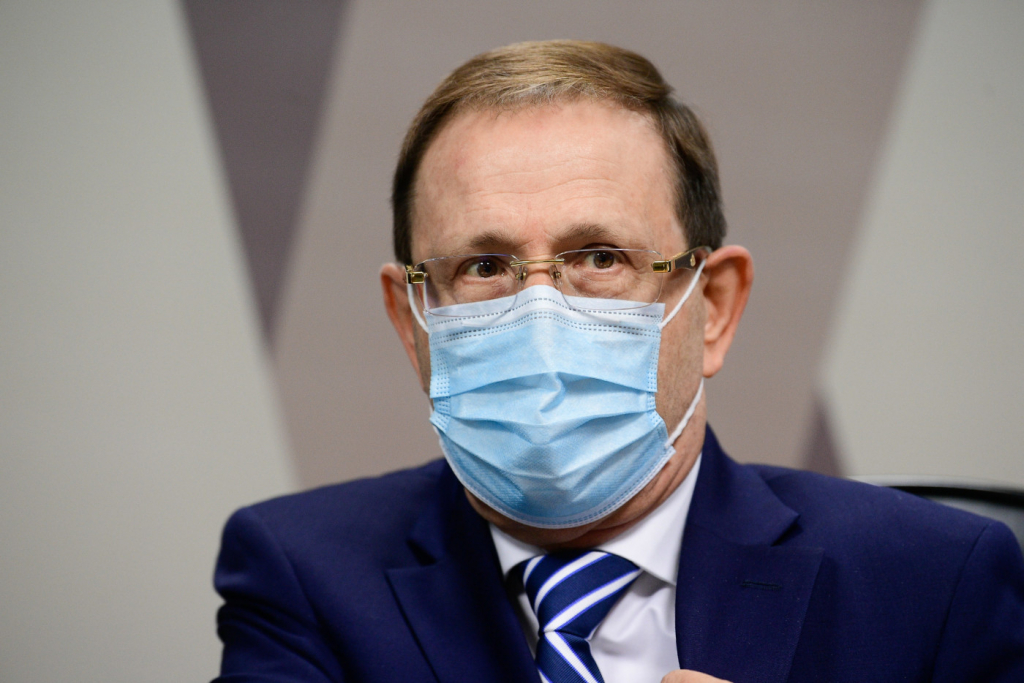 Entrepreneur was supported by a decision of the Supreme Court that assured him the right not to produce evidence against himself; bank and tax secrecy will be surrendered voluntarily to the commission
Pedro France/Senate Agency
Businessman Carlos Wizard testified this Wednesday, 30, at the CPI of Covid-19

In your testimony to CPI to Covid-19, Carlos Wizard he was silent and did not respond to any questions from the senators. Supported by a decision of the minister Luis Roberto Barroso, of the Federal Supreme Court (STF), which guaranteed him the right not to produce evidence against himself, the businessman, appointed as a member of the parallel advisory office to the president Jair Bolsonaro, limited himself to saying a single sentence: "I reserve the right to remain silent". In his opening speech, which lasted approximately 15 minutes, he denied that he was invited to join this counseling group. Chairman of the commission, Omar Aziz | (PSD-AM), stated that he will appeal to the Court so that Wizard is obliged to tell the truth to the collegiate.
In the face of Wizard's silence, the senators exhibited videos with statements by the Pocketnarist businessman, who worked for approximately one month at the Ministry of Health, even though he was not appointed to any position. In interviews, he suggested that state managers inflated the number of deaths caused by Covid-19 to receive more money from the Union. In one of the footage, the deponent says, with a smile on his face, that five people would have died in the city of Porto Feliz , in the interior of São Paulo, because they "stayed at home" and did not resort to the use of drugs that were proven to be ineffective for the treatment of the disease. In another video, Wizard claims that he received from the then Health Minister Eduardo Pazuello the mission of "lining the country" with chloroquine and hydroxychloroquine.
One of the most heated moments of the session this Wednesday, 30th, occurred when senator Otto Alencar (PSD-BA), who momentarily chaired the meeting, stated that lawyer Alberto Zacharias Toron was "blush", while his client had " yellowish". Author of theses that imposed defeats on Operation Lava Jato in the Supreme Court, Toron is one of the most famous criminalists in the country. At first, he stated that Alencar referred to him in a "joking" way and was "cowardly" by not allowing his response. The senator threatened to call the Legislative Police to remove him from the floor, but, faced with an apology, the session continued. In the final part of the meeting, Wizard's defense stated that he will voluntarily submit information about his banking and tax secrecy – the commission also approved the breaking of telephone and telematic secrecy.