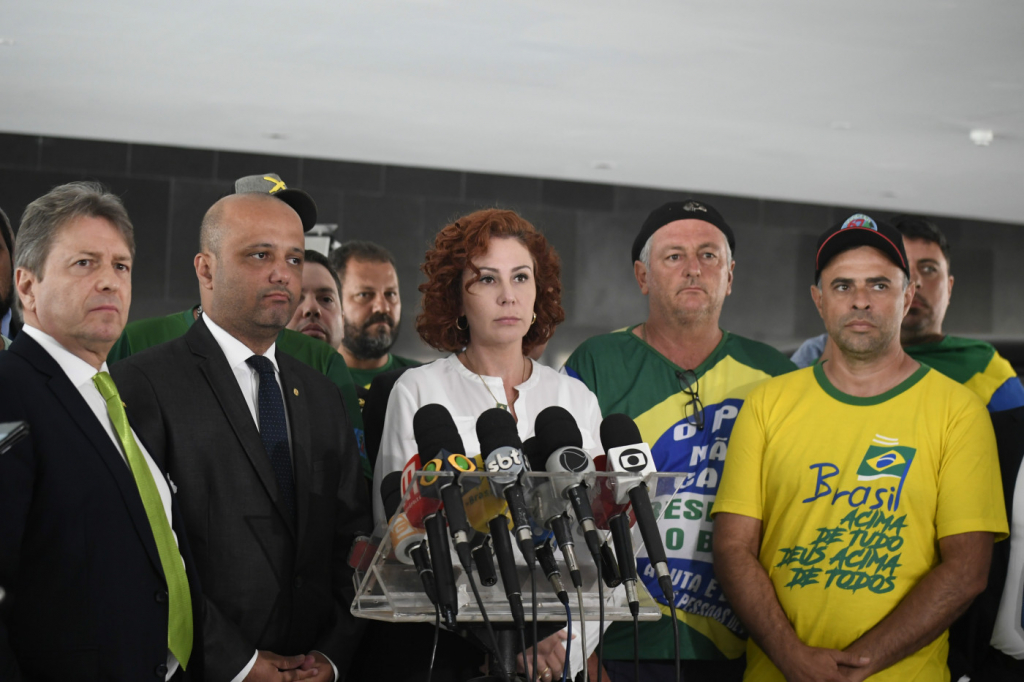 Deputies even announced that they would file a request for habeas corpus in favor of the truck driver, the target of the arrest warrant of Minister Alexandre de Moraes
MATEUS BONOMI/AGIF – PHOTOGRAPHY AGENCY/ESTADÃO CONTENT
Deputies Vitor Hugo and Carla Zambelli at a press conference after President Jair Bolsonaro's meeting with truck drivers

Parliamentarians allied with the federal government, especially the Social Liberal Party (PSL), spent Thursday, 9 following the situation of the truck driver Marcos Antônio Pereira Gomes, known as Ze thunder. Target of an arrest order of Justice Alexandre de Moraes, of the Federal Supreme Court (STF), for allegedly encouraging undemocratic acts, he is staying at a hotel in the Mexico and is monitored by the Federal Police. Even with the name among the most sought after by Interpol, the truck driver continues to challenge the Supreme Court's decision, posting videos on social networks. "I didn't commit any crime. I'm going to Brazil, probably arrested. Politically imprisoned, imprisoned for the crime of opinion. I ask all Brazilians. Everything I'm doing is for Brazil," he said in a video.
After attending a meeting of the president Jair Bolsonaro with truck drivers, the leader of the PSL in the Chamber, deputy Vitor hugo, even announced that he and other allies would file a request for habeas corpus in favor of the outlaw. "It is a gesture that we will make hoping that other members of the Three Powers will also make gestures in favor of the necessary peace and harmony between the powers," he said. A press conference of PSL deputies was even called to give details about the appeal, but it was canceled after the chief executive made a statement to the nation seeking to alleviate the crisis generated by the September 7 speeches.
The president's position, however, was seen with reservations among supporters and allied lawmakers, such as deputy Otoni de Paula, recently the target of search warrants for allegedly encouraging anti-democratic actions. "Daniel Silveira is under arrest. Roberto Jefferson is in jail, Zé Trovão is in jail. Wellington Macedo is under arrest. Oswaldo Eustáquio is in prison. No, gentlemen, I am sorry to say that it is not a time for peace when the enemy does not want peace, when the adversary only wants war. Sorry, President," he said. Senator Flávio Bolsonaro acted to contain the frustration of part of the base allied with his father's manifesto. On a social network, he asked followers to "trust the captain". He assured that the Chief Executive "knows what he is doing and it is for the good of Brazil".
*With information from the reporter João Vitor Rocha