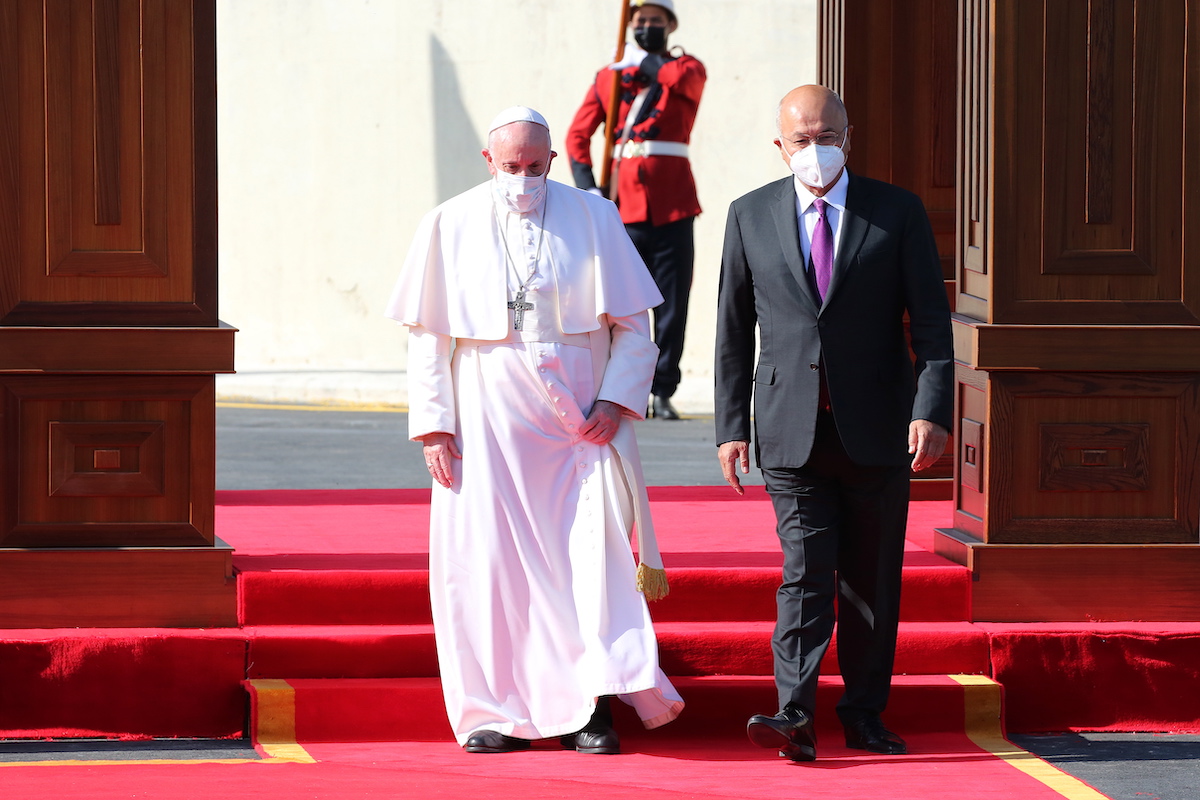 After 15 months in Italy, Pope Francis returned to pastoral travel with a four-day visit to Iraq, an unprecedented trip by a leader of the Catholic Church to Iraq.
THE Pope Francisco it defied all recommendations and traveled to a country that has been marked by interreligious and ethnic violence over the past nearly two decades.
In his first public speech this Friday, Francis stressed that there can only be a democratic and peaceful future in Iraq if all communities, including Christians, have their rights guaranteed.
"It is essential to ensure the participation of all political, social and religious groups and guarantee fundamental rights of all citizens. Let no one be considered a second-class citizen, "said Pope Francis, quoted by Renaissance.
"The Holy See does not tire of appealing to the competent authorities in Iraq, as elsewhere, to grant all religious communities recognition, respect, rights and protection," he repeated.
In Baghdad, Francis met with the Catholic clergyman and recognized the beauty of the variety of liturgical rites and traditions in the country. Despite this, he called for the difference it wasn't an obstacle the unity.
"The different Churches present in Iraq, each one with its secular historical, liturgical and spiritual heritage, are like so many strands of variegated colors that, intertwined together, make up a single beautiful carpet, which not only attests to our fraternity, but also refers to its source, because God Himself is the artist who idealized this rug, who weaves it with patience and holds it carefully, always wanting us to be well intertwined among us, like his sons and daughters ", he said.
"How important is this testimony of fraternal union in a world that is often fragmented and torn apart by divisions!", Added the Pope.
Francis's journey to the Land of Abraham is historical and it represents a return of the Catholic Church to a place that, despite being associated with the foundational moments of Christianity, is not safe for Christians.
Pope meets Iraq's top Shi'ite leader
Pope Francis met this Saturday with the main Shiite religious leader, Ayatollah Ali al-Sistani, in Najaf, a gesture considered historic in relations between the Vatican and Islam, without the presence of cameras.
Francisco was seen entering Al Sistani's modest home in one of Najaf's humble neighborhoods, surrounded by security forces. It was the first act of the Pope's day, which this Friday arrived in Iraq for a three-day visit, becoming the first pope to visit this country.
As some experts pointed out a few days ago, Francisco had to respect the protocol and remove his shoes before entering al-Sistani's room. The question is whether al-Sistani, who normally sits when receiving visitors, got up to receive Francisco, a gesture he would never have had
Ali al-Sistani told Pope Francis that Christians in Iraq should live in peace and with all rights, according to a statement from Al Sistani's office. Photographs of the meeting between the two religious leaders were also released, which took place without the presence of the press, in which Francisco, dressed in white, and Al-Sistani, in black, are seen on two sofas in the modest house of the Shiite leader.
Al-Sistani emphasized the role that religious authority has played in "protecting all those who suffered injustices and harm in recent years, especially during which terrorists have taken over large areas in various Iraqi provinces, where they have committed criminal acts ".
The Shiite leader alluded to the period, between 2014 and 2017, when the Sunni jihadist group Islamic State (IS) occupied much of Iraq and was about to arrive in the capital Baghdad.
During the meeting, according to the statement, they addressed "the great challenges facing humanity at the moment and the role of faith" and made specific reference to the "injustices, economic harassments and displacements suffered by many peoples" in the region, "especially the Palestinian people in the occupied territories "by Israel.
Finally, Al-Sistani emphasized the "role that great religious leaders and spiritual they must play to contain all these tragedies ".
During this meeting, there was no common document like the one signed in Abu Dhabi two years ago by the Pope and Egyptian Sheikh Ahmad al-Tayyeb, Grand Imam of Al-Azhar, the largest Sunni institution in Cairo, and which was a the main steps in the relationship between Islam and Catholicism.