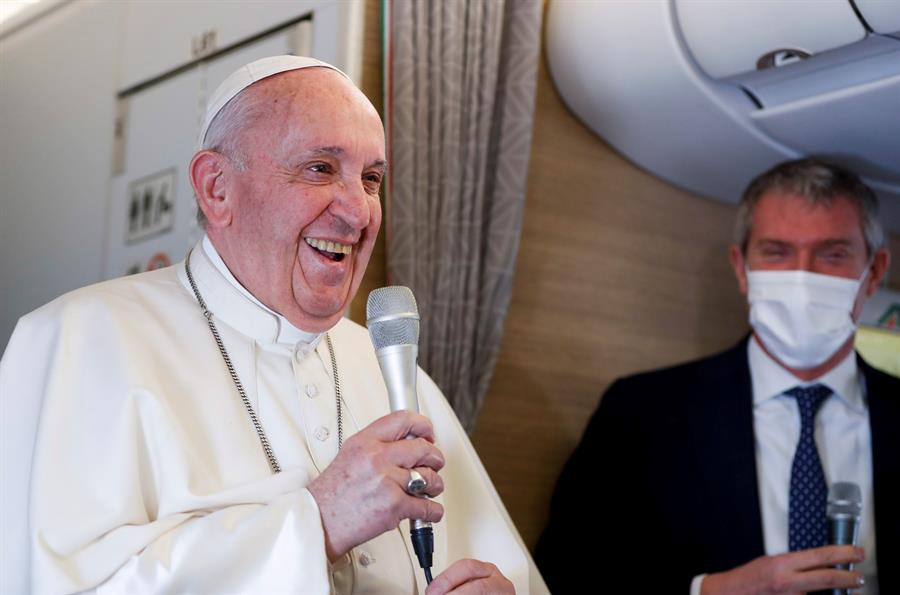 The leader of the Catholic Church mentioned the fact that young people choose to live and the abuses suffered by women living in the country of the Middle East
EFE / EPA / YARA NARDI / POOL
Pope Francis addressed the press on the plane that took him back to the Vatican after traveling through Iraq

THE Pope Francisco returned to Vatican this Monday, 8, after spending three days on a historic visit to the Iraq. On the return flight, he took advantage of the presence of the press to talk about the situation of migrants using the example of the country of Middle East, where many people have no choice but to leave the place where they live. "As I was driving back from Qaraqosh to Erbil, I saw a lot of young people. What is the future of these young people? Where will they go? So many will have to leave the country. These people do not have two options, because they cannot not emigrate, however, they also cannot emigrate, because the world has not yet realized that immigration is a human right ", said the leader of the Catholic church. The Holy Father also mentioned the Lebanon and to Jordan which, according to him, are "generous countries" that receive migrants.
Even during his return to the Vatican, Pope Francis stated that it is the women that "take the story forward". The leader of the Catholic Church recalled that he saw the "price list" that jihadists do Islamic state pay for women and pointed out that they "are humiliated and are also sold in the center of Roma", Pointing out that this is not a localized problem. "We must fight for the dignity of women. They are the ones who carry the story forward. It is not something I say today, because it is International Women's Day. It is like that ", he affirmed. The day before, the Holy Father had "thanked from the bottom of his heart" all the Iraqi mothers and women, of whom he praised his courage in the face of abuse and injuries. "May women be respected and defended," asked the Argentine in Qaraqosh, where thousands of Christians have been killed or made sex slaves by terrorists.
Although it was considered risky due to the new coronavirus pandemic and the recent attack on a US military base in the country, the trip took place without major incident. The leader of the Catholic Church called for religious tolerance, met with the country's top Shiite authority, Ayatollah Ali al-Sistani, and argued that it is not lawful to wage war in the name of God.
* With information from EFE