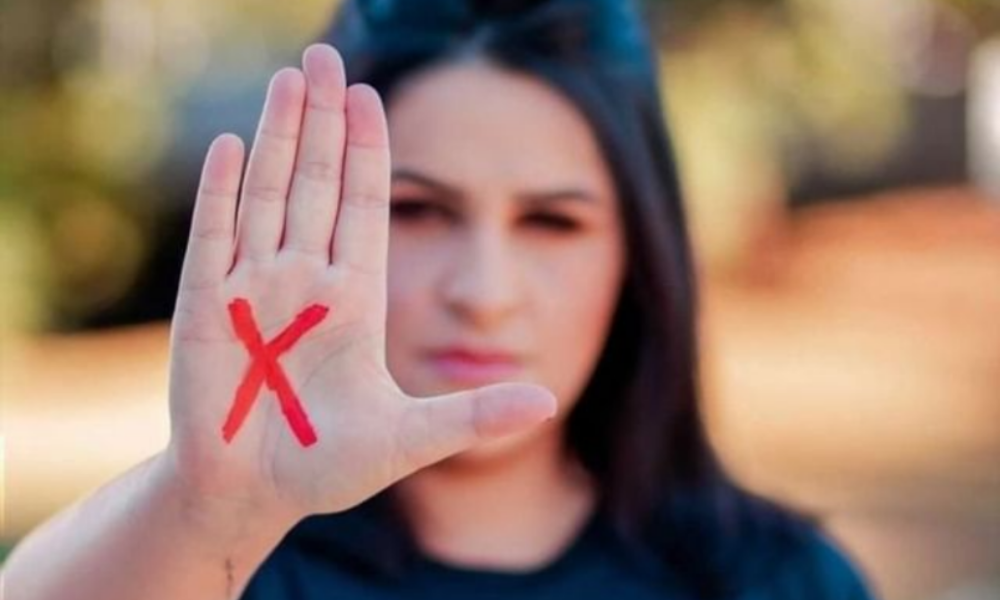 Previously implemented by the Federal Government, in the campaign women who need help show a red X on their hand
Play / Instagram @campanhasinal Vermelho
At-risk women show a red X on the palm of their hand to signal a call for help against violence

Together with the Federation of Commercial Associations of the State of São Paulo, the Legislative Assembly of the State of São Paulo (Alesp) joined the campaign "Red sign against domestic violence" launched by the National Council of Justice (CNJ) in partnership with the Association of Magistrates of Brazil. At the launch event, a portrait of the domestic violence from the perspective of 1000 women from São Paulo. Conducted by the Institute of Social, Political and Economic Research and by the São Paulo Association of Magistrates, this study shows that 54% of the interviewees consider domestic violence a matter of concern; 88% perceive an increase in cases, especially in the interior; 10% think that aggressions occur on the street; and 66% say they happen indoors. For 63%, the partner is the aggressor.
The survey also pointed out that 42% of the interviews do not seek help, which raises a concern regarding underreporting of cases. Although all police stations can receive reports of violence against women, the most sought after are the Women's Police Stations. However, more than 40% of those victims complain about police assistance. For these women, there is a lack of empathy and sensitivity at the time of reporting. The president of the São Paulo Association of Magistrates, Vanessa Mateus, says that it is necessary to feel free to denounce. "A woman who is a victim of violence, when she decides to denounce, is a giant step she took, an immense step resulting from a lot of suffering. If she isn't taken in, she doesn't come back. So, it is necessary that the complaint is properly accepted", he stated.
The "Red Signal Against Domestic Violence" Campaign has already been implemented by the Federal Government. In it, women at risk show a red X on the palm of their hand when asking for help. The idea was inspired by other countries. The president of the Women's Commission of the Association of Brazilian Magistrates, Maria Domitila Mansur, said that she brought the project to Brazil after a conversation with an Indian judge. "We also talked to other magistrates, especially a magistrate in New Delhi, India, and she told us about an experience of the red light that they usually use on their foreheads, on their hands, to report an episode of violence," he said.
The president of the Legislative Assembly of São Paulo, Carlão Pignatari, stated that Alesp's adhesion will spread the campaign throughout the state. "We need to talk about this every day. It is no longer possible to have violence against women, at all levels, not only physical aggression, but harassment, name calling, this cannot exist, it is no longer possible, in the 21st century, for us to be talking about domestic violence", she said. More than ten thousand commercial establishments already support the initiative, such as pharmacies, drugstores, banks and shopping centers.
*With information from reporter Camila Yunes.