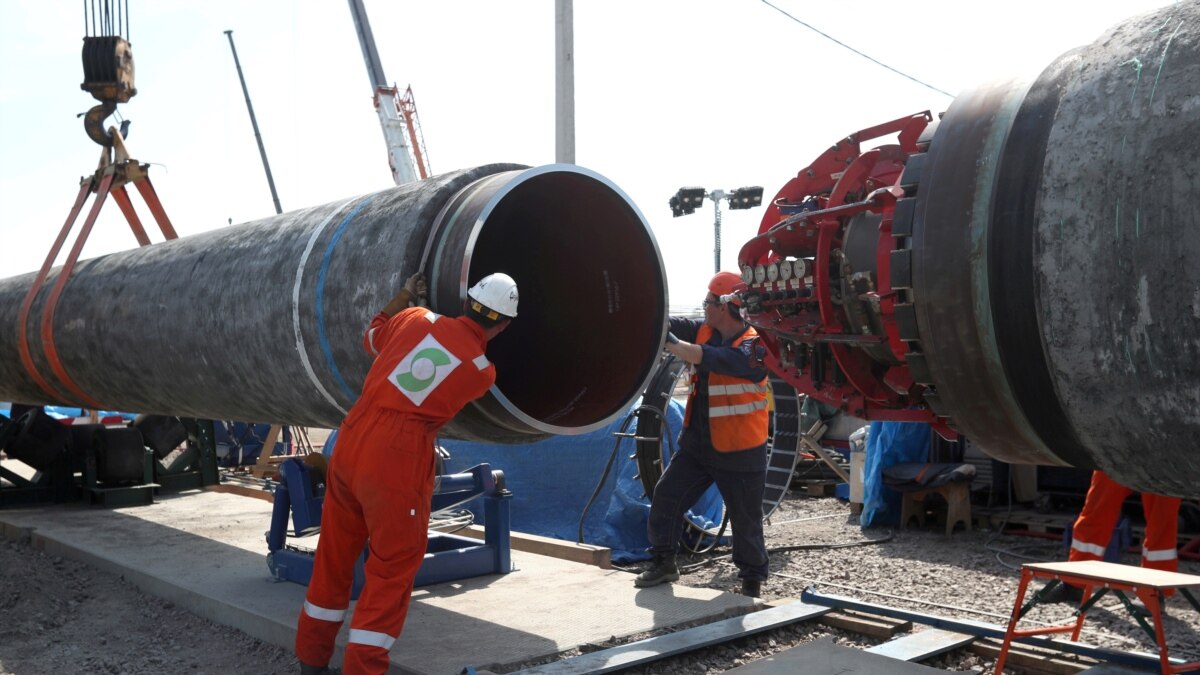 The United States and Germany say they have reached an agreement on North Stream-2. Opponents of the pipeline project, according to opponents, endanger the energy security of Ukraine, as well as the energy security of Eastern and Central European countries. German Chancellor Angela Merkel, who will leave the post soon, said she had already talked to Russian President Vladimir Putin about the agreement.
Washington expects the Biden administration to again face strong opposition from Congress. U.S. lawmakers have twice approved sanctions to prevent the project from being completed. However, there is bipartisan unanimity in both houses of Congress regarding North Stream 2.
In a statement on July 21, the United States and Germany said they had agreed on a package of measures, including possible sanctions on Russia. Their goal is to alleviate the damage to Ukraine's budget and national security due to the completion of the Kremlin project.
North Stream 2 consists of two parallel gas pipelines that stretch for 1,230 kilometers. It will transport Russian Arctic natural gas to Germany, bypassing Ukraine and Poland. This would cost Kiev at least $ 2 billion in transit revenue.
Critics also point out that the pipeline undermines Ukraine's national security. Russia may be more aggressive with its neighbor, as it will no longer depend on its energy capacity.
Russia invaded part of Ukraine in 2014, the Crimean peninsula. In addition, the Kremlin has unleashed a war in eastern Ukraine in which Ukrainian national forces and Moscow-backed separatists are fighting. More than 13,200 people were killed in the fighting.
This year, Russia has deployed more than 100,000 troops and additional military equipment along the Ukrainian border. Such mobilization of forces was perceived by the West, including the United States, as pressure on Ukraine and a way to pose a threat to it.
"If Russia tries to use energy as a weapon and take further aggressive action against Ukraine, Germany will take action at the national level and put pressure on the European Union, including sanctions, to reduce export potential from Russia to the energy sector, including natural gas and / or other economically relevant sectors." Reads a joint statement.
According to the statement, Germany will appoint an emergency representative who will try to reach an agreement with Ukraine to extend the Russian gas supply contract for a period of 10 years. The current contract expires at the end of 2024.
North Stream 2 will be able to supply Germany with 55 billion cubic meters of natural gas a year. This fully compensates for the current transit to Ukraine.
U.S. lawmakers have not hesitated. "North Stream 2 will strengthen Russia, undermine US national interests and threaten Ukraine, a key ally of the United States," Republican Sen. Rob Portman told Twitter. A similar statement was made by Democrat member of the House of Representatives Mars Captur. "Congress must reject any agreement that fails to ensure transatlantic security and Ukraine's sovereignty," he said.
The House of Representatives approved a legislative amendment earlier this month aimed at suspending the Biden administration's right to lift sanctions on the pipeline. Congress believes that the implementation of these sanctions is mandatory.
Almost simultaneously, the Biden administration released another report that it will host Ukrainian President Volodymyr Zelensky at the White House on August 30. This will be Zelensky's first official visit to the United States since taking office two years ago. During this period, Congress is usually on vacation, which potentially deprives the President of Ukraine of a chance to meet with lawmakers who oppose North Stream 2.
Zelensky expressed frustration with the Biden administration's decision to lift sanctions on Russia last month. This already in May indicated that Moscow had paved the way for the completion of the gas pipeline project.
Ukrainian Foreign Minister Dmitry Kuleba said in connection with the US-German agreement that Kiev had already begun consultations with the European Commission and Germany. According to him, North Stream 2 violates the principle of energy-diversification of the block.
Derek Schole, an adviser to the US Secretary of State, said the Biden administration made the decision because, in Washington's view, the pipeline was almost complete and construction would be completed anyway. He made this statement to the Ukrainian edition of Radio Liberty. Such a solution would be worse for Ukraine and its energy security, as well as for the transatlantic alliance, says Schole.
"Therefore, to avoid this scenario, we decided to work with our German partners to make sure that we would send a strong message to Russia about the expectations that its behavior would lead to the use of energy as a weapon, and to establish the open consequences of using energy as a weapon. He would bring it, "said Derek Schole.
.