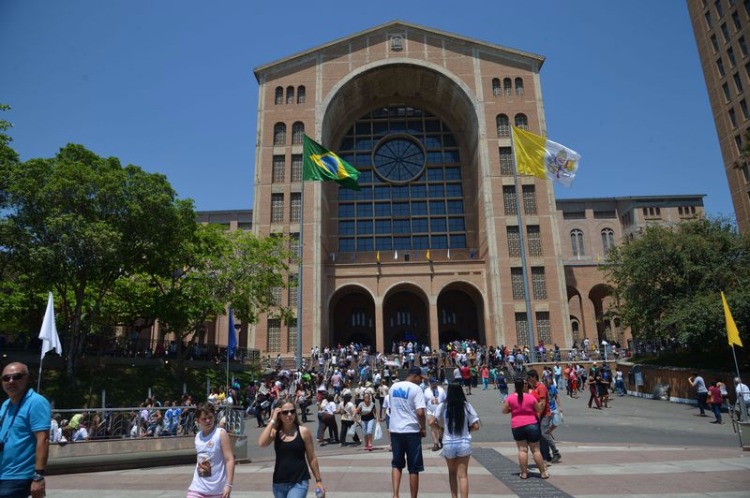 According to Luiz Carlos de Siqueira, the number is still low when compared to times of normality, before the pandemic; he highlights that the city is well prepared and following health protocols
Rovena Rosa / Brazil Agency
Romeiros go to Aparecida do Norte for the first time since the beginning of the pandemic this Tuesday, 12

In an interview with Morning newspaper, the mayor of the city of Northern Appearance (SP), Luiz Carlos de Siqueira (Podemos), spoke about the preparation to receive pilgrims from all over Brazil this October 12, the holiday of Our Lady of Aparecida. After a year and a half of the pandemic of Covid-19, the city expects to receive more than 30,000 people. Although the number is high, according to the mayor, it is still far from the normal reality of the city, which, according to him, before the pandemic received more than one million visitors every month, accounting for 12 to 13 million a year. Siqueira also claims that all sanitary protocols against the new coronavirus are being followed and that the city is inspecting the use of masks and trying to avoid crowding, especially in tourist spots, such as the Aparecida Sanctuary.
"Our city has always been relatively prepared to receive 150, 200, 250,000 people, which is the norm on weekends, over the last few years. Evidently, with all the Covid-19 protocol, the movement is gradually increasing. Between Friday, Saturday and Sunday we had a lot of pilgrims. Between today and tomorrow, there is a perspective of having a little more than 30,000, but we consider this to be a relatively medium downward movement. But we are, yes, prepared in safety, in health, with compliance with the Covid-19 protocol. We have put inspections and have guided commerce, hotels, so that they strictly comply with the protocols for the use of masks, alcohol gel and distancing and everything else (…) To say that we are systematically on top, to avoid crowding, I would have to deceive people, and I won't. But we have been making an effort and providing guidance, our people are on the streets, morning, afternoon and night. I think things are going relatively well," said Siqueira.
Regarding the number of people expected in the city on this holiday, the mayor explained that the number is still low. Even so, for him, tourists who are already in the city are thrilled to return to the city. "Aparecida receives 12 to 13 million visitors a year, from 1 million to 1.2 million a month. And today we are very far from that, because there is still a fear in society as a whole. But what I can make clear to Brazilians is that we are being careful. I'm a different mayor, I live on the street, I don't have this mayor's protocol. I like to interact with people. Just yesterday I was with dozens and dozens and dozens of pilgrims. They show great joy for being in Aparecida again. People like to come here every year. There are families that come two to three times a year. But the return is still slow. It is very far from our reality", he said. For the mayor, Aparecida is still a city traumatized by the impacts of the pandemic and its recovery should take place slowly, boosting the economy and society. "The trail that Covid-19's worst moment left in the city is the trail of subjugation, of social vulnerability. This requires a certain amount of time to be rescued", he concluded.