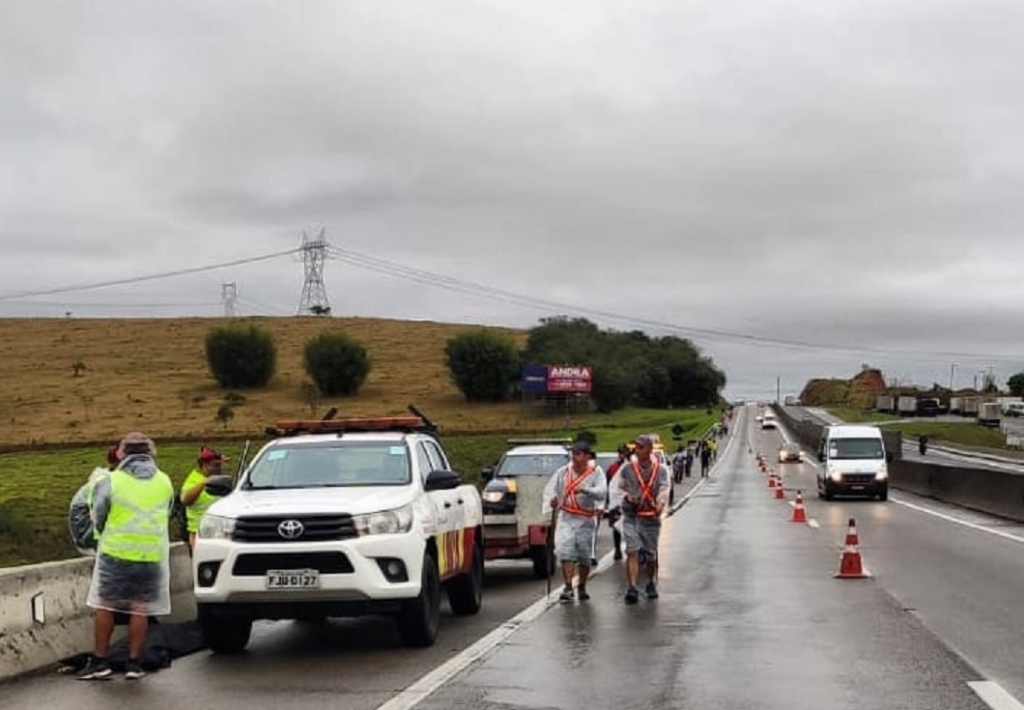 People who walked on the side of the road, cyclist and man who took shelter under a truck are among the fatal victims
Federal Highway Police/Reproduction
At least four people have died in accidents on the Via Dutra since Saturday

At least four people who made a pilgrimage to Northern Appearance died between Saturday night, 9th, and Sunday morning, 10th, on Presidente Dutra Highway, the main access point to the inner city of São Paulo. The first victim was a Military Police officer who was at km 142 of the track, heading towards Rio de Janeiro and was run over at the height of São José dos Campos at around 22:22. He was in a group of people who had just left the city towards Aparecida and was hit with two other colleagues, both with moderate injuries that were taken to the Emergency Room of Hospital da Vila. In addition to them, two other occupants of the car that killed the policeman were injured and rescued. The track was wet at the time of the occurrence.
The second fatality was registered shortly before 5 am in the city of Caçapava. He was a pilgrim who was trying to take shelter from the rain under a truck parked at a service station and was run over by the driver, who started it without realizing that the victim was there. The third victim was a woman who was run over at around 5:50 am at km 121 of the road, near the city of Caçapava. She was hit together with another woman, who was referred in serious condition to the Hospital Regional de Taubaté. The two were part of a pilgrimage group that had left São Paulo for Aparecida. This Sunday morning, 10, the fourth victim, a cyclist who was run over at km 96 of the highway, near the city of Pindamonhangaba, was registered by the Federal Highway Police. In addition to him, three other people walking on the shoulder were injured in the accident and had to be rescued by the Military Police's Eagle helicopter.
A Young pan contacted Nova Dutra, which manages part of the highway, to find out more details about the cases. According to them, the concessionaire was called to deal with six pedestrian accidents between Saturday night and Sunday morning. In addition to the four deaths, the concessionaire counted six moderate victims and five light victims in accidents. Between October 1st and this Sunday, 18 pedestrian accidents were recorded on the road. "CCR NovaDutra totally advises against the practice of walking along the highway for sport or faith. Via Dutra's traffic is intense, consisting largely of commercial vehicles. There is a high risk of pedestrians being run over on the shoulder and the fact that many people walk together arouses the curiosity of drivers, who can brake sharply, causing rear-end collisions", added an excerpt of the note, advising the Route of Light as the official path to the Basilica of Appeared. The Fire Department was unable to inform details of any of the occurrences.