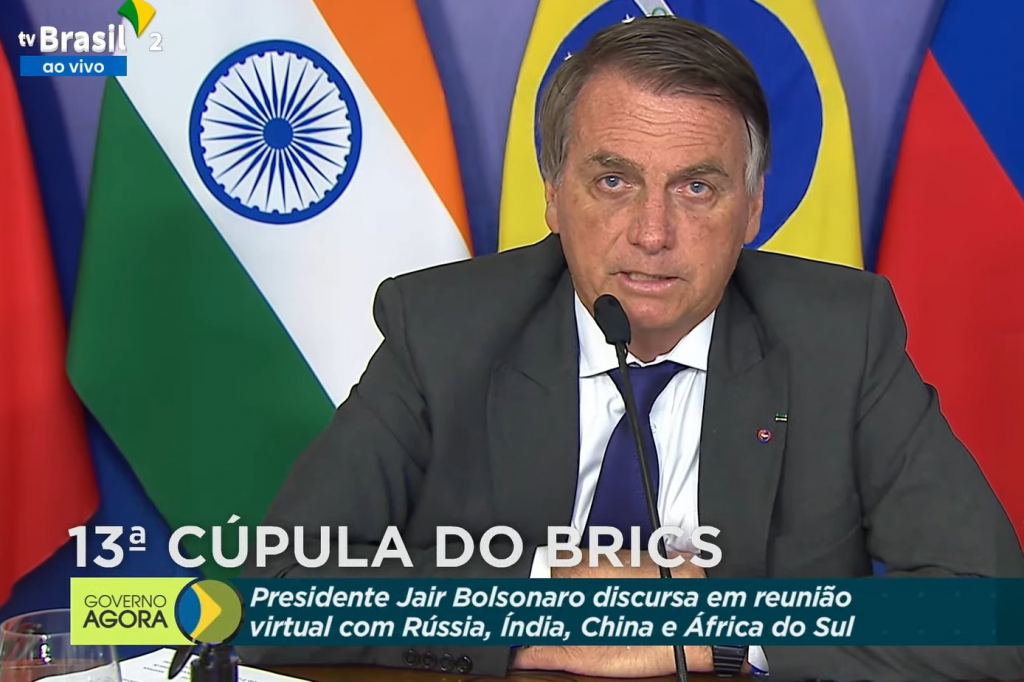 In a speech of approximately six minutes, the president said that the partnership with an Asian country has been 'essential for the proper management of the pandemic'
Reproduction/YouTube/TVBrasil
President Jair Bolsonaro made an opening speech at the annual meeting of the BRICS summit

In his speech at the opening of the summit of the BRICS, the president Jair Bolsonaro highlighted, this Thursday, 9th, the importance of China for the production of vaccines against the Covid-19 in Brazil. The federal agent also cited the group's last face-to-face meeting, which took place in Brasília, in 2019, when he met with the Chinese president, Xi Jinping, for a bilateral agenda. In addition to Bolsonaro and Jinping, the Russian president, Vladimir Putin, the Prime Minister of India, Narendra Modi, and the president of South Africa, Cyril Ramaphosa.
"That was, for example, the last occasion on which I personally met with President Xi Jinping, when we discussed issues of the global strategic partnership between our two countries, as well as the good state of our bilateral relations in different areas, more especially in the sphere investment", he said, in a speech of approximately six minutes. "This partnership has proven to be essential for the proper management of the pandemic in Brazil, considering that a significant portion of the vaccines offered to the Brazilian population is produced with inputs originating in China," added Bolsonaro. The Brazilian president ended his speech wishing that "soon" the BRICS summit could meet in person – the annual meetings have taken place virtually because of the Covid-19 pandemic.
Bolsonaro's nod to China comes after several speeches in which the head of the Brazilian federal executive questioned the effectiveness of CoronaVac, developed by the Butantan Institute in partnership with the Chinese pharmaceutical company Sinovac. The President of the Republic has already stated that he would not buy the immunizing agent, which he calls "vachina", and, in October 2020, he ordered the then Minister of Health, Eduardo Pazuello, to cancel the protocol for the purchase of 46 million doses signed with the Butantan. "I've already ordered it canceled, I'm the president, I don't give up my authority", he said at the time. The next day, Pazuello appears in a video alongside Bolsonaro and says: "It's that simple: one commands and the other obeys".