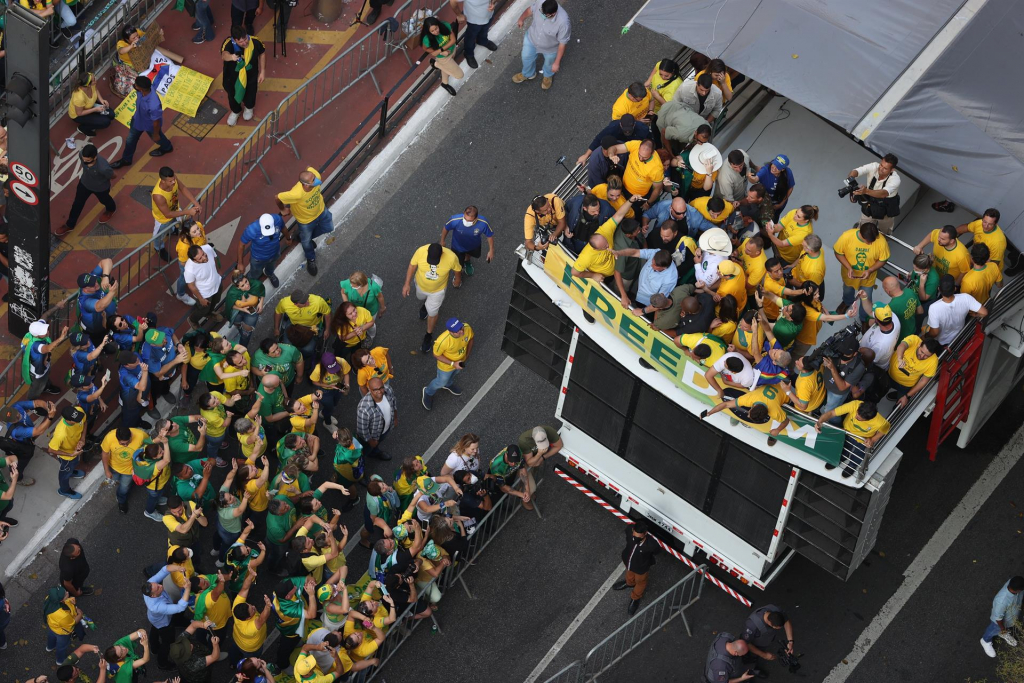 In Anhangabaú, the SSP estimated the presence of 15,000 demonstrators; PM made five arrests involving thefts, possession of a bladed weapon, flags and equipment for making Molotov cocktail
EFE/Fernando Bizerra – 7.set.2021
Supporters of President Jair Bolsonaro gathered on Avenida Paulista

A Department of Public Safety of the state of São Paulo (SSP) estimates that 125 thousand people participated in the act in favor of the government of Jair Bolsonaro performed in the Paulista Avenue this Tuesday, 7. The Chief Executive attended in person and addressed the supporters, who are focused on the height of MASP. At the Anhangabaú Valley, where demonstrations were held against the federal government, the ministry estimated the presence of 15 thousand people. The estimation of the public in the places was carried out by the technical area of ​​the SSP based on the use of aerial images, map analysis and georeferencing, and determining the extent of the acts. In all, 4,000 police officers were exclusively involved in patrolling in relation to antagonistic acts. The secretariat claims that the special policing scheme that cost more than R$ 1.75 million to the public coffers.
The government of São Paulo intensified patrols in the early hours of the morning, with an emphasis on Metro stations, passenger terminals and other areas of access to the acts. Across the state, more than 27,000 military police were deployed to protect the population. In the capital, 1,400 vehicles, six armored trucks ("guardian"), three water-launching vehicles, 20 dogs, 100 horses and six drones were mobilized. Teams from the Capital Policing Commands (CPC), Traffic Commands (CPTran), Shock Commands (CPChq), Fire Department (CCB), in addition to the CavPM, with the support of three Águia helicopters, also participate in the operation. The Military Police recommends that protesters in the Paulista region use the Paraíso subway station.
occurrences
According to the SSP, until 4:30 pm no major events were registered. Among those hired, two criminals were arrested for cell phone theft in the Paulista region. One of them was located on Rua Itapeva. The man was arrested, several devices were recovered and a victim identified. The occurrence is still ongoing on the 78th DP. Another man was taken to the same unit after being caught in the act. Seven devices were found with the assailant. A third person was referred to the 2nd DP for possession of a bladed weapon and another for the possession of flares and prohibited fireworks, both at Anhangabaú Station. During a search of a group of 30 protesters on Líbero Badaró street, the Military Police found, in one of the backpacks, gear suitable for making cocktails molotov. The owner of the materials was taken to the 8th DP.