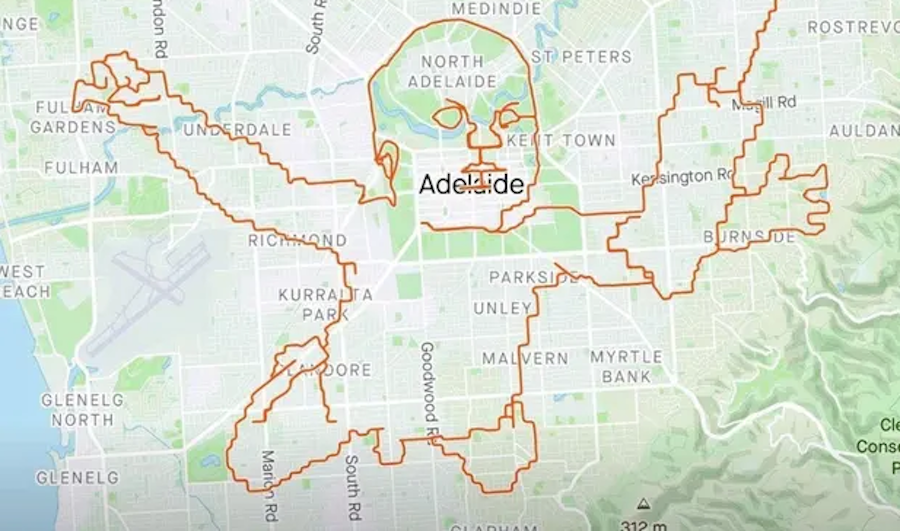 Australian Pete Stokes rode about 150 kilometers on a bicycle to recreate the mythical album cover Nevermind, two Nirvana.
Thirty years later, Nevermind, of Nirvana, continues to make history. This time the Australian Pete Stokes he was the author of a recreation, at least original: he traveled about 150 kilometers on his bicycle and designed the mythical cover of the album in the streets of Adelaide.
Cartography as a background, a little help from the GPS and a lot of leg strength to ride. Here's the result, eight hours later:
"Nirvana have a place in my record collection. When this album came out I was in high school, I was about 14, and that's where our love for music is formed", said Pete Stoke, in statements to the The Guardian. The 45-year-old fan is a project manager for national parks.
The cyclist also drew Beethoven to mark the composer's 250th birthday, made dinosaurs, dragons, foxes and even your own portrait.
Athletes from all over the world are making art in the Diet, an app sports activities management system based on GPS.
Recall that, in August, Spencer Elden filed a lawsuit in court, accusing the band Nirvana of sexual exploitation and child pornography because his image, as a baby, was used on the cover of the album. Nevermind, in 1991.
The album sold over 30 million copies and the cover is one of the most iconic in the world of music.

ZAP //