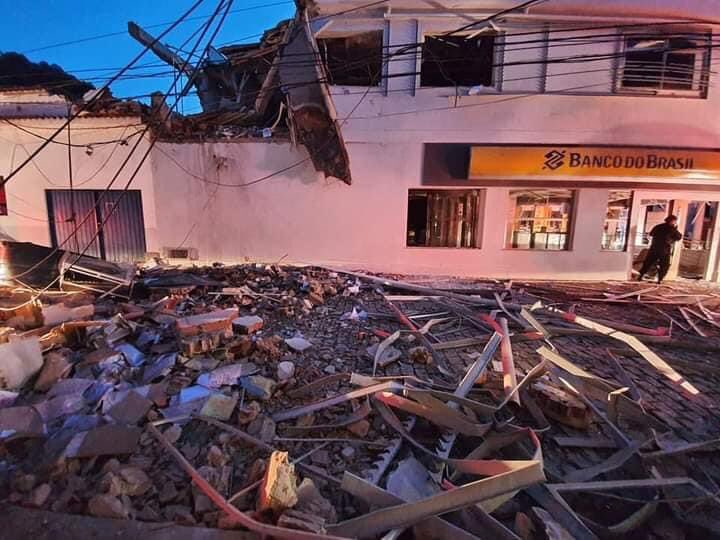 Police officers arrived shortly after the bank's alarm went off and prevented the group from taking money
Reproduction / Twitter / @ Favelacaiunofa
Part of the Banco do Brasil branch in Mangaratiba was destroyed, but bandits were unable to take money

An attempted assault that resembles the new cangaço modality – as in the attacks on the cities of Criciúma (SC) e Cameta (PA), at the end of last year – scared the residents of Mangaratiba, on the south coast of Rio de Janeiro. Strongly armed bandits invaded the city at about 4 am this Sunday, 7, created barriers to prevent the action of police, a bank agency exploded and fled in two speedboats after exchanging shots with security forces agents. According to the Military Police, the gang failed to take the money. It was not informed how many people participated in the action.
Mangaratiba, RJ. They ask me why I hate it so corrupt and I defend the lava.
We are in war. pic.twitter.com/V8pLhrp7Ku

– Lucia 100% lavajato🔰🔰 (@ Lu_senna21) February 7, 2021
After the explosion, the bank's alarm went off, and police went to the scene. There was cross-fire, and the bandits managed to escape. "Cops of the 33rd Battalion they were called to the scene and, on arrival, there was confrontation with the criminals. In the escape, the group abandoned a car and an explosive device that would be used in the project ", informed the PM. According to the Civil Police, "an investigation was carried out on the spot, and the agents will analyze images from security cameras to identify the perpetrators of the crime". Residents reported moments of tension on social networks.
Quick action of @PMERJ prevents theft from the @BancodoBrasil, in Mangaratiba.

Police officers # 33BPM they were called to the scene and, on arrival, there was confrontation with the criminals.
In the escape, the group abandoned a car and explosive device, which would be used in the criminal enterprise. pic.twitter.com/ZPDTMMnV4z

– @pmerj (@PMERJ) February 7, 2021