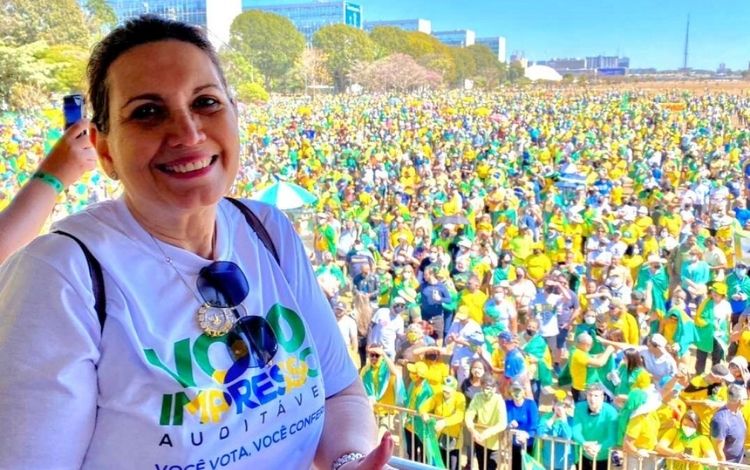 Deputy said that when the theme was approved, with 33 votes to 5, 'parliamentary members were all in favor'
Reproduction/Instagram/biakicis/01.08.2021
Bia Kicis participated in a demonstration in favor of the auditable printed vote

Author of the PEC of the printed vote and chairman of the Chamber's Constitution and Justice Committee, the deputy Kicis Beer (PSL-DF) associated the possible defeat of the opinion in the special committee with pressure from the Superior Electoral Court (TSE). During a demonstration that took place this Sunday, 1, in Brasília, the parliamentarian criticized ministers of the TSE and the Federal Supreme Court and said that it is not up to them to decide how the votes will be counted. "The pressure is too great. When we approved the theme in commission, we had 33 votes to five. The parliamentarians were all in favor, but the pressure coming from the TSE is very great", declared the deputy, referring to the approval of the admissibility of the PEC in the CCJ in 2019. Rodrigo Maia, but the current one, Arthur Lira (PP-AL), as a sign of its commitment to President Jair Bolsonaro, authorized the formation of the Special Commission to deal with the printed vote.
Initially, there was a majority to approve the PEC in the Commission, but in a coordinated move, center and center-right political parties exchanged members who were in favor of the issue for opposing parliamentarians. The idea is to stop the text at the birthplace and prevent it from going to the Plenary. "In a commission of 34 parliamentarians, some 28, 30 were in favour. What they did, they switched members. They put deputies to pay mission, to defeat the PEC. But we can with the strength of the people on the streets. We can turn this score around", said the congressman. She also said that the defense of the auditable printed vote "is not a squabble". "Our weapon right now is the printed vote, auditable. It is the people's weapon. Respect the people, the minister of the Supreme and the TSE did not receive anyone's vote, he doesn't have to decide how the counting will be. We want auditable printed voting now. Public counting of votes already", affirmed the parliamentarian.
*With information from Estadão Content.