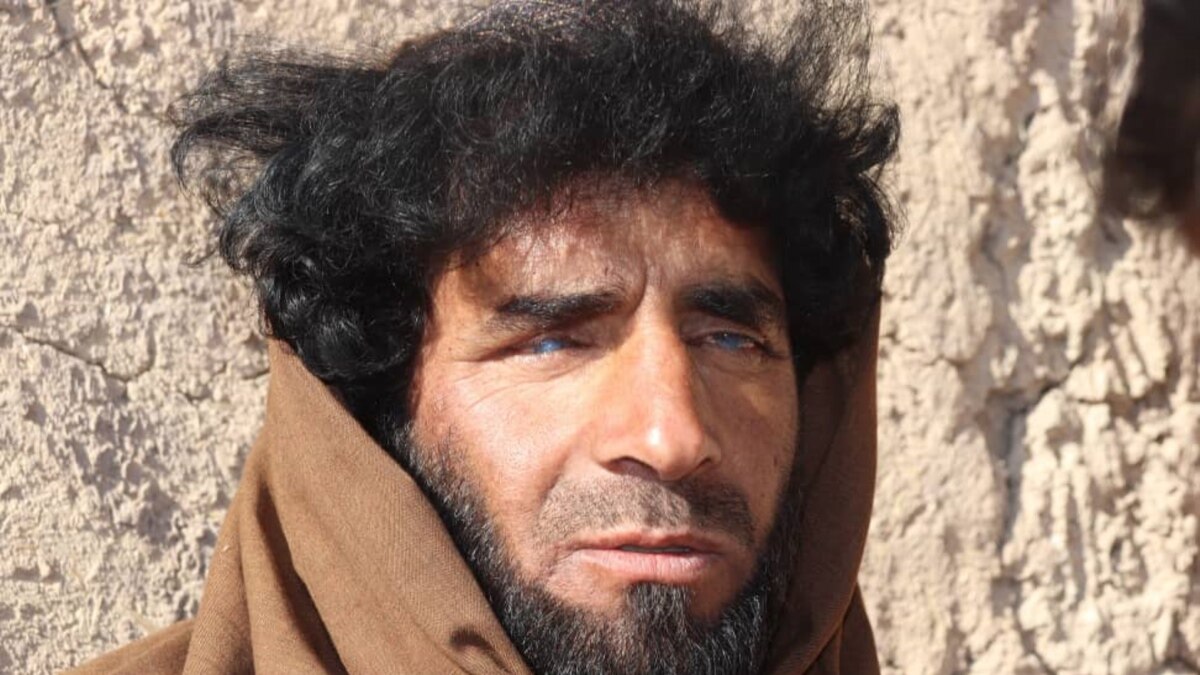 Afghan policemen, deminers, do dangerous work without special equipment, sharing experiences with each other.
Naghibula, a former police officer, went blind when a mine exploded eight years ago, but still teaches novices the rules of demining, shares the secret of the case, gives advice while they work, though no one pays for it, and the blind former policeman has difficulty even feeding the family.
Naghibula lost his sight – and worked with him as an Afghan policeman – when he defused an improvised explosive device and detonated it eight years ago.
But for the 39-year-old former police officer, blindness did not prevent him from sharing his experience with police while clearing checkpoints located on the front line around his hometown, Tarin Kovt – the capital of Uruzgan Province.
Officers from the police unit where Naqibula used to work sometimes call on an experienced police officer to help defuse roadside bombs. The Taliban control much of the province's rural area.
"I am doing this because these young soldiers are our people," said Naghibula, who joined the Afghan police force in 2002 and was the head of a checkpoint in Sur Mugrab, on the outskirts of Tarin Kovt, before being blinded.
"The fact that I can train and share my experience with them to prevent death and injury is a great achievement," Naghibula told RFE / RL. "Besides, this is our homeland. As a former security officer, I consider it my responsibility to protect my people, my sisters and my brothers."
"Inherited mines" against Taliban improvised explosive devices
According to the 2004 estimate of the British non-profit demining organization HALO Trust, in the 1980s and 1990s, about half a million land mines were left by Soviet troops, Afghan government forces and their rival mujahideen, who were fighting for control of the country.
The HALO Trust now says that those so-called More than 80 percent of "inherited mines" have been defused.
Nonetheless, the death toll from improvised explosive devices in Afghanistan has risen over the past five years.
According to the HALO Trust, it is clear that the Taliban's improvised explosive devices and unexploded ordnance left over from NATO airstrikes pose a greater threat to Afghanistan's civilian population now than "inherited mines".
But thousands of civilian miners working in Afghanistan since the entry of the U.S. military in late 2001 have not come close to the front, where the war continues to rage.
Of the more than 72,000 landmines and explosive devices defused by the HALO Trust in 2020, only 226 were "abandoned improvised explosive devices" over the past two decades.
Explosive ordnance disposal in combat zones is mostly carried out by a US-led coalition that includes Afghan police, such as those in the former Naghibula unit.
Naghibula says there is a problem with the lack of proper training for Afghan police in the specialized field of demining.
"I have not undergone any special training in the field of demining," Naghibula told RFE / RL. "During my brief training with the police, I learned a few basic things about ordinary mines. But here in Uruzgan, we are not usually dealing with war."
"The war here is based on guerrilla tactics," he said. "The Taliban came and planted mines everywhere, so I used different methods to mine them, and then I developed the habit of mining them."
"Before I worked for the police, we came across a lot of mines every day on the roads, in villages, in war zones, and we had to defuse them.
"Hundreds of them I was unaware. "Fourteen of them exploded during demining," he said. "I was not injured. But I was injured in the 15th explosion."
Most of the Taliban improvised explosive devices that Naghibula's during his ten years with the Afghan police To neutralize, According to the U.S. Department of Homeland Security, it consisted of five components: a switch, a power supply, an initiator, a container, and an explosive charge.
But Naghibula says the Taliban have for years used bomb-making techniques to make homemade mines that are harder and more dangerous to mine.
"The mine that injured me and blinded me eight years ago was very skillfully set up, using some new tactic I had never encountered before," he said. "Several initiation devices were used there."
"Initially, we used to pull the device off the ground with long hook loops," he explained. "Then we would defuse it or blow it up ourselves."
"That mine had a remote control attached and another device under the mine that you could not easily remove from the ground," Naghibula said. "I was able to solve the remote control lines, but when I tried to remove it from the ground with my noose, it was firmly fixed in the ground and exploded."
Debris from the blast flew over Naghibula as he lay on the ground with his mouth to the improvised explosive device, but he was hit by a shock wave and the blast, which experts say reached a temperature of 500 degrees Celsius.
"Because my handle was short and I was lying close, the blast damaged most of my eyes," he explained.
The voice of experience
Police officers trained by Naghibula say they survived the habits taken from him.
"We have learned a lot from Naghibula in the military," said Najibullah, an Afghan National Police officer from the Khori district of Tarin-Kovt, who, like many Afghans, has no last name. "He trained us and taught us how to deal with mines and how to act in combat, which helps us a lot. Before the training we did not even take the fight seriously, we were moving and we could not even properly assess the danger that accompanies the mines and we did not know how to avoid the mines. So the sacrifice was great. "Then we learned from Naghibula," Najibullah told RFE / RL's Afghan Service.
A 25-year-old policeman from the same city, Basir Ahmad, says Naghibula is often on the front lines of the fight with them. When an improvised explosive device is struck, a mask is used to defuse it. "His intervention saved many policemen from the blast," Ahmad told us, explaining how Naghibula taught how to mine and defuse mines: "We know from him where he strengthens enemy mines, how mines work. "He explained how to find the wires next to the explosive device, where there is a short circuit to explode."
Naghibula, for his part, says that one of the lessons he shares with inexperienced police officers relates to revelations where an explosive device appears to be installed. "In my experience, a newly planted mine or other explosive device, if it is raining, is noticeable because the ground around it is more elevated." Opens us an experienced policeman. "If it is not raining, the ground on top of the mine is fresh, there may be footprints and other marks around it, which indicates that we need to be careful," said Naghibula, who shared more details: "Sometimes explosives can be removed from the ground with a long hook. Then we shoot from a distance and blow up. "If the device is remotely controlled, its additional wires can be connected to the car battery and thus explode." According to Naghibula, Uruzgan police have no other way to mine.
Work without pay
Naghibula's life was complicated when she became blind, especially because the costs of caring for and caring for a family, wife and five children were added to the cost of vision treatment. After he lost his eye chin, the mask was sent to India for treatment. The operation was unsuccessful. Doctors told him he could regain his sight if he still arrives in India for treatment.
But his income barely supported his family and Naghibula was unable to go to India for a second time.
"The government paid me a small amount of money for the treatment when it happened to me," Naghibula told us. "But the treatment was much more expensive. "Eight years have passed since then, a lot of money has been spent out of my pocket for treatment."
Now he owes his relatives and friends ten thousand dollars to borrow for treatment. "Everyone is asking me for money and no one wants to lend me anything else," said an experienced police officer who lost his sight while on duty.
To feed the family, he sometimes goes to the mosque with his eldest son Qasim and begs.
"You know very well that it is not necessary to start a family if you can not work and do not have an income. If I had not been blind, I would have done all the work to feed my family. "
Najibula describes the blinded Naghibula as a "strong man."
"Even though he is blind, he can give us advice. He loves his homeland and is full of desire to serve it. We appeal to the government to take care of Naghibula, allocate money for his treatment and help him financially. "
Naghibula tells us that neither the government nor anyone else paid him for the training and demining of the police. "The doctors told me that I could partially regain my sight with the right treatment. "The government could have supported this and helped to educate the children," he added.
Author: Ron Synovitz (Prague) (according to a report by a Radio Free Afghanistan correspondent in Tarin-Kovt)
.