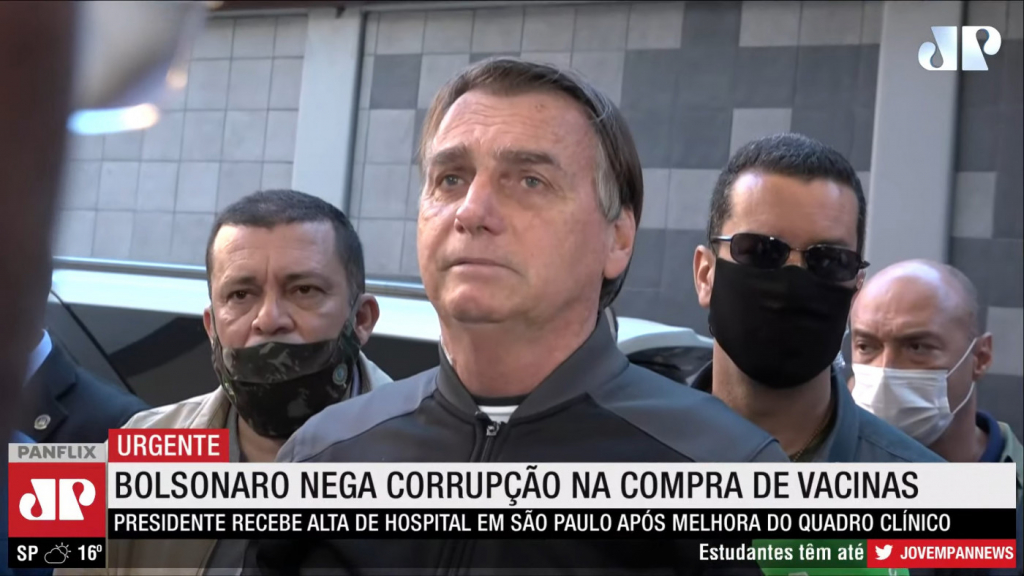 The president spoke about the matter on his way out of hospital and said he was proud to know that irregular contracts did not advance in the Ministry of Health
Young Pan News/Youtube/Video playback
Bolsonaro Denied Charges Against Pazuello

The president Jair Bolsonaro spoke this Sunday morning, 18, about the accusations that the former Health Minister, Eduardo Pazuello, would have participated in negotiations with businessmen who wanted to sell doses of CoronaVac with prices three times higher than normal just before he left office. Asked about the matter by a journalist on his way out of the Vila Nova Star hospital, the president questioned whether the professional worked in São Paulo or Brasília and stated that the federal capital is "a paradise for lobbyists". "All of you there were pressing us for vaccines, so a lot of people were welcomed into the ministry. You've seen Pazuello's own outfit, he's, if I'm not mistaken, without a jacket. Those people met with the director responsible for possible purchases there at the Ministry and when he left [Pazuello] talked to the staff. That video, if it was a secret, trading something overpriced, would he be doing an interview, my God in heaven? Or would it be hiding in the basement of the ministry?" he asked.
The president also stated that it is not possible to defraud the purchase of vaccines in the government and that there are a large number of bodies that oversee the negotiations, such as the Office of the Comptroller General. , believe whoever you want. Now, a large part of the press adopts a path of simply publicizing something we didn't do. It is a source of pride for me to know that all these possible contracts have not taken more than one step and that irregularities have been proven to exist. I've always determined for the Ministry of Health to buy vaccines for two conditions: go through Anvisa and only pay after arriving", he said. Bolsonaro stated that, if he held a position in Health, he would also have shaken hands with businessmen from Santa Catarina. "Accusing us of corruption for something we don't buy, that we don't pay for, that's bad faith," he said.
The president said that he would not take vaccines until all Brazilians were immunized. "After everyone else, I'll be in a queue. So that the last dose arrives for me. There are 200 guys behind me, I, as a boss, learned in the army, my subordinates first, right? Although you are not my subordinate, but after everyone is vaccinated, then it will be my turn", she pointed out. Bolsonaro also spoke about the possibilities of audited voting, commented on the lockdown measures in the country to try to control the pandemic, criticized the government of São Paulo and João Doria after the reinfection of the state governor and again said that "only God" would take him out of the power.