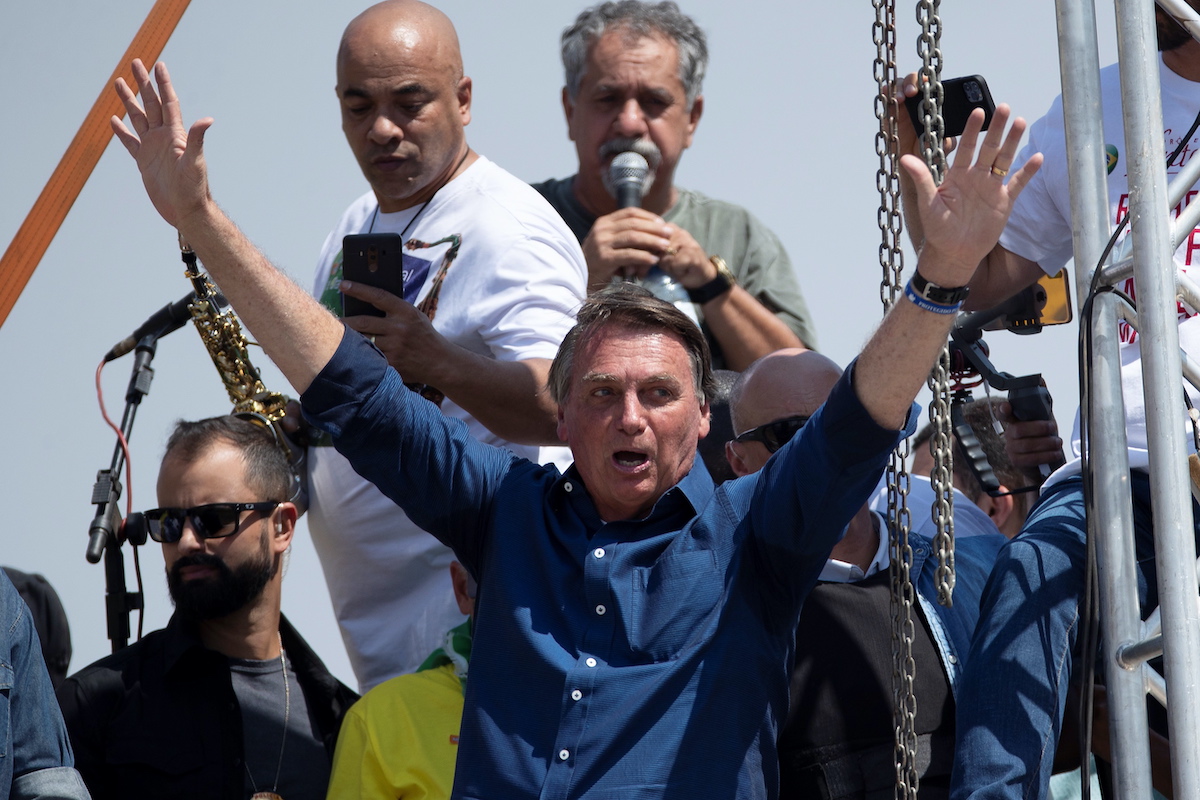 The Brazilian President once again challenged justice, this Tuesday, by stating that it only leaves power "stuck, dead or with victory", to say right away that "it will never be imprisoned".
Referring to the Federal Supreme Court (STF) judge Alexandre de Moraes, which has determined investigations against the President's allies, such as "scoundrels", Jair Bolsonaro urged the magistrate to "frame" or "ask to leave".
"Either this judge fits in or he asks to leave. It cannot be admitted that one person, one man, only cloud our freedom. Tell this judge that he still has time to redeem himself, he still has time to file his inquiries. Get out, Alexandre de Moraes. Stop being a scoundrel. Stop oppressing the Brazilian people, stop censoring the people," said Bolsonaro, in a speech to thousands of supporters in São Paulo.
"We must, because I speak on your behalf, determine that all political prisoners be set free. Alexandre de Moraes, this President will no longer fulfill. The patience of our people has already run out", added the president on Avenida Paulista, where he attended the protests organized by his supporters for this September 7, the commemorative date of Brazil's independence.
Moraes was responsible for recent decisions against 'Bolsonarists' who organized anti-democratic acts and spread 'fake news'. However, the magistrate has acted based on requests from the Attorney General's Office, under the command of Augusto Aras, appointed for the position by Bolsonaro, and of the Federal Police.
"We will no longer admit that people like Alexandre de Moraes continue to lash our democracy and disrespect our Constitution. He had every opportunity to act with respect to all of us, but he didn't act that way, as he still doesn't act," said the head of state.
Hours earlier, in Brasília, Bolsonaro had addressed thousands of people who had gathered on the Esplanade of Ministries, in a speech replete with threats to the STF judges. However, Bolsonaro had already warned that his statements in São Paulo would be more incisive.
In a clear intention to run again for the presidency in 2022, Bolsonaro stated that it only leaves power "stuck, dead or with victory", and then immediately declare that "he will never be arrested".
"Right now, I want to thank you all once again. Thank God for my life and mission, and tell those who want to make me ineligible in Brasilia that only God get me out of there. I only get arrested, dead or with a victory, but I want to tell the scoundrels that I will never be arrested", he stressed.
Bolsonaro's speech, in a threatening tone, was again directed to the printed vote, a modality that the head of state accuses, without proof, of be the target of fraud and which he widely defends, replacing the current electronic voting machine, which offers a same-day response and has been used for more than 20 years in Brazil.
"We we want clean, democratic elections, with auditable vote and public counting of votes. (…) I cannot participate in a farce sponsored by the president of the Superior Electoral Court," he said, referring to Judge Luís Roberto Barroso, president of the highest body of the Brazilian Electoral Court.
Bolsonaro also criticized governors and mayors for the measures taken during the pandemic, which he always opposed.
"You had difficult times with the virus, but worse than the pandemic were the actions of some governors and mayors, who ignored our Constitution. They forbade you to work and to attend temples and churches for their prayer. Your indignation grew," he spoke to an audience with many unmasked supporters against covid-19.
The Brazilian Social Democratic Party (PSDB) has already announced that it will meet urgently this Wednesday to discuss a possible impeachment process of the President. At issue are the "very serious statements made by the President of the Republic today".