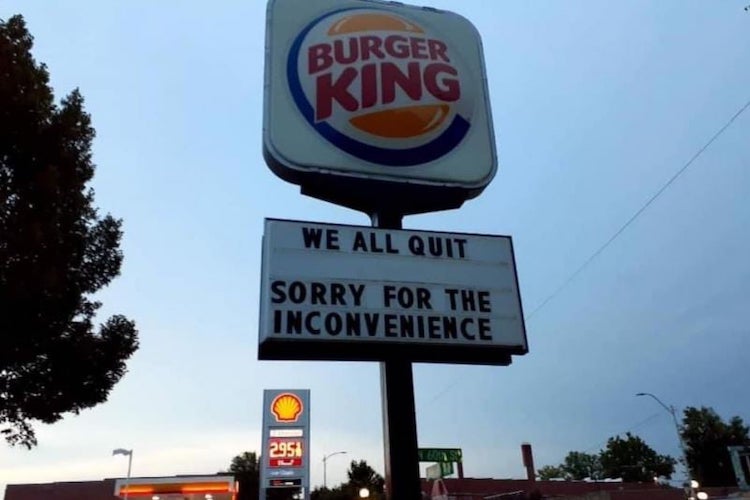 Employees resigned due to lack of working conditions. the chain of fast food has already issued a statement on the situation.
"Dismiss us all. We apologize for the inconvenience". The message was posted on a sign at the entrance of a restaurant belonging to the American fast food chain Burger King, in the city of Lincoln, in the state of Nebraska, after employees had resigned for lack of working conditions.
Rachael Flores, store manager, explains that the decision to put the phrases was intended to send a message to the brand's district managers.
The team decided to resign after spending several weeks without air conditioning in the kitchen area, which caused temperatures to reach 32ºC.
flowers came to having to go to the hospital for dehydration. The store manager asked superiors for help, but "no one came to the store to help".
Workers still complain about the lack of employees, with only three to four people working in the kitchen during lunchtime – one of the busiest periods.
Meanwhile, the US company has issued a statement stating that "the work experience described in this location is not in line with the brand's values" and that they are "investigating the situation to ensure it doesn't happen again in the future", quote the CNN.
The store manager in question guarantees that the management was not aware of the plan to put the message on the sign. The idea started as a joke, but ended up becoming a reality.
As Rachael Flores explained to Channel 8, Lincoln's Burger King restaurant is operating as new hires. However, employees have been giving up a few days after starting work, he says.
According to The Washington Post, the episode joins several other cases of frustrated workers who leave the company, making their anger public by posting bills directly on the doorsteps of their workplaces. The lack of employees in the service industry gives workers an advantage in negotiations over wages and working conditions.

ZAP //