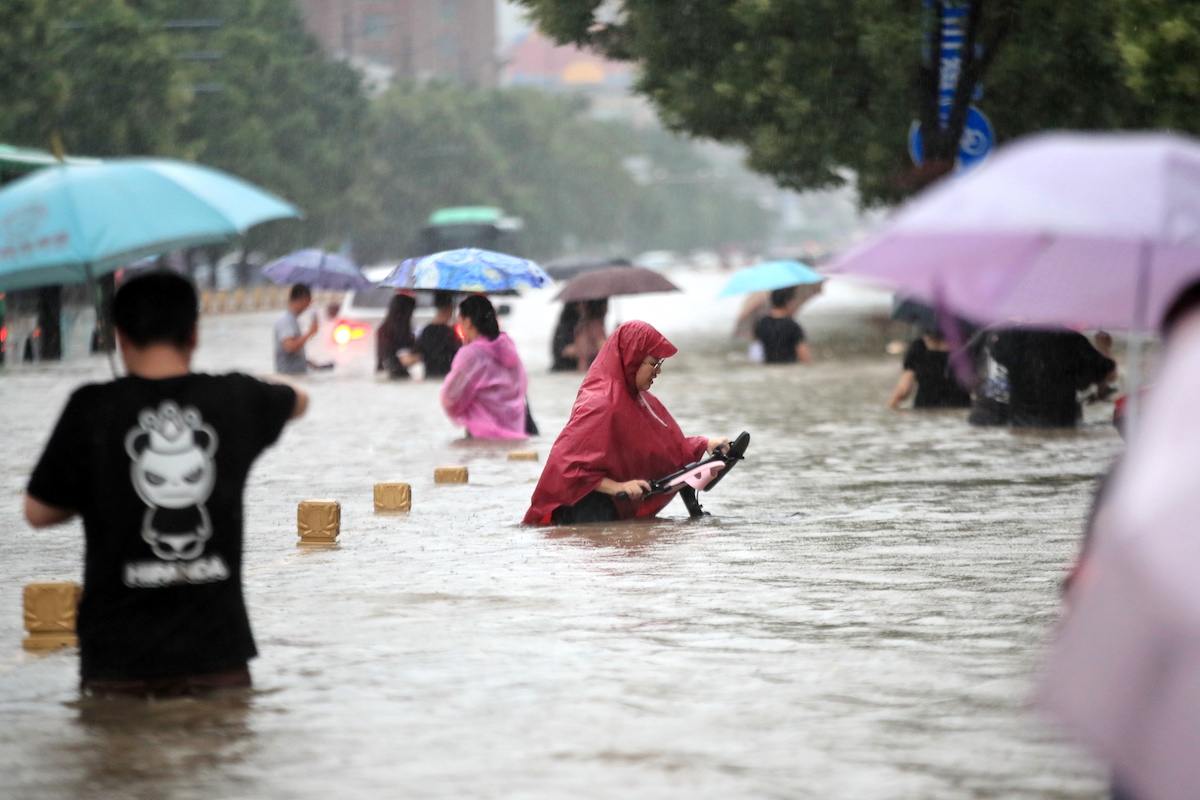 The Chinese army blew up a dam to release floods that threatened one of China's most populous provinces after torrential rains left at least 33 dead and seven missing.
The operation of the dam, of which no details were given, was carried out this Tuesday evening in the city of Luoyang, at the time the severe floods they hit the capital of Henan province, Zhengzhou, trapping residents and passengers in the subway, as well as stranding people in schools, apartments and offices.
This is the most intense rain in the last 60 years, according to Chinese authorities, who have called in military troops to blow the dam to avoid further damage upstream. It is not known what happened downstream.
According to the most recent data broadcast by state television CCTV, the floods have already done at least 33 dead and eight missing.
Some 376,000 people were evacuated, while more than 200,000 hectares of plantations were ruined, resulting in damage estimated at 1.22 billion yuan (160 million euros), according to CCTV.
China's President Xi Jinping has already considered the situation "extremely serious". The head of state called for the mobilization of everyone in the face of the consequences of bad weather.
"The dams collapsed, causing serious injuries, deaths and material damage. The situation on the flood front is extremely serious", he admitted.
Zhengzhou, a city 700 kilometers south of Beijing, received the equivalent to almost a year of rain. Videos broadcast on social media show vehicles covered in mud and people trapped in subway carriages.
North of Zhengzhou, the famous Shaolin Temple, known for its Buddhist monks' mastery of martial arts, was also hit. Henan Province is home to many culturally important sites and is an important base for the country's industry and agriculture.
The most dramatic situation happened in the Zhengzhou subway, where passengers stayed cornered in carriages with water over the shoulders, images that also circulated on social networks. Several witnesses reported that panic gripped the cornered people. In other images, an authentic tide can be seen invading the deserted platform of a station.
One man told Chinese social network Weibo that rescue teams opened the roof of a carriage to allow one-by-one evacuation of passengers. Hundreds of passengers were safely removed from the subway, city authorities assured.
The UN Secretary General, António Guterres, has already sent a letter to the President of China "to transmit sincere condolences for the tragic loss of life and devastation," said United Nations Deputy Spokesperson Farhan Haq.
China routinely experiences floods during the summer, but the growth of cities and the conversion of agricultural land into subdivisions have increased the impact of these events. Last year, flood levels in the southwest of the country broke records, destroying roads and forcing tens of thousands of residents to flee their homes.