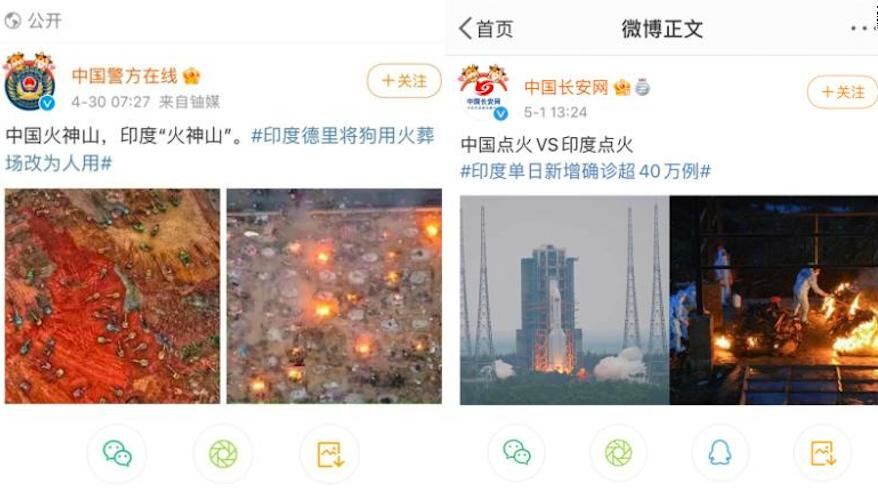 For a large part of the population of China, the launch of the first module of the space station, which took place last week, was a moment of pride. However, for the Communist Party, it was a way of enjoying the tragedy that India is going through due to the covid-19.
On the Weibo platform, the account, associated with the Chinese Communist Party, shared a photo of the Chinese Long March-5B rocket taking off, alongside a photo where you can see several bodies to be cremated in India.
"China lighting a fire against India", said the caption, accompanied by a hashtag which claimed that covid-19 cases in India exceeded 400,000 a day.
The account that shared the image is linked to the Central Commission for Political and Legal Affairs, a powerful organ of the Communist Party, which oversees the country's courts and law enforcement agencies. Several other government accounts administered by the police and local courts shared the photos.
Although the nationalist feeling against India has increased in recent months, due to border disputes, many users were shocked by the sharing.
"I do not believe that this was shared by a government account. Is it necessary to use the suffering of others to highlight national pride? " can be read in one of the comments.
"How can this be approved? It is a total disrespect for human life ", said another.
Hu Xijin, the editor-in-chief of Global Times, a state-run newspaper known for its nationalist stance, also criticized the post: "I don't think it is appropriate for certain official Chinese institutions to make fun of India right now."
Due to the controversy it generated, the image was eventually removed from Weibo.
According to CNN, days before, the president Xi Jinping sent a message of condolences to the Indian Prime Minister Narendra Modi and offered aid to the country, after a series of similar promises by Chinese officials.
However, the incident is the most recent example of how an attempt to stoke nationalism can set an insensitive tone not only for the country in question, but for the international community.
While these divisions may win the support of Chinese nationalists – and perhaps the recognition of some Party leaders – it is China's international image that pays the price of its less diplomatic attitudes.

Ana Isabel Moura, ZAP //