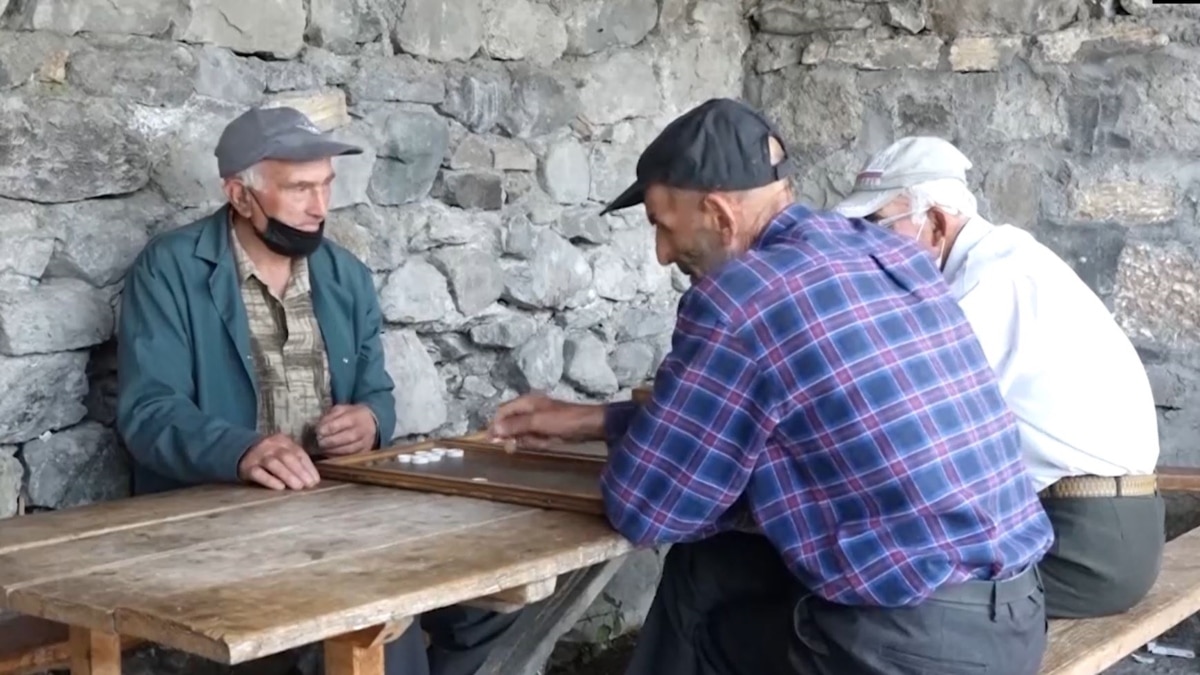 One call means the beginning of prayer, three – the infected person. And when the church bell rings nine times in Tskaltbila, the village knows that someone has died. ,, Mourning calls have become more frequent lately"- Azgen Mosigiani, a 90-year-old local resident, is worried.
Tskaltbila is an Armenian-populated village 15 km from Akhaltsikhe, and 1300 meters above sea level. Tskaltbila, Abatkhevi, Naokhrebi, Tsinubani and Julga are neighboring villages. The locals "do not believe in the existence of Kovid" and do not think much about vaccination, they are much more worried that 5 villages do not have one hospital.
"We are tall people. If someone gets sick in the middle of the night, where should they go? Even five-family villages in any part of Russia have hospitals. We do not have five more villages. Only those who come to Russia or Yerevan are killed. – says Ogane's man.
Akhaltsikhe City Hall responds to the request of the water heaters to build a hospital, saying that the village has an outpatient clinic and the population should apply to it.
Agun Nahapetyan transferred COVID-19 lightly in September last year, he was vaccinated with "Sputnik Light" before returning to Georgia from Russia.
"I'm afraid because I'm young, these [მშობლები] Are elderly, including with comorbidities. That they can not stand ?! It was learned that several people died as a result of the vaccination. They are afraid and what is surprising is that you do not want to be vaccinated? " – Aghun Nahapetyan tells Radio Liberty.
When Freedom tries to find out where in the village they have information that several people died from the vaccine, the first to be remembered by the locals is Megi Bakradze. A nurse from Akhaltsikhe, who died on the third day after the start of vaccination, on March 18, 2021, after being vaccinated. If you have read "Other Cases of Vaccination Death" by water heaters on the Internet.
According to the 2014 census, there are 883 people living in the village. This is the village where a father and son died of coronavirus in two days last year. In addition to them, three more people were killed by COVID-19 last year. One person was killed in the village of Kovid this year as well.
Despite the deaths and infections, most locals still think that COVID-19 does not exist, and those who believe in Covid are not "afraid" of it.
"Why should I get vaccinated when I am completely healthy, I have 6 people in the family and they are not vaccinated either. Why should they be vaccinated, they are not sick!" – Says Martin Darbinian.
The 79-year-old Ogane's man is convinced that the coronavirus, which is "as strong as a glass", will not reduce anything, nor can it affect his family members.
"I have passed Kovid, but I am as healthy as Khari", "I am not leaving the village anywhere, I want a vaccine", "Only those who go to Russia and Yerevan are vaccinated"This is a short list of phrases you will hear in the village.
Those who believe and are afraid are locked in their homes – they prefer the vaccine.
"Nobody goes out, they are hiding… The" exchange "was always full, but now you see, there are three men. We even honored the dead from afar. "
"We are afraid of each other, he will run away from us, we will run away from each other and hide … There is such emptiness around as if no one is in the village. I could not go home anymore and I went out to hear a human voice." – They tell Radio Liberty on the village exchange.
Despite the fall work, up to 400 waterfowl families were locked in their homes by the coronavirus. The elders say that fear has settled in the village.
Oganes Babajanyan, 83, remembers the funeral of a fellow villager with two elderly people. Worried that up to 15 people attended the funeral of the villager instead of the whole village, such a thing had not happened before. "Suddenly he became ill, gave fever and died a few days later. His wife is also ill. He was buried yesterday, he died of coronavirus. We were scared for the first time."
Coronavirus met Petros Kosian in the days before the New Year. Heavily endured. For a month and a half it was difficult to stand and eat. He felt weak for a long time. He did not go to the hospital, he was treated at home. He says he is "healthy as a scorpion" after the infection and is still not going to be vaccinated, only to be vaccinated if vaccination becomes mandatory.
Neither 83-year-old Ano Nazganov is in a hurry. When asked why he does not know, he answers the question – "What is the need for vaccination? I do not know, I want to ?! If it is good, I will do it, if everyone is vaccinated, I will be vaccinated." A neighbor gets involved in the conversation, who says that the vaccine kills and Ano immediately changes his mind.
Lida Poghosyan, a 68-year-old nurse, is well aware that the situation in the village is getting worse. He suggests that in the last month, the number of villagers infected with the coronavirus has ranged between twenty and sixty, and although he himself is a nurse, he has not been vaccinated. "No one comes to explain and clarify to you properly. Ager, I am a nurse … I do not even know, in case of vaccination, when the medicine will be better."
EMBED _ LIDA POGOSIANI
The situation in the village does not surprise the local public organizations. The Democratic Meskhetian Union thinks that the language barrier is the biggest problem. The level of awareness of the population living in urban and rural areas, especially in minority villages, is as different as the sky and the earth.
"The majority of the rural population does not know the state language, they receive information from unreliable sources. In addition, the ethnic community in Samtskhe-Javakheti has some ties to their compatriots living in Russia. "Their opinion is often decisive for the remaining family members in Georgia." Says Giorgi Andghuladze, director of the organization.
In August, 13 media outlets and public organizations, at the initiative of the Democratic Meskhetian Union, asked several government agencies to add Armenian and Azerbaijani languages ​​to ethnic communities living in Georgia at the vaccination registration site, but the Ministry of Health refused. . The ministry advised organizations to ask community members for help with family members in registering.
According to the NDI survey, 42% of respondents in Georgia do not have enough information about vaccination. According to the same survey, when asked if they knew if they knew how to register for the vaccine, 56% said they did not know.
.