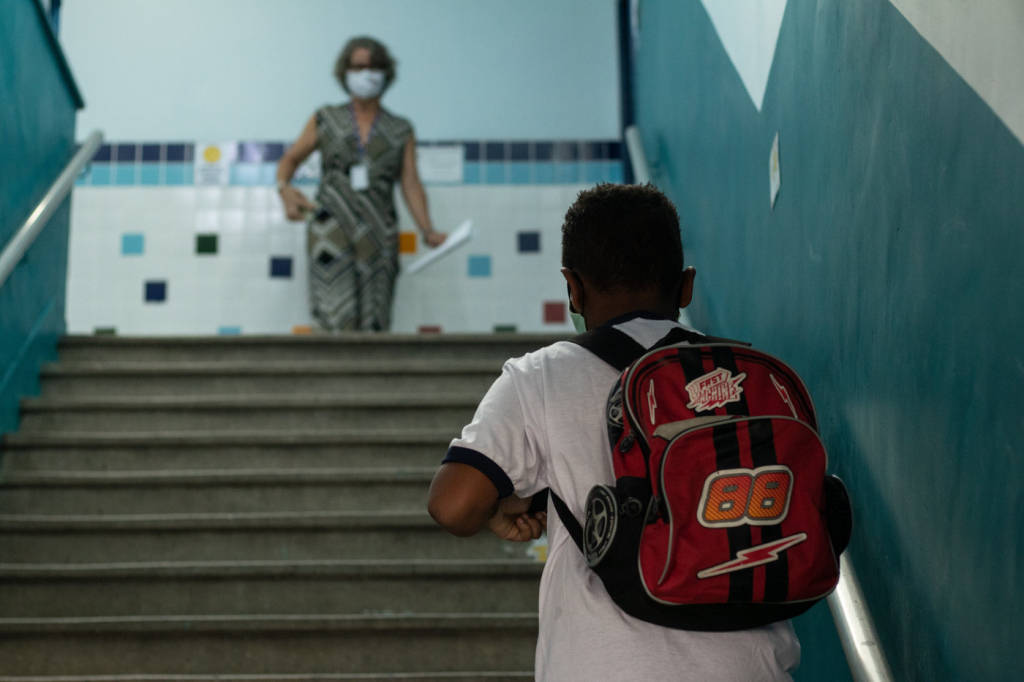 Municipal Secretary of Education announced a relaxation in the maximum occupancy of students allowed, but maintained distance and the use of masks
DANIEL RESENDE/FRAME/ESTADÃO CONTENT
Analysis of tests carried out with students indicate that 30% of students in the municipal network did not deliver any or only part of the activities during the pandemic

The Secretary of Education of the city of São Paulo, Fernando Padula, announced another advance in the return of face-to-face classrooms in the municipality. Until the end of July, classrooms continue with a maximum occupancy of 35%. As of August 2, the service capacity will be expanded following the recommendations of the State government focused on learning recovery e active search for students to avoid truancy. The mayor of the city, Ricardo Nunes, highlighted that, until Friday, 23, 80% of the eligible public for vaccination will already be immunized – which allows the relaxation of the rules, despite the care of wearing masks and maintained social distance. In addition, all education servers have already been vaccinated. Today, in the city, the occupation of ICU beds by Covid-19 it is in 52.9% and in 32.1% in the infirmary. With that, the classes of Youth and Adult Education (EJA) will also return. However, the advance of contamination by delta variant light up an alert. The city already has eight confirmed cases, which certifies community transmission.
In August, the Early Childhood Education Centers (CEI) they will work at 60% capacity and no rotation for babies and children. already the Municipal Schools of Early Childhood Education (EMEI) e Municipal Elementary and High Schools (EMEF/M) they will work at full capacity, but with students taking turns in up to two classes — respecting the space limits of each school, with a distance of one meter and the use of masks. In addition, the cleaning of environments and temperature measurement will be maintained. 81,785 face shield type masks and 1,650,400 PFF2 type masks were distributed to professionals in the sector. EMEI classes must also have a daily shift of 30 minutes to adapt protocols and clean classrooms.
Analysis of tests carried out with students indicate that 30% of students in the municipal network did not deliver any or only part of the activities during the pandemic in 2020. Students classified as performing below the basic level remained at this level. However, those who were at the basic level observed a drop in income. Whoever was classified as a forward remained in the same position. To combat school dropout, active search will be carried out to locate problems of food insecurity, child labor, chronic illness, learning delays, victims of violence and other factors — in addition to monitoring those who start to miss classes. Remember that students with comorbidities do not have to return yet. Even for other students, the return is still optional. In the recovery project, more actions are planned. The Mais Educação SP program will be resumed and the use of learning trails notebooks will be resumed, as well as the creation of groups with classes of up to 12 students, respecting protocols. Students from the 3rd year of Elementary School to the 3rd grade of High School will undergo a diagnostic evaluation to understand where the gaps in learning are.