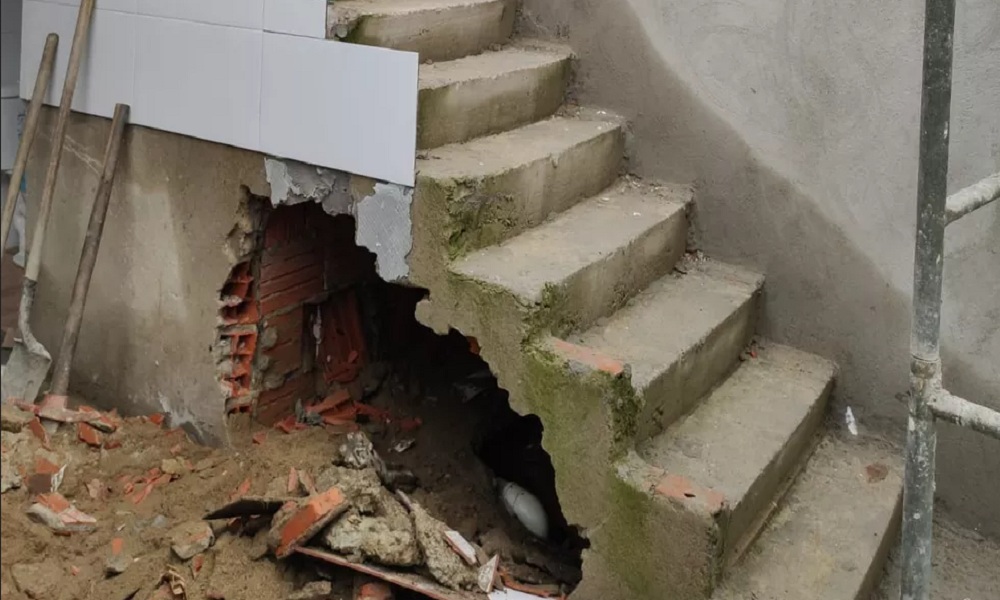 Joice Maria da Glória Rodrigues, 25 years old, has been missing since September 27, suspect alleges that panties found at the scene were his
Disclosure / Civil Police
Joice's body was found under stairwell

Police of the 3rd Precinct for Investigations into Homicide Civil police São Paulo arrested the 56-year-old bricklayer Edmílson Veríssimo da Silva, suspected of the death of Joice Maria da Glória Rodrigues, 25, who had been missing since September 27 in São Vicente, on the coast of São Paulo. Another suspect, Jonathas Soares de Santana, 35, was also arrested for assisting in the crime. The young woman's body was located behind a wall in a work where Jonathas and Edmílson worked. He confessed to the murder and was arrested in the act for concealing the corpse, while Jonathas denied having participated in the crime. According to the Police, the mason also stated that a bag with panties found at the site would be his, that he liked to wear them.
During the investigations to find Joice, the Police discovered that the young woman had passed the work where Edmílson and Jonathas worked on Senador Lúcio Bittencourt Street, in the Esplanada dos Barreiros neighborhood, after visiting her grandfather. Joice and Edmílson knew each other and, according to the bricklayer, the two would have had sex before the crime – the police works with the hypothesis of a consensual relationship, but is still awaiting tests to assess the possibility of sexual abuse. Joice and Jonathas would have argued and the man, who is self-employed, started to strangle her, although the reason for the argument is not yet known. He reportedly asked the mason for help, who helped him kill the girl and then concrete the wall to hide the body. At the site, empty plastic pins, used for cocaine consumption, and the bag of panties that Edmílson claims to be his were also found.
After the Police identified the presence of Joice on the construction street, the owner of the site was asked if there were newly concreted or fresh areas in the construction. He denied it, but later, last Tuesday, 5, he noted that in the downstairs bathroom, under the stairs, the gap had been closed, with a poor finish. At that, he struck once, and smelled a strong odor. Then he called the police, who broke down the wall and found Joice's body, naked, with a black T-shirt wrapped around her neck. The Police then went to Edmílson's house and arrested him in the act. Joice was married and had two daughters.