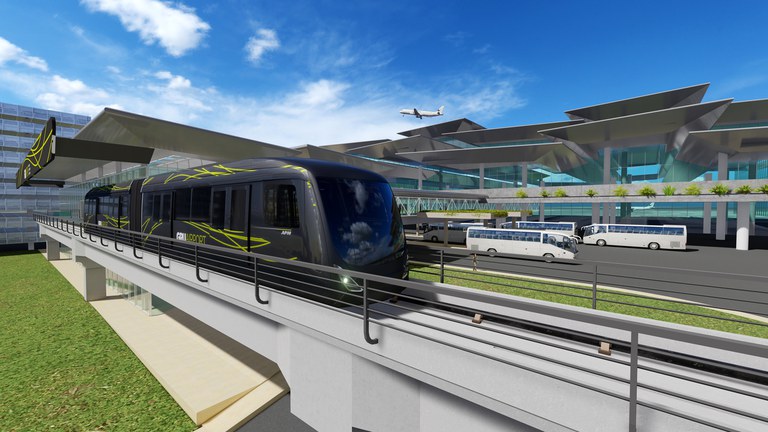 With the project, users will no longer need to transfer and take buses to access the airport
Disclosure/GRU Airport
CPTM user will not pay fare to use the future train

The federal government authorized the construction of a train in the Sao Paulo International Airport. The executive secretary of the Ministry of Infrastructure, Marcelo Sampaio, explains that the legal obstacle with the concessionaire GRU Airport was overturned after a contractual amendment for the execution of the project of R$ 272 million, with the discount of the onerous concession to the Federal Government. "After two and a half years we managed to find a solution together with the dealership. If it were an Infraero airport, it would have another model. There would be the general budget of the Union, there would be a bidding process, something much more complex. It would take a while, but it would have legal simplicity. But we were able to draw up a design where we can maintain the operation within the concessionaire, because this is also closely linked to current events, to the level of service that the concessionaire provides to passengers. When you enter the polygonal, the responsibility becomes GRU Airport", he explains.
The project intends to end the old problem at São Paulo International Airport. Users who come from the center of Estação Luz and come to Cumbica get off at the station of CPTM. From there, they need to transfer and use a bus to access terminals 1, 2 or 3. With the work, users will get off at the point and, at the same level, another train will provide passengers access to the São Paulo International Airport, which is located in Guarulhos. CPTM's key line arrived in Guarulhos in 2018. The Government of the State of São Paulo proposed to take the extension to Terminal 3, but there was no agreement. The president of GRU Airport, Gustavo Figueiredo, believes that the 24-month work schedule may be completed before the original deadline.
"This CPTM technology is a technology for mass transport, its infrastructure is very large. So, when it enters the one next to Terminal 2, CPTM would make our parking lot unfeasible, the expansion of Terminal 2, the garage building connected to Terminal 2, is a technology that demands a lot of space. The 'people mover' is a lighter technology for transporting around 2, 3 thousand passengers in each direction. It has a much smaller infrastructure and makes curves, so it will adapt to our airport expansion plan", explains Figueiredo. The CPTM user will not pay a fare to use the future train. The trip should take six minutes. São Paulo International Airport is the largest in Latin America and set a record in 2019, with 43 million passengers transported.
*With information from reporter Marcelo Mattos