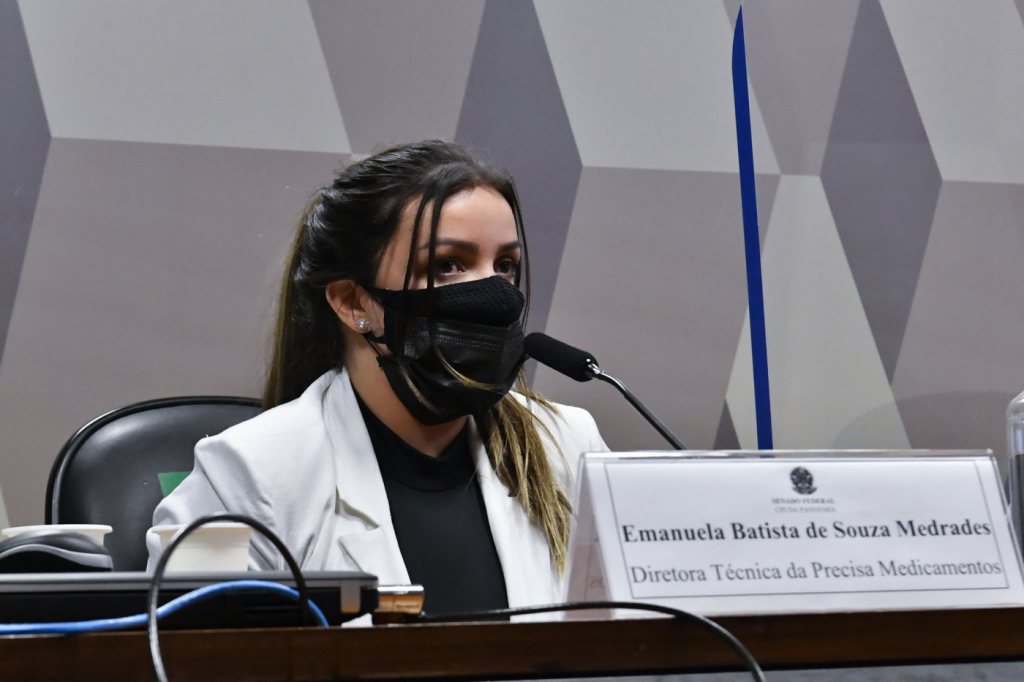 Senators receive Emanuela Medrades, who chose to remain silent in Tuesday's hearing, and Francisco Emerson Maximiano; company is suspicious in the process of purchasing the Covaxin vaccine
Waldemir Barreto/Senate Agency
In Tuesday's hearing, Emanuela Medrades did not even want to use the initial 15-minute period to speak freely

A CPI to Covid-19, which is being processed in the Federal Senate, gained strength after the Federal Supreme Court (STF) meet the request of the collegiate. This Tuesday, the 13th, the President of the Court, Luiz Fux, partially accepted two appeals, one by the Parliamentary Inquiry Commission (CPI) and the other by the defense of Emanuela Medrades, director of Need Medicines, who chose to remain silent in the testimony. In the decision, the minister says that it is up to the deponent to decide whether to respond to the questions may or may not incriminate him, keeping silent, if he wants to. However, the assessment is that there is no absolute right. Therefore, the CPI can assess whether the deponent is abusing the benefit and apply the appropriate measures. Emanuela Medrades did not even want to use the initial 15-minute period to speak freely. She just said that it was the commission itself that treated her as investigated. "The CPI first treated me as an investigated person, who broke my confidentiality and left my condition as an investigated person expressly in an application," she said.
"I have already testified to the PF about the investigated facts, I have already delivered documents to the investigating authorities, CGU, TCU and also to this CPI, and therefore, under the guidance of my lawyers, I will remain silent", concluded the company director, which caused irritation among senators by avoiding answering questions that could not even compromise her. the senator Simone Tebet (MDB) recalled that Covid-19's CPI can apply the rigors of the law. "The conclusion that the Judiciary has just given in our favor is that a person may have broken confidentiality, may even be considered investigated before another body, but that does not mean that he has to enter mute and leave silent. Consequently, the president of the CPI has the investigative powers of a judge at that time", he pointed out.
With the impasse, the president of the CPI, Omar Aziz | (PSD), decided to suspend the session. There was another attempt to hear Emanuela at night, but the deposition ended up being postponed to this Wednesday, the 14th, after she said she was exhausted. "We have to clarify, yes, there were no irregularities. I'm psychologically and physically exhausted and I want to collaborate", said the deponent. Also scheduled for today is the hearing of the partner-director of Necessidade, Francisco Emerson Maximiano. The company is suspicious in the Indian vaccine purchase process Covaxin. Also on Tuesday, the medical board of the Federal Senate communicated to the senators of the CPI of Covid-19, that the expertise proved the renal crisis presented in the medical certificate of the Reverend Amilton Gomes de Paula. Such action was made at the request of the president of the collegiate. Thus, his testimony should be rescheduled for August, after the parliamentary recess.
*With information from reporter Fernando Martins