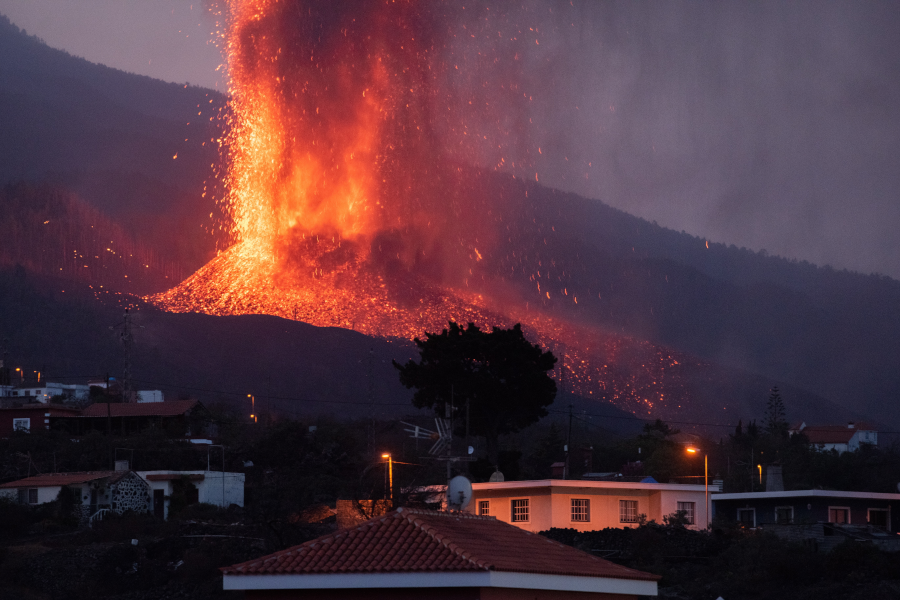 Blocks of molten lava the size of three-story buildings slid down the slope of Cumbre Vieja in La Palma. Lava flows will have already destroyed 1,186 buildings on the island.
The northern flank of the volcano that erupted on September 19 in The Palm collapsed this Saturday at the beginning of the night, according to the Volcanological Institute of the Canary Islands (Involcan).
Involcan posted on social media images of the collapse, which occurred on the same day that the northern face of the eruption cone of the new volcano at La Palma collapsed.
This partial collapse of the north face of the new volcano's cone led to the emission of lava flows in several directions, one of which caused concern by displacing a large mass of lava.
This Sunday, bmolten lava loci the size of three-story buildings they slid down the slope, while a series of tremors made themselves felt. The National Geographic Institute registered 214 earthquakes in the area affected by the reactivation of the volcano, in just 48 hours, 19 of which felt by the population.
"It was a tough night", recognized Miguel Ángel Morcuende, spokesman for the Canary Islands Volcanic Emergency Plan, cited by Jornal de Notícias.
The collapse of the northern flank released a gigantic mass of lava to 1240 degrees Celsius, at a speed of 700 meters per hour, writes the agency Reuters.
"The collapse of the northern flank of the Cumbre Vieja volcano has caused the release of large blocks of material and the emergence of new flows through areas that have already been evacuated," wrote Spain's Department of National Security in the Twitter.
lava flows stretch over 497 hectares and me will have destroyed 1,186 buildings on the island. About 6,000 people were evacuated from their homes in La Palma, which has about 83,000 inhabitants.

ZAP //