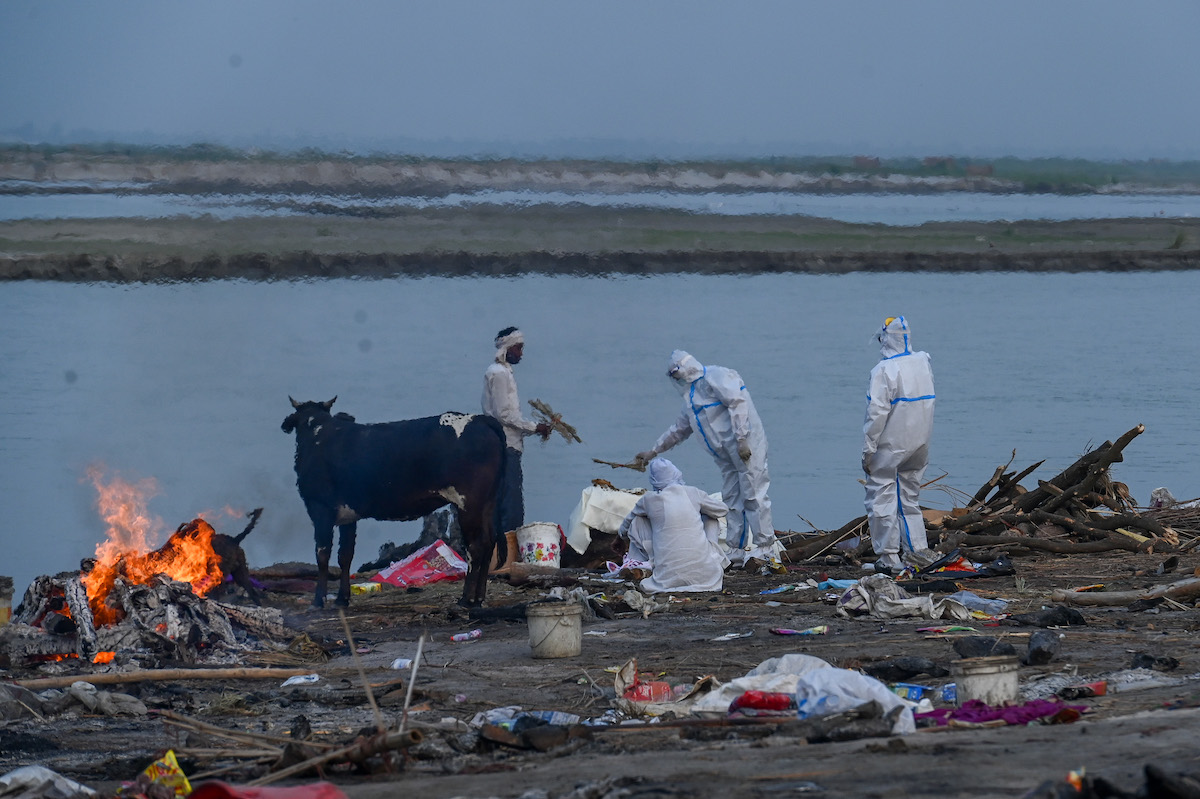 At least 33 people have died and nearly 100 are missing in India, due to the impact of cyclone Tauktae, this Tuesday. The country also recorded the highest number of daily deaths from covid-19.
Hundreds of thousands of people were left without power after cyclone Tauktae hit the coast of Gujarat in western India late on Monday, leaving a trail of death and destruction.
Winds of up to 180 kilometers per hour damaged houses and knocked down power lines and thousands of trees, blocking roads and preventing the aid from reaching affected areas, local officials said.
"I have never experienced anything like this in my life," said a hotel employee in the city of Bhavnagar. "It was a night in the dark, the electricity was cut off and the winds wouldn't stop. It was terrifying", He added.
The regional prime minister, Vijay Rupani, indicated that the death toll had risen to at least 33, mainly due to the collapse of walls or ceilings.
The head of the Indian government, Narendra Modi, is due to visit the areas affected by the cyclone in Gujarat, his home state, this Wednesday.
At the same time that the cyclone hit the country, India recorded 4,329 deaths and almost 280,000 covid-19 infections in the past 24 hours, the highest daily number so far. In total, the pandemic has already caused more than 250,000 deaths.
273 people shipwrecked
The 90 or so missing were on board a vessel that sank 273 people off the coast of Mumbai, the capital of the state of Maharastra, the Indian Navy announced.
The military reported that 180 passengers were rescued in extremely difficult conditions.
Cyclone Tauktae was one of the most powerful to affect western India in decades and caused casualties in the states of Kerala, Goa, Maharashtra and Gujarat.
"I've never seen a cyclone as devastating as this one in Mumbai," he told the AFP Anand Shinde, inhabitant of the financial metropolis.
The strong winds brought down houses, as well as trees and electric power towers, devastating West India, whose streets have turned into rivers. Thousands of people have fled.
Maharashtra withdrew almost 12,500 people from coastal areas.
In Gujarat, more than 16,500 houses were damaged, 40,000 trees were uprooted and 2,400 villages were left without electricity.
Gujarat authorities try to avoid power cuts at 400 coastal hospitals and oxygen plants.
Patients with covid-19 were transferred
On Sunday, 580 covid-19 patients were transferred from three field hospitals to safer locations.
In Gujarat, all patients infected with covid-19 hospitalized within a radius of less than five kilometers from the coast were transferred.
The state of Gujarat, which has so far recorded 9,000 deaths from covid-19 (an official figure likely to be underreported as across the country, experts say) has suspended the vaccination campaign for two days. Mumbai did the same, but only for a day.