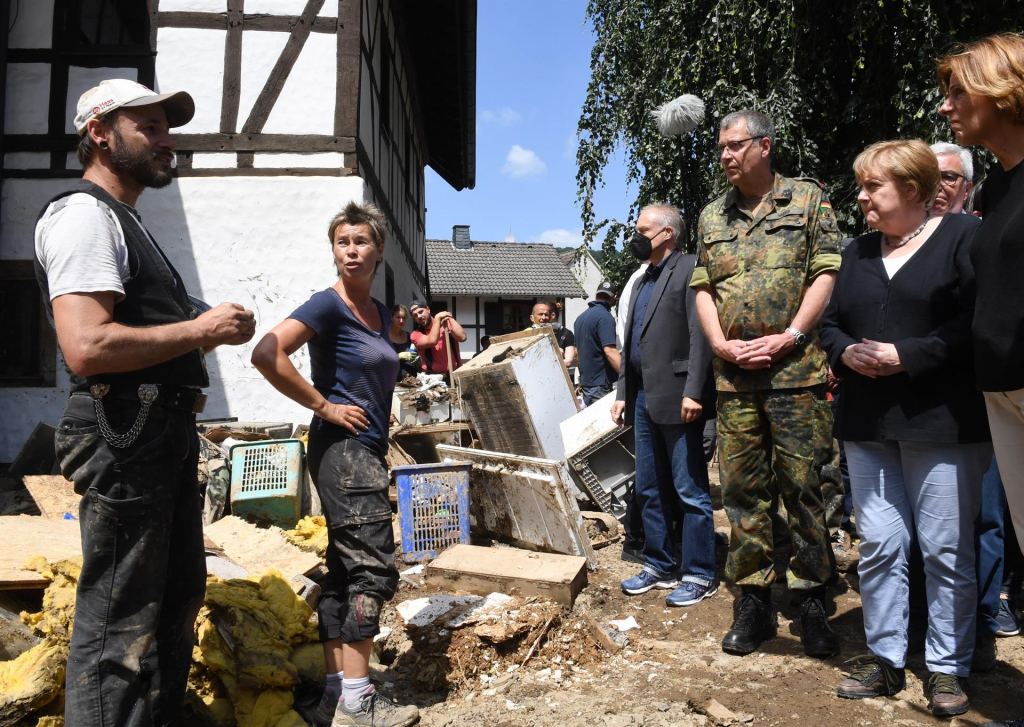 The German government is expected to announce, next Wednesday, emergency aid of more than 300 million euros for the affected regions, in addition to billions of euros for a program to rebuild destroyed houses, roads and bridges
EFE / EPA / CHRISTOF STACHE
German Chancellor Angela Merkel spoke with residents of the village of Schuld, in western Germany, devastated by floods, during a visit to the region on Sunday

The death toll from floods in Europe has risen to at least 188 – 157 in western Germany and 31 in Belgium – according to information from local authorities working on the rescues. The heavy rains that cause flooding, overflowing rivers and landslides began last Wednesday, 14. This Sunday, 18, German Chancellor Angela Merkel visited areas devastated by floods and stated that the federal and local governments will work together to establish order. "It's a surreal and spooky situation, I would say the German language is struggling to find the words to describe the devastation," he told reporters. According to the German government, the tragedy is already considered the country's worst natural disaster in more than half a century. Hundreds of people are still missing.
To the German newspaper, Picture on sunday, Finance Minister Olaf Scholz said he would announce, next Wednesday, emergency aid of more than 300 million euros for the affected regions, in addition to billions of euros for a program to rebuild houses, roads and bridges destroyed so that they "can be repaired quickly". Both Merkel and Scholz mentioned the impact of climate change on the tragedy. "We have to do more to protect the climate. But the resignation ideology does not lead us to our goal, we need a second industrial revolution to quickly become climate neutral," the minister said.
On Saturday, after visiting some of Belgium's worst-affected areas, European Commission President Ursula von der Leyen lamented the tragedy on a social network. "Today I was at Rochefort and Pepinster Bandeira de Belgium. I've known people who lost their homes because of the storm. I told them: the European Union Flag is at your side. We cry together – and we will rebuild together". According to Belgian authorities, tens of thousands of people in the country remain without electricity and there is great concern about the supply of drinking water. In addition to Belgium and Germany, Austria, Holland, France and Switzerland were also hit by the floods.