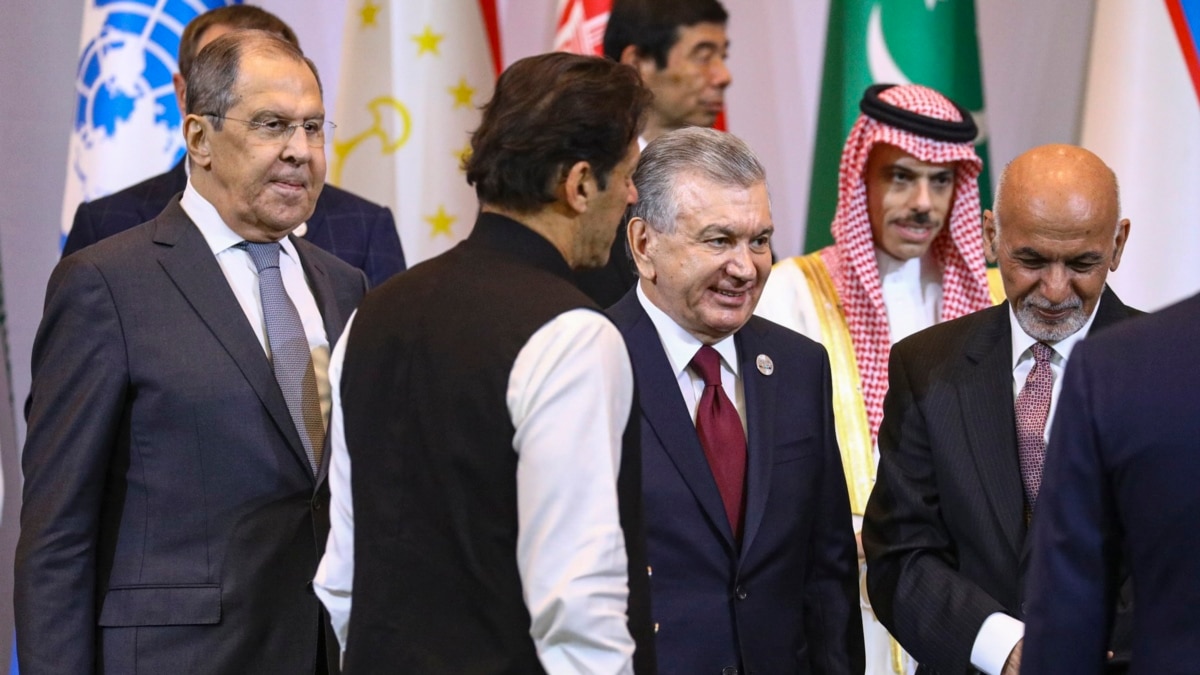 It turns out that there is reason to reconsider trade routes between Central Asia and South Asia.
Central Asia has long been at the crossroads of the Eurasian continent – a region that, if developed, could become an important transit hub.
The Asian Development Bank's Central Asia Regional Economic Cooperation (CAREC) trade corridors and China's "One Belt and One Road" initiative have helped expand ties between East and West Asia.
The Asian Development Bank's Central Asia Regional Economic Cooperation (CAREC) maps also provide trade corridors to the south, via Afghanistan, although such links are still weak.
Nevertheless, calls for trade routes through Afghanistan that would connect Central Asia with Pakistan and Indian ports on the Arabian Sea are not forgotten.
Judging by what the attendance at the July 15-16 conference in Tashkent was like, it seems that regional players are still seeing the potential of these routes.
Although the conference was independent of CAREC and BRI, some infrastructure initiatives will intersect with both projects.
The main impediment to the projects is instability in Afghanistan.
In recent days, with the Taliban gaining control of large areas, connecting Central Asia and South Asia through Afghanistan seems less and less possible than ever.
Yet other factors that have changed in the light of the ongoing struggles provide some basis for new optimism.
The venue for the July conference, the capital of Uzbekistan, was a symbol of one such change.
During the presidency of Islam Karimov, Uzbekistan became increasingly excluded.
Uzbek officials have complained that their country is one of only two countries in the world surrounded by landlocked states, but they are still cutting ties with their immediate neighbors in Central Asia.
Since Karimov's death in 2016, President Shavkat Mirziyoyev has vowed to improve relations with other countries. He said he would start with Uzbekistan's immediate neighbors.
According to an article commissioned by the Uzbek Embassy in Japan ahead of a recent conference, trade between Central Asian countries almost doubled between 2017 and 2019, from $ 2.7 billion to $ 5.2 billion.
This change is not surprising given that Uzbekistan borders all other Central Asian countries and Afghanistan.
Locked Uzbekistan has affected many countries in the region. Now, Mirziyoyev's opening of Uzbekistan has already had a positive impact on regional trade.
The article stated that it was important for "Central Asian countries to take politically coordinated steps aimed not only at strengthening regional economic cooperation, but also at achieving a new, inter-regional, level of interconnectedness."
This is an important difference because it is implied that trade routes from Uzbekistan to the south could become a trade channel with South Asia for Central Asia.
Such regional cooperation makes Central Asia more attractive to potential trading partners not only in South Asia but also in the Middle East, Africa and Southeast Asia.
And this is because they would be able to use the connections between the ports of the Arabian Sea and Central Asia.
The trade network "Central Asia-South Asia" would also be able to connect to other networks that are located far away.
The Tashkent conference at that time was another promising sign for the unification of Central Asia and South Asia, and it is the presence of the Prime Minister of Pakistan, Imran Khan, at the conference.
Khan, the first foreign leader to attend the event, met with President Mirziyoyev before the conference. According to all reports, Uzbek officials received him warmly.
This is a drastically different picture compared to the late 1990s.
In May 1997, during a meeting of the Economic Cooperation Organization in Ashgabat, Turkmenistan, Karimov called on then-Pakistani Prime Minister Nawaz Sharif to publicly declare that Islamabad would no longer support the Taliban in Afghanistan.
Sharif, one of the few countries in the world at the time to recognize the Taliban as the official government of Afghanistan, refused.
In April 1998, when then-Pakistani Foreign Minister Mohammed Kanju was visiting Uzbekistan and Tajikistan, he was met by neither Karimov nor Tajik President Emomali Rahmon.
Relations between Uzbekistan and Pakistan have since gradually warmed up, although Khan's visit indicates a high level of bilateral relations between the two countries.
And because Pakistani ports are the closest southern ports to Central Asia, it is important that there are close links between Uzbekistan and Pakistan.
According to the Pakistani newspaper The Express Tribune, the agreements reached during Khan's visit "will open the door to increasing Pakistan's exports to Uzbekistan and, at the same time, use its $ 90 billion market potential in Central Asia."
A statement from the Uzbek Embassy in Japan stated that "more than 250 participants from more than 40 countries and international organizations are expected to attend the conference in Tashkent."
Along with the Prime Minister of Pakistan, the Presidents of Afghanistan and also the Foreign Ministers of Kazakhstan, Kyrgyzstan, Tajikistan, Turkmenistan, China, Russia, India, Bangladesh, Saudi Arabia, Kuwait, Turkey, the Republic of Maldives and other countries were present.
Also in Tashkent were UN Secretary-General Antonio Guterres, EU High Representative for Foreign Affairs and Security Policy Joseph Borrell, and a delegation from the United States Department of State.
There is no doubt that a strong connection between Central Asia and South Asia would be beneficial for many countries.
According to a report by UzDaily.com, Russia is moving forward with its North-South transport corridor.
Part of this corridor will connect India with the Baltic states and Russia via railways and the ports of Iran and Pakistan, which are less than half the distance of sea routes from Northeastern Europe to India.
Russia's north-south trade corridor also avoids the increasingly congested Suez Canal.
Iran's port, Bandar Abbas, is currently the fastest way for businesses in Central Asia to trade with partners in the Indian Ocean region.
Modest quantities of goods are transported to Central Asia and Central Asia via Iran as well as by rail to Turkmenistan or by Caspian ports by sea.
UzDaily notes that the construction of the railway line from Mazar-i-Sharif, via Kabul, to Peshawar, Pakistan, will shorten Russia's north-south route to 600 kilometers.
This possible railway route has been the main topic of recent talks between the Prime Minister of Pakistan and the President of Uzbekistan, although the current security situation makes it impossible to build such a route.
The reduction in distance and transportation time will also affect China's trade with South Asia and East Africa.
Afghanistan remains a major obstacle to this "Central Asia – South Asia" network.
Other problems are related to the lack of a unified railway and uniform standards of transport documentation.
Nevertheless, the Tashkent Conference has shown that there is still a great deal of interest in implementing a network of trade corridors in Central Asia and South Asia.
This gives additional impetus to countries in both regions to work to ensure stability in Afghanistan and to benefit from trade links.
.