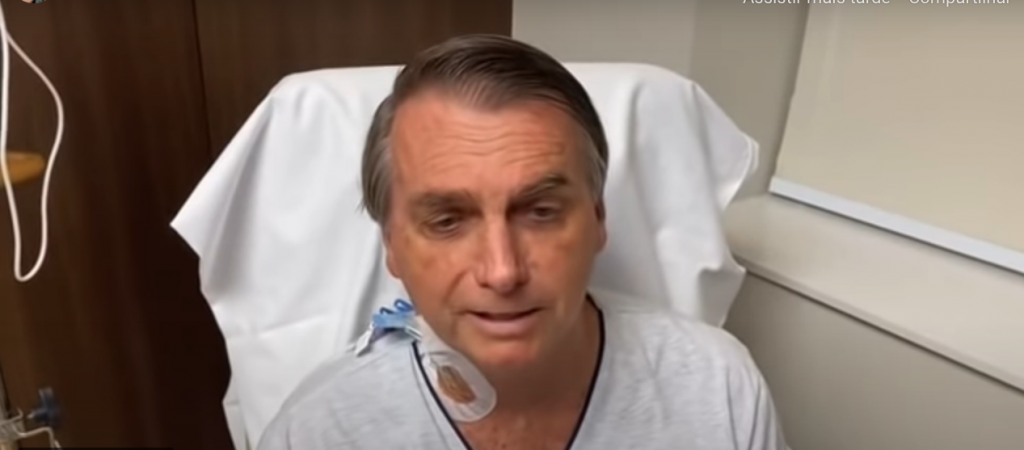 In the early afternoon, the president participated in an online inauguration event of a Caixa Econômica Federal branch in the city of Missão Velha (CE)
YouTube Playback / Jair Bolsonaro
The president has been hospitalized in the capital of São Paulo since Wednesday, 14, to treat a condition of intestinal obstruction

President Jair Bolsonaro (no party), who remains hospitalized at the Vila Nova Star hospital, in São Paulo, to treat a picture of intestinal obstruction, may be discharged this Sunday, 18. The information was provided by surgeon Antônio Luiz de Vasconcellos Macedo, which has accompanied the president since the attack suffered in the 2018 campaign. According to a statement released by Planalto, the president "continues to progress satisfactorily, presenting clinical and laboratory improvement". Also according to the medical bulletin, throughout this Saturday the president will be offered a creamy non-fermentative diet, which aims to reduce the formation of intestinal gas and abdominal distension. In the early afternoon, the president participated in an online inauguration event of a Caixa Econômica Federal branch in the city of Missão Velha (CE). "Caixa has always been on the side of the Brazilian people. This was the case when the Emergency Aid was paid. It is not easy to come up with a program to pay 68 million Brazilians in a few days", he said.
By highlighting the importance of the financial benefit, Bolsonaro took the opportunity to criticize the restrictive measures imposed by mayors and governors to control the advance of the Covid-19 pandemic. "It was a difficult time that Brazil was going through, where many governors and mayors closed the cities, closed the state, taking jobs away from millions of people. Taking the livelihoods of millions of people. And the federal government, together with Caixa Econômica Federal and our economic team went to the rescue of our population", said the president, adding that, just last year, the amount paid with the Emergency Aid exceeded the amount disbursed in ten years with Bolsa Família. In the morning, the president posted a video on a social network in which he appears, without a mask, walking in the hallway beside an aide. "We keep making progress. Good morning everyone!", says the caption.
The president has been hospitalized in São Paulo since Wednesday, 14, after being transferred from the Armed Forces Hospital (HFA), in Brasília. This Friday, the 16th, the agent published a photo walking through the hospital corridors and wrote: "Soon, back to the field, God willing! We have done a lot, but we still have a lot to do for our Brazil! Thanks for your support and prayers. A big hug to everyone." In the late afternoon, also on social networks, the president published a photo making a video call with ministers where, according to him, he would be "dispatching": "We are continuing to do our best to keep the commitments", he said.
– We participate online in the opening of the Agency of the @Box in Old Mission/CE:

. Link no YouTube: https://t.co/Ytr1FWdWtu

— Jair M. Bolsonaro (@jairbolsonaro) July 17, 2021